Spain vs. France: Why the French Have No Shot Against Powerhouse
June 22, 2012

Shaun Botterill/Getty Images
Going into the quarterfinals matchup of France vs. Spain, it may not seem like Spain has an advantage over France, but they clearly do.
So much so that France really has no shot against the powerhouse known as Spain.
How They've Played So Far
Look at how Spain has made it this far.  They entered in group C, and were expected to dominate it.  Instead Spain opened with a draw to Italy, leaving many people questioning what was going on with Spain.
However, they would get back on track with a dominating performance over Ireland, winning 4-0, in a game that was completely under the control of Spain.
Lastly, Spain would face off against Croatia, and with the help of veteran goal keeper Iker Casillas, would hold off Croatia and advance into the quarterfinals.
It wasn't as completely dominating as some may have expected, but Spain was able to show that they can pull off the win when it is needed, and was able to also show how well they can control the game.
France, on the other hand, has been all over the place.  Their first game was a draw against England, who was without star striker Wayne Rooney.
France would play well against the Ukraine, scoring two goals early in the second half and were able to put the game away.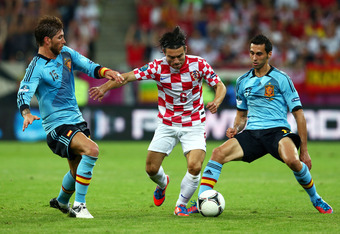 Alex Grimm/Getty Images
Their third game, however, was not so pretty.
They looked like a mess when they played against Sweden. While they ended up not needing to win the game to advance, at the time of that game they did not know they were safe.  They lost 2-0 in a game that they should have been able to win easily.
How can a team who played so well against the Ukraine end up playing horribly against a team they were expected to beat with ease?  For that matter, how can that team now go up against an experienced Spain and have any hopes of winning?
Defense and Offense
Going into this matchup, it is important to look at how well the defense and offense of each team line up. 
Throughout the three games played so far by Spain, they have controlled possession by 70.3 percent.  The second team behind Spain in that stat would be Russia, with 59.3 percent.  Spain also has the highest pass success percentage of 89.8.
Spain has been more accurate than France, putting 9.7 of their shots on target, while France has had only 7 on target.
Both teams lead with 20.3 shots per game.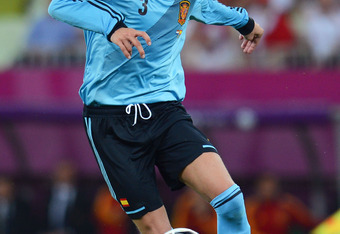 Shaun Botterill/Getty Images
Defensively, however, is where these two teams have the biggest gap.  While Spain has only allowed 8 shots per game and France has only allowed 8.7 shots per game, France still lacks defensively when compared with Spain.
France's defense looked extremely weak against Sweden when they lost 2-0.  While Spain did not dominate Croatia, they still were able to fend them off long enough to get the win. When Croatia was able to take a shot, Iker Casillas was there and proved why he is such a dominant goal keeper.
With great defensive players like Sergio Ramos and Gerard Pique, Spain will clearly hold the advantage in this matchup.
Are both teams offensively talented?  Yes, they are.  The biggest difference will be how Spain's defense will be able to fend off France, while France's defense will not be able to hold off Spain's attack.
Experience
Lastly, it's safe to assume that if Spain can step it up, France will be completely blown away.  Spain has been able to maintain control throughout the tournament so far.  The next step is to take it up into high gear with their offense and start putting more points on the board.
With a lot of experienced players, and a Captain in Iker Casillas who has already been a champion, it will be hard for France to overcome Spain if they play like the champions that they are.
France lacks the experience Spain has.  They also lack the leadership that Spain has found with Casillas. Casillas arguably saved the day in the matchup with Croatia. 
Who was there to try and help France bounce back during their loss to Sweden?
In the end, with experience and much more talent behind them, look for Spain to dominate France and show them the door at the end of this match up.