College World Series 2012: Players to Watch in South Carolina-Arkansas Showdown
June 22, 2012

After a 2-0 win over Arkansas on Thursday night—its second win of the day—South Carolina stayed alive and forced a do-or-die game on Friday that will determine Arizona's opponent in the College World Series finals.
No pressure or anything.
With a win, the Gamecocks will have the opportunity to play for a third straight CWS title. But to do it, they'll have to once again go through the team that took them down 2-1 on Monday night, snapping their 22-game NCAA tournament winning streak.
Here are the players to watch in Friday's showdown.

Evan Marzilli, CF, South Carolina
After hitting .279 throughout the 2012 regular season, Marzilli has stepped it up for the Gamecocks in the College World Series, going 12-for-33 and hitting .364. He tallied a hit in Thursday's game, and in a 2-1 loss to Arkansas on Monday, he tallied an RBI triple. He's also been known to come up with a big play out in center.
The Gamecocks are going to be relying on a stellar pitching performance to win on Friday, but players like Marzilli need to give the hurlers something to work with.

Tim Carver, SS, Arkansas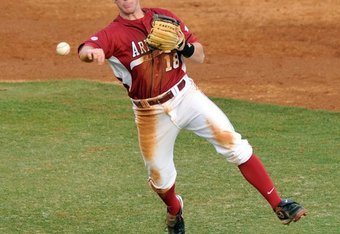 The Razorbacks shortstop is one of the best in the nation—he was recently named to the watch list for the 2012 Brooks Wallace Shortstop of the Year Award—but the captain will need to be his absolute best to help Arkansas regain its composure, and hopefully its offensive prowess, after Thursday's three-hit shutout loss.
As of late May, he was second on the team with a .313 average and led the team with 71 hits and a team-best 13 stolen bases. He'll be charged with getting this offense off to a good start and setting the tone if the Razorbacks have any hope of advancing to face Arizona.

Christian Walker, 1B, South Carolina
Everyone likes to talk a lot about this slugger's impact on the team, and for good reason: He's one of the best to ever grace the field at South Carolina. On Friday, he earned the 25th two-hit game of his College World Series career and moved into second place on the NCAA's all-time list, settling in right behind Mariners star Dustin Ackley with the second-most hits in the tournament.
Offensively, USC hasn't had an incredibly easy time against the Razorbacks during the course of the CWS. The Gamecocks have scored just three runs total in two games versus Arkansas, and scored 11 in their other two games against Kent State and Florida. It's going to be up to Walker to give this offense the boost it needs to come alive when it matters most.