FYI WIRZ: NASCAR's Dale Earnhardt Jr. Takes Big Win into Right Turns at Sonoma
June 22, 2012

Junior Nation fans are likely to be still singing winning praises or at least humming occasionally after of the long drought of Dale Earnhardt Jr.'s visit to victory lane ended in Michigan last week.
Now Earnhardt must take that huge wave of elation to the twisting left and right turns of the Sonoma road course at Infineon Raceway.
Bulky NASCAR Sprint Cup stock cars aren't really suited to sports car tracks, but the challenge and the thrill creates drama for Infineon Raceway and Watkins Glen International races during the long NSCS season.
Five-time champion Jimmie Johnson defined the difficulty in adjusting to right turns.
"I look at road course racing in general, the car is never perfect," Johnson said. "It's really about compromises. You have high-speed corners where certain adjustments fix your issues there, but they turn around and kill the slow-speed corners."
Drivers with extensive dirt track experience tend to do better on road courses and those with sports car background have an advantage as well. Johnson agreed.
"I think dirt racing in general teaches you how to compromise in a vehicle and kind of close the gap as a driver yourself."
Richard Petty Motorsports driver Marcos Ambrose brings special skills to road courses that he learned down under in his native Australia and in Europe too. Johnson spoke about his abilities.
"Marcos has amazing talent and a ton of experience in the closed-wheeled sedan cars with all the racing he did in Australia," Johnson said. "He's just on it. The guy is going to be super-fast once again. I think going in there, he's the guy we're all focused on beating."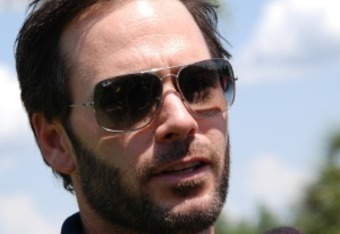 Dale Earnhardt Jr. hasn't been very visible since the night of his Michigan win. Perhaps he is celebrating this well-deserved moment in private somewhere. His many fans would give him that space for sure.
Earnhardt will be back to continue his productive season with crew chief Steve Letarte and team in California. After his big win Earnhardt had these words.
"I feel like we want to win some more races before the Chase starts, obviously, and you know, we'll think about where we are points-wise when that all happens after Richmond," Earnhardt said. "But I don't want to get too far ahead of myself. We have to go to Sonoma and figure out how to get around there and how to get my first top-ten at that place. We have a lot to accomplish this year."
Sprint Cup point leader Matt Kenseth is no stranger to winning or championships, but he was vocal going into Sonoma.
"You go there thinking about different things because your driving style on approach, and things you do in the car, is a lot different," Kenseth said. "We go to Sonoma working as hard as we can in practice to get our car to drive as good as it can because certainly there are a lot more opportunities for mistakes from a drivers standpoint at that track. Sonoma is always a challenge, and one that I sort of look forward to trying to get better at, but I also look forward to leaving on Sunday night too."
Roush Fenway Racing driver Greg Biffle slipped out of the No. 1 spot recently, but he and team continue to perform. Biffle is often candid.
"I'm looking forward to Sonoma," Biffle said. "I love road racing, it's a lot of fun. The thing I don't like about it is the restarts. Everybody gets bunched up going in the corner, people are in the grass, people are everywhere. Restarts are rough, but other than that I really enjoy it and I'm looking for a top-five finish. I guarantee there will be action this weekend."
Joe Gibbs Racing's Denny Hamlin has sustained a top-five spot for most of the 15 NSCS races this season. Hamlin defines the Sonoma hurdle.
"I haven't gotten good yet," Hamlin said. "I'm still struggling a little bit. It seems like when I come to Sonoma, it just takes me a long time to really get in a rhythm. Watkins Glen -- I seem to always have speed, but Sonoma it's just a lot more technical. There are more corners and it's a slower speed road course. I feel like it's very similar to short track racing. The only difference is you're going right because the speed is about the same. It's all about getting good corner exit that leads into the next corner."
Fans not on the grounds at the pleasant Sonoma hills this Sunday can catch the twisting action on the exciting 1.99-mile track—the Toyota/Save Mart 350 at 2:00 p.m. ET on TNT.
FYI WIRZ is the select presentation of topics by Dwight Drum at Racetake.com. Unless otherwise noted, information and all quotes were obtained from personal interviews or official release materials provided by NASCAR and team representatives.