4 Minor League Prospects the Atlanta Braves Must Call Up in 2012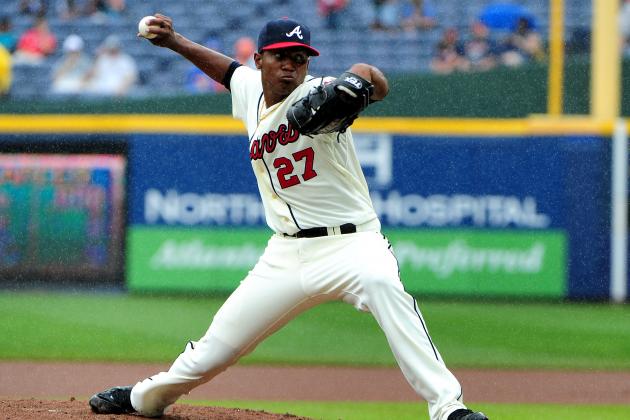 Scott Cunningham/Getty Images
Atlanta Braves' top prospect Julio Teheran
The Atlanta Braves have a fairly deep minor league system, at least pitching wise, but the pool of players for this article is actually pretty thin.
Pitchers Randall Delgado and Mike Minor have pretty consistent spots in Atlanta's rotation, while Arodys Vizcaino, who figured to at least provide bullpen help for the Braves, underwent Tommy John surgery prior to the season.
So, who does that leave?
Begin Slideshow

»
Scott Cunningham/Getty Images

Before assessing his performance with Triple-A Gwinnett and Atlanta, it's important to remember that Julio Teheran is only 21 years old.
In 2011, at age 20, Teheran dominated in the Triple-A International League, posting a 15-3 record with a 2.55 ERA and a solid 7.59 K/9 rate.
He had mixed results in five big league appearances (three starts). In 19.2 total innings, he struck out just 4.58 batters per nine and struggled with the long ball (1.83 HR/9).
Teheran has made one start for Atlanta thus far in 2012, and he fared better than some of the standard numbers would indicate.
He sailed through four innings before running into trouble in the fifth, and for the night, opposing batters posted a .333 BABIP against him. He could only strand 20 percent of those who reached base.
The young Colombian has showed a much-improved ability to command his mid-70s curveball, which is a great complement to a fastball he runs from 91-94 MPH with nice life, and he can throw a deadly changeup against lefties.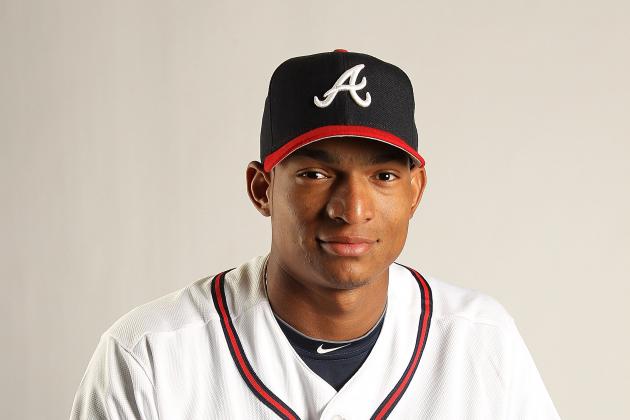 Mike Ehrmann/Getty Images
Braves catcher prospect Christian Bethancourt
Bethancourt may not fall under the "must" call up category, but he appears to have a bright future.
Both David Ross and Brian McCann have struggled on and off in the past with various injuries, but Atlanta has been patient with the 20-year-old Bethancourt, not wanting to start his major league clock just yet and use up an option year.
Instead, career minor leaguer JC Boscan has seen recent call-ups.
That won't continue for very long.
The question with most young catchers coming up through a system is whether they'll stick behind the plate, either because of suspect defensive abilities or because of a bat that profiles better at an infield corner.
Bethancourt, who will be playing in the 2012 MLB Futures Game in Kansas City this July, is widely considered one of the best defensive prospects behind the plate in all of baseball. He possesses a strong arm and an advanced ability to block balls in the dirt.
The concern with Christian is his ability and approach at the plate. At Double-A Mississippi this season, Bethancourt is walking only 3.8 percent of the time, and his slash line of .255/.283/.276 is really quite awful.
Atlanta may just have to accept that he's not much of a hitter, but he could be valuable later this season as a defensive replacement.
Matthew Stockman/Getty Images
Braves lefty Sean Gilmartin
Gilmartin, the Braves' 2011 first-round pick (28th overall) out of Florida State, is on an aggressive track, not unlike Mike Minor, a fellow college lefty.
Gilmartin is only in Double-A right now but could get a promotion if the Braves' pitching woes continue; at the very least, look for him to see time in Atlanta when rosters expand in September.
Gilmartin profiles as a No. 3 or 4 starter with Atlanta and likely will never be dominant at higher levels, but he's a solid piece and is advanced enough to see MLB action soon.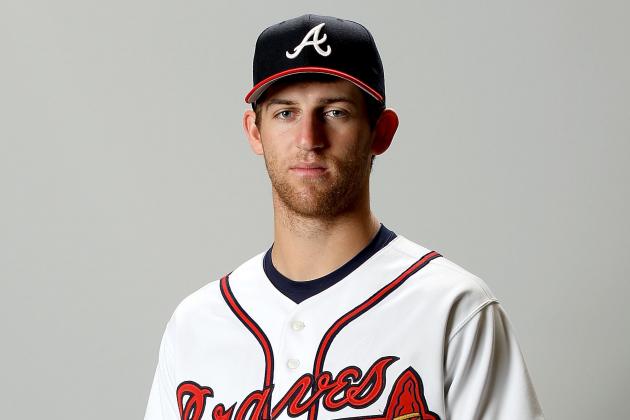 Matthew Stockman/Getty Images
Lanky RHP Zeke Spruill
Spruill has been in the Braves' system since 2008, when he was a second-round pick out of high school, but he struggled with various injuries before posting a solid 2011 season at High-A and Double-A Mississippi.
The tall (6-5, 190 pounds), lanky right-handed pitcher can run his fastball up to 93 MPH and flashes an average, but improving, curveball and changeup.
More than anything, the sinking action on his fastball induces plenty of ground balls.
Spruill's move away from being a strikeout pitcher probably lowers his ceiling to a No. 3 or No. 4 starter in the big leagues, but his four years of experience in professional ball mean he, like Gilmartin, could and should see action in Atlanta in September.