UFC on FX 4's Steven Siler: 'More Ex-Fighters Need to Become Judges'
June 22, 2012

Mark Kolbe/Getty Images
Experience is needed in almost every aspect of life, especially MMA.
And, if you don't believe me—just ask UFC featherweight, Steven Siler.
Siler, now a featherweight in the world's top promotion, began his career as a teenager. The inexperience and lack of knowledge of the sport, troubled Siler early on in his career as he held a professional record of 5-7 after just 12 fights.
However, the harder Siler worked and the more he learned, the better he became inside of the cage. Now, at just 25 years young, Siler holds a perfect 2-0 record in the UFC and will look to add to that win total when he meets Joey Gambino at UFC on FX 4.
In a recent interview with Bleacher Report, Siler discussed his journey to MMA and a variety of other topics.
Garrett Derr: You picked up the sport when you were just 18 years old. Why did you actually choose to pursue MMA rather than attend a college and earn a degree?
Steven Siler: My schooling experience wasn't the best. I didn't really go that often and was lucky to even graduate high school. College wasn't in my future, but I didn't think MMA was either. I was more doing it for fun and to make an extra $50 and to be on local TV. Once I really got into it, I started to get addicted and fell in love with the sport.
GD: In your upcoming bout, you'll take on Joey Gambino. However, you originally were set to meet Jim Hettes. Were you disappointed in the opponent change? And has your training change for Gambino compared to Hettes?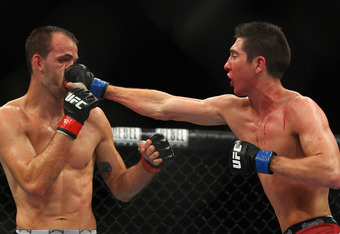 Mark Kolbe/Getty Images
SS: I was disappointed when I first heard the news that Hettes was out, because I didn't know if I was going to have to wait and fight at a later date. But, I was very happy when I found out Gambino stepped in to fight me. Either way, I'm looking at this fight as my biggest fight and training as hard as I've ever trained before.
GD: Gambino will be making his UFC debut when you two meet and he took the fight on just four weeks notice. Do you think he'll end up regretting this? If so, why?
SS: In my opinion, there's no way you can regret taking a UFC fight at any moment. It's a great experience and its worth taking any fight even if you are in half decent shape to fight. It's a once in a lifetime opportunity and even if the fight doesn't work out, you are more than likely going to get another chance with a real training camp after the fact.
GD: You guys are both finishers, so the chances of this making the judge's scorecards is slim. Where do you think you'll be able to control the fight and who are some of the guys you've been working with in your camp to train for Gambino?
SS: I'm really confident that I'll be able to control the fight wherever it goes. I think I'm a complete fighter that's good on the ground and standing, so I really don't care where this fight goes, as long as I get the win and hopefully the finish.
I've been in a tough camp with my teammates who are also on the card in Brock Jardine and Ramsey Nijem. I've also been able to work with Rad Martinez and Josh Burkman and also had Bryan Caraway come out for a few weeks.
GD: You were a part of Team Miller on Season 14 of the Ultimate Fighter. What's your relationship like with Miller? Have you spoke to him since being cut? Also, do you feel he should have been released?
Mark Kolbe/Getty Images
SS: I haven't spoke to coach Miller even though I was out at his last fight. I never got the chance to run into him, and it's not up to me who the UFC keeps or release. It's totally up to the UFC who they want in or out.
I really don't know coach Miller enough to know what he is going to want to do with his career. He has a great career and in my opinion, he seemed happy with calling it a career.
GD: I understand you admire George St-Pierre and Tim Tebow. What do you admire most about these two athletes and what's the biggest thing you can take away from their game?
SS: I just really like and appreciate their work ethic. Those two guys are dedicated. Both St-Pierre and Tebow are and always have seemed like humble people and passionate about doing what they love doing. That's how I want to be.
GD: Now for an off-the-topic question. What can the commission do to improve the quality of judging or officiating in MMA? There seems to be controversy with the judging in every fight card as of late. Your thoughts?
SS: One thing I really would like is more ex-fighters to become judges. These guys know the ins and the outs of the sport. It would also give it a more clear cut way to determine how to score a fight instead of it changing from judge to judge.
GD: Who would you like to thank?
SS: I would really like to say thanks to my sponsors and gym owner from VA Mortgage. Will Farrar, who has done everything for us fighters at the Pit Elevated and also my teammates Court, Brock, Danny, Ramsey, Rad, Brad, and Coach Jason Mertlich for helping me get ready for this fight.
A big thanks to  Bryan Caraway for helping me get ready for my fight and my family and fiance for putting up with me during this camp. I can make it rough for them at times.
Garrett Derr is a Featured Columnist for Bleacher Report. Unless otherwise noted, all quotes were obtained first-hand.
For additional information, follow Garrett Derr on Twitter.