US Olympic Trials Track Schedule 2012: Dates, Events, Schedule and TV Info
June 22, 2012

Michael Steele/Getty Images
The 2012 Summer Olympics in London are about a month away, but there is still plenty to be decided before the opening ceremonies.
Qualifying is taking place across the world, but there may be no more intense and competitive qualifying than the events happening in Eugene, Ore. That is the site of the US Olympic track and field trials.
Hundreds of men and women are and will be competing in 20 different events in an effort to represent their country in London. The United States is considered to be a world power in many of the track and field events, so those who qualify will be shouldering a large burden in terms of having a good showing and ultimately medaling.
Continue reading for all of the information you need to know in order to watch the U.S. Olympic track and field qualifying on NBC and NBC Sports Network over the next several days.
Where: Hayward Field in Eugene, Ore.
When: Thursday, June 21 - Sunday, July 1
Television Schedule (via Tracktown12.com)
| | | |
| --- | --- | --- |
| Date | Time | Network |
| Friday, June 22               | 9-11 p.m. ET                 | NBCSN            |
| Saturday, June 23 | 8-9 p.m. ET | NBC |
| Sunday, June 24 | 7-8 p.m. ET | NBC |
| Monday, June 25 | 9-11 p.m. ET | NBCSN |
| Thursday, June 28 | 9-11 p.m. ET | NBCSN |
| Friday, June 29 | 6-8 p.m. ET | NBCSN |
| Saturday, June 30 | 9-10 p.m. ET | NBC |
| Sunday, July 1 | 7-8 p.m. ET | NBC |
Events (via Tracktown12.com)
Hammer Throw
100m
200m
400m
800m
1,500m
5,000m
10,000m
100m Hurdles
110m Hurdles
400m Hurdles
3,000m Steeplechase
Long Jump
High Jump
Triple Jump
Discus Throw
Shot Put
Javelin Throw
Pole Vault
20km Race Walk
Event Schedule
Full daily schedule can be found at Tracktown12.com.
Athletes to Watch
Bryan Clay
The United States is threatening to sweep the podium in the men's decathlon at the London Olympics, and leading the charge will undoubtedly be Bryan Clay. He is the reigning champion in the event as he took gold in Beijing in 2008 after winning the silver in Athens back in 2004.
The decathlon may be the most grueling event in the Olympics as it tests a competitor's physical attributes, mental aptitude and overall versatility. Clay is strong in all of those areas, so there is no question that he will qualify and give the United States one of its best chances at gold.
Lolo Jones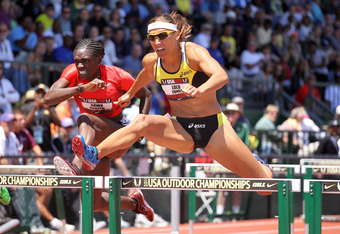 Andy Lyons/Getty Images
Lolo Jones entered the 2008 Beijing Olympics as the favorite to take the gold in the 100-meter hurdles, and she appeared well on her way to doing so, but she hit one of the final hurdles and her Olympic dream ended in disappointment.
Jones has battled her way back by winning gold in the 60-meter hurdles at the World Indoor Championships in 2008 and 2010, and she is once again the 100-meter favorite in London.
Jones seems to have learned from her agonizing defeat four years ago and figures to be more motivated than ever to succeed. Expect Jones to shine in Eugene as she will be out to prove that she is still the United States' gold standard in the event. Perhaps she will then use a strong qualifying performance to help her when she is on the big stage.
Tyson Gay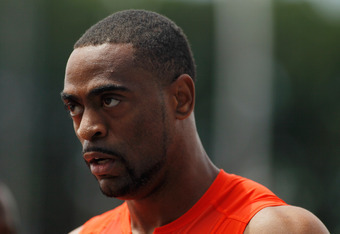 Mike Stobe/Getty Images
Tyson Gay may not be the favorite to take home the title of world's fastest man in London as he will have to deal with Jamaican star Usain Bolt, but he is clearly the United States' top contender in both the 100-meter dash and 200-meter dash. Gay is a multi-time champion in each event during international competition, and he is trying to prove that his Beijing failures were a fluke.
Gay entered the 2008 summer games nursing a hamstring injury that clearly limited him and resulted in him failing to register a medal. Gay appears to be healthy now, though, and he has shown flashes of the speed merchant who took the running world by storm in 2006 and 2007. Gay is a shoo-in to qualify for both events at the London Olympics and will throw everything he has at Bolt.
Follow @MikeChiari on Twitter