Arsenal Transfer News: Picking a Starting XI to Include Olivier Giroud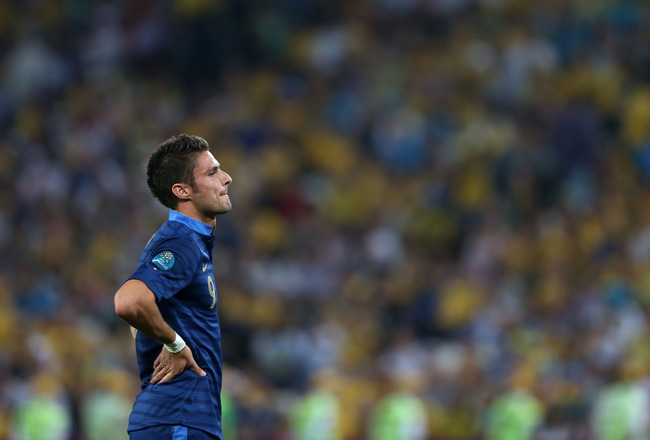 Julian Finney/Getty Images
Arsenal are desperately trying to sign Montpellier striker Olivier Giroud over the summer transfer window, with recent reports suggesting that the Gunners are incredibly close to an official signing.
Giroud to the Emirates looks increasingly like it's going to occur some time in the near future.
The big question then becomes where Giroud will fit in Arsenal—what role will he play within the team and how does his signing affect the rest of the Gunners unit? Here's a starting side to include the star striker, who will surely sign for Arsenal over the summer transfer window.
Before we begin, let me just highlight two things: firstly, I've gone with the current squad at Arsenal and not on potential transfer prospects; and secondly, I've gone with the formation used by the Gunners most this season which, according to WhoScored.com, is a 4-2-3-1 formation.
With that out of the way, read on to see how the Gunners hottest transfer prospect this summer would fit in to their team next season.
GK: Wojciech Szczesny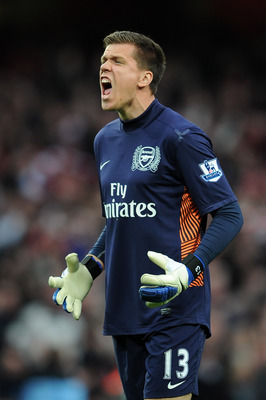 Michael Regan/Getty Images
Starting with the easy one, Wojciech Szczesny will continue to be starting goalkeeper at the Emirates for many seasons to come after the 22-year-old impressed greatly throughout the year for the Gunners.
Szczesny posted the fifth-highest amount of clean sheets throughout the Premier League last season, and at such a young age, will likely develop in to one of the premiere goalkeepers of league over the next few seasons.
LB: Kieran Gibbs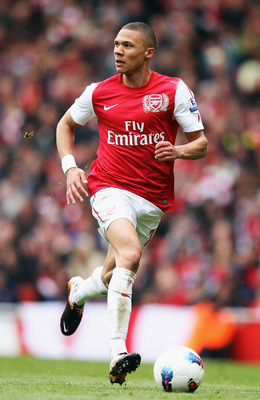 Bryn Lennon/Getty Images
Kieran Gibbs played at left-back 18 times for the Gunners in the most recent Premier League season and should be retained in the starting lineup once again this season.
The 22-year-old averaged 2.1 tackles and 1.6 interceptions per game—ranking him in the top five for both categories and surely solidifying his starting position for the upcoming season.
LCB: Thomas Vermaelen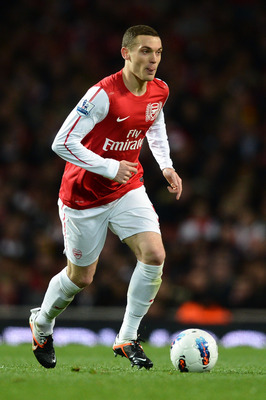 Laurence Griffiths/Getty Images
Thomas Vermaelen is one of few central defenders in world football who can boast strong attacking and defending abilities, but with six Premier League goals next to his name, the Belgian defender can claim exactly that.
Vermaelen finished with an average match rating of 6.97 last season, and was ranked top three on the team for both interceptions and clearances. His inclusion on defense is a no-brainer, and looks set to build on the 28 appearances he made for the Gunners last season.
RCB: Laurent Koscielny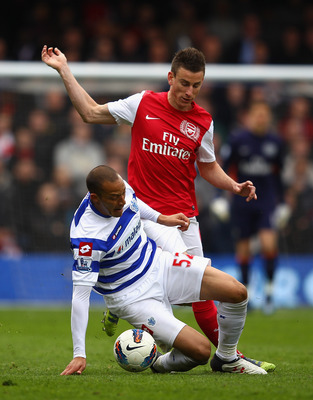 Richard Heathcote/Getty Images
Laurent Koscielny chalked up more appearances in defense than any other Arsenal player last season, and finished with the highest average match rating out of all Gunners defenders.
The 26-year-old led the team in interceptions and clearances, and ranked top three in tackles. Interestingly, he and Vermaelen netted three own-goals last season between them, though this won't be enough for either of them to lose their starting spot in the Gunners defense.
RB: Bacary Sagna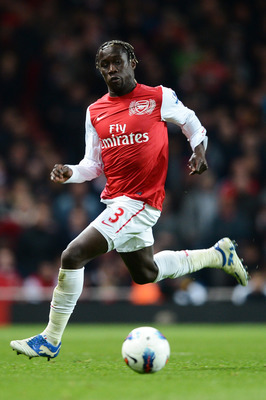 Laurence Griffiths/Getty Images
Rounding out the Arsenal backline is Bacary Sanga, who made 20 appearances for the Gunners last season and was one of his team's most consistent defenders before a horrific injury cut his season short.
Sanga's injury will be unlikely to keep him out of a starting position for next season. He has plenty of time to recover and find his strength again over the summer and, should he be healthy, is a certain starter.
DCM: Mikel Arteta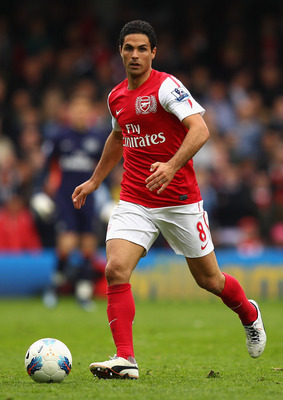 Richard Heathcote/Getty Images
Mikel Arteta's inclusion in defensive midfield is also a simple one, as the Spaniard proved once again last season why he is so valuable to the Gunners premiership chances.
The midfielder finished with the second-highest average match rating behind Robin van Persie—netting six goals and two assists—and finishing the season with a team-high pass completion rate of above 90 percent. Throw in to that mix his 2.5 tackles and 1.9 interceptions per game and Arteta truly is a must-keep player in the Gunners starting lineup.
DCM: Alexandre Song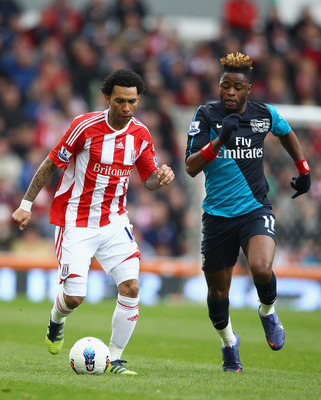 Clive Brunskill/Getty Images
Joining Arteta in central midfield is Alexandre Song, whose assist work in particular was a crucial part of Arsenal's strong season in the Premier League—leading the team with 11 for the season.
Song made 34 appearances for the Gunners last season and will no doubt thrive again in the Premier League, particularly if he can keep his dynamic relationship with Robin van Persie in attack and create a similar relationship with Olivier Giroud.
Oh, and he can do this, which in my mind was the greatest assist of the year.
LW: Gervinho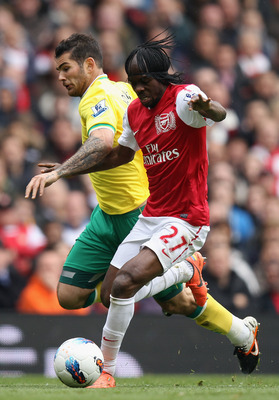 Bryn Lennon/Getty Images
Now we start to get to the players affected by Giroud, but Gervinho's place on the left wing isn't in danger at all considering Giroud isn't a left-wing player.
The Ivory Coast international netted four goals and six assists for the Gunners last season in just 19 appearances and deserves his starting position over the up-and-coming Alex Oxlade-Chamberlain, who cannot be judged on one season alone.
Having said that, should Gervinho fail to impress early on, expect the Ox to see a lot of minutes for the club.
CF: Olivier Giroud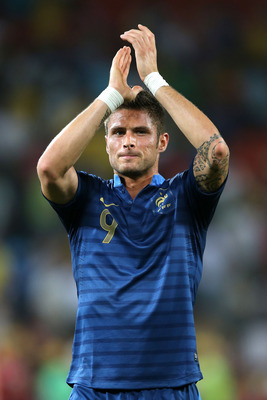 Ian Walton/Getty Images
And now we include the man himself—Olivier Giroud of Montpellier—who would no doubt be a sensational addition to the Gunners attack.
After averaging a phenomenal 7.43 per match last season, the French international would be an instant starter in Arsene Wenger's side and would provide the manager with another goal-scoring threat—netting 23 goals in 37 appearances for his club.
Giroud's inclusion does come at the expense of Aaron Ramsey and Tomas Rosicky, who are both likely to start off the bench with the 25-year-old in the lineup.
RW: Theo Walcott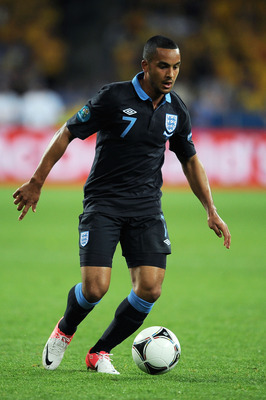 Christopher Lee/Getty Images
For me, the right wing is an certain no-brainer and given his particularly impressive Euro 2012 form so far, the inclusion of Theo Walcott in the Gunners starting side is an absolute must.
Walcott started 32 times for Arsenal on the right wing last season—finishing as the club's second highest goal scorer and third highest assist man through his excellent hustle and skill.
The Ox will get his time in the side, but it is very hard to argue against his inclusion over the likes of Gervinho and Walcott.
ST: Robin Van Persie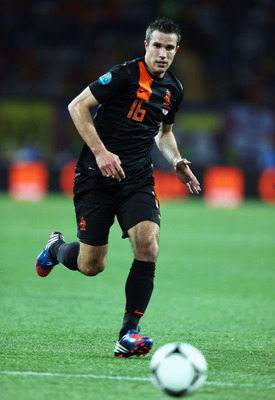 Ian Walton/Getty Images
That leaves us then with only one option up front for the Gunners—Robin van Persie—whom I firmly believe will not be leaving the club over the summer transfer window.
This is a man who netted 30 goals last season and comfortably won the Premier League Golden Boot Award—justifying himself as one of the premiere strikers not just in the league, but right around the world.
13 Man of the match awards from just 37 appearances is a remarkable feat, and he is the most important piece to Arsenal's Premier League and Champions League aspirations next season.
Notable Omissions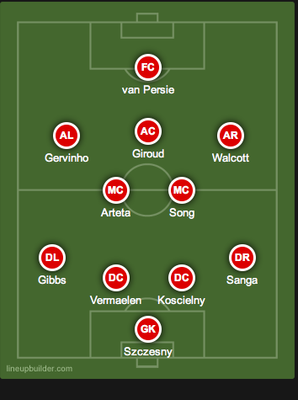 Having said all of that, there are some notable omissions from Arsenal's starting side including Olivier Giroud—namely because there are only so many spots on a team and something, or someone, has to give from time to time. Here's some notable omissions that spring to mind.
Per Metersaker had a very strong and ever improving at the Emirates, but hard to take over Vermaelen and Koscielny.
Andre Santos could push Gibbs for a start at left back, and will see plenty of game time throughout the season—I just can't see him starting in the opening round.
Aaron Ramsey and Tomas Rosicky are both unfortunate by-products of Giroud's inclusion and must make way for the more talented player. Should still plenty of minutes on both the wings and in central midfield.
And then there's Alex Oxlade-Chamberlain. Well, not even a cult-like following can get the Ox in to this starting lineup—regardless of how much potential and ability he might have. I rate him as one of the brightest prospects in world football, but six starts in the Premier League is not enough to beat out Gervinho or Walcott for the starting gig.
How would your Gunners lineup look with Olivier Giroud?
Comment below or hit me up on Twitter — Follow @dantalintyre
Keep Reading

Arsenal: Like this team?