Euro 2012: Quarterfinal Odds Preview and Prediction for Spain vs. France
June 22, 2012

Michael Steele/Getty Images
SPAIN vs. FRANCE
Date: Saturday, June 23, 2012
Location: Donbass Arena (Donetsk, Ukraine)
Time: 2:45 p.m. ET/11:45 a.m. PT
Television: ESPN, ESPN Deportes
Computer: Watch ESPN (Formerly ESPN3)
Satellite Radio: SiriusXM Channel 92
To Advance: Spain -250, France +210
90 Minutes + Injury Time Odds: Spain -½ -125, France +½ +105
Total: 2o -120
Three-Way Odds: Spain -125, France +375, Draw +250
First Half Odds: Spain -½ +155, France +½ -175
First Half Total: ½o -180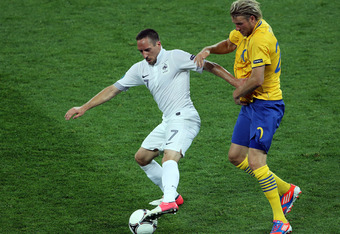 Ian Walton/Getty Images
To Win Euro 2012: Spain 2/1, France 10/1
If you're a big fan of watching paint dry, have I got a game for you, brother.
Spain, the defending champions and team that apparently has a patent on the dull 1-0 win, faces France in this quarterfinal in Donetsk on Saturday.
France, runners-up in Group D, tied England (1-1) in the group opener, defeated co-host Ukraine (2-0) in the second game and then laid an egg in the finale, getting shut out by Sweden (2-0) to end their 23-match undefeated streak.
Vicente Del Bosque's Spain tied Italy (1-1) in their opener and then blanked the Republic of Ireland (4-0) and Croatia (1-0) behind the stellar goalkeeping of Iker Casillas (Real Madrid), who has allowed just one goal in three matches to date.
And to be honest, both teams looked pretty mediocre in their last matches.
But that was then and this is now, and the task at hand is to try to figure out who will do what to try to advance to a semifinal meeting June 27 here against Cristiano Ronaldo and Portugal.
As always, the problem for opponents of Spain is trying to simply possess the ball long enough to set up a handful of decent scoring opportunities and hope you can capitalize on at least two of them.
Much easier said than done.
Their tiki-taka style of play with all those talented midfielders looks like a way to maximize scoring opportunities, but lately, I'm convinced it's just a ploy to drive the opponents bat-crap crazy.
France will be without defender Philippe Mexès, who has been suspended after two yellow cards, so expect Laurent Koscielny (Arsenal) to start instead. Koscielny has said the row that occurred in the French dressing room after the loss to Sweden could help the team, but I'm not sold.
Another French player who might not get the start after his lackluster play in the tourney will be Hatem Ben Arfa, who may make way for Florent Malouda (Chelsea).
Samir Nasri, Karim Benzema and Franck Ribery give Laurent Blanc and Les Bleus some serious firepower up front, but getting decent scoring attempts is something that always seems to plague Spanish opponents.
In goal, Hugo Lloris will have to be phenomenal to give France a chance, and I sincerely believe he'll be up to the task. But the big question will be if France can score.
Spain has a couple of big decisions to make in terms of starters. For me, Del Bosque would be wise to have striker Fernando Torres start on the bench and let 21-year-old Jesus Navas (Sevilla) see what he can do.
And Cesc Fàbregas (Barcelona) may also get his chance to finally shine in this one.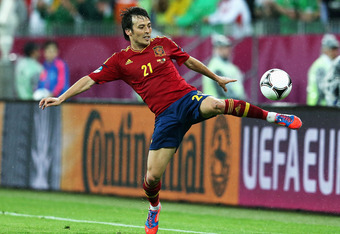 Alex Grimm/Getty Images
On the pitch, France's defense will try hard to hold its shape, but with Xavi Hernández, Andrés Iniesta, Xabi Alonso, David Silva and Sergio Busquets healthy and clicking, sooner or later, a mistake will be made, and I think Spain will find the back of the net.
This should be a tight, defensive battle, but with so much at stake, even a 0-0 score at halftime means the second half will be must-watch soccer, as France upsetting Spain would be big news worldwide.
But I'm predicting Silva gets the game-winner between the 60 and 80-minute mark, and Spain—undefeated in its last 26 European matches—moves on to a highly anticipated Iberian Peninsula showdown with Portugal in the next round.
PREDICTION: Spain 1 France 0
BETS: Under 2 Even, Spain -½ -125
Odds: LVH SuperBook 
Follow me on Twitter: @KevinStott11