Philadelphia Phillies: How Chase Utley's Return Impacts Team's Playoff Chances
June 22, 2012

The result of Thursday night's Philadelphia Phillies game, a 4-1 loss to the Colorado Rockies, pretty much sums up how the entire season has been going.
Citizen's Bank Park, a place that boasts loud and passionate fans, used to be a place that other teams dreaded to play in. The home-field advantage was never more obvious than when the Phils took the field at their stadium in the heart of their beloved city. In 2012, however, it has just been a place where the Phillies play their home games. Nothing much is special about it, no added advantage is obvious. The team isn't winning any more games at home. They aren't winning games period.
Nothing has been easy for the Phils this season. Whether it has been the injuries to key members of the team, uncharacteristic errors in the field, a lack of success against other teams' bullpens or just an inability to score with runners on base with less than two outs, the championship formula this team has had in the past few years is not there.
Morale is down and frustration is obvious. It is on the faces of the players, the dumbfounded looks of the manager and the disappointment from the fans.
This team needs something, well a lot of things. It needs to get help in the bullpen. It needs to get its ace and sluggers off of the DL. It needs its other ace to find a way to win a game. It needs to score more runs. It needs to make less errors, both mental and on the score sheet. It needs to take action, to play inspired baseball. Most importantly, this team needs to get its swagger, its confidence, its personality back.
Most of what the Phils need, most of what I described, is embodied in the heart and soul of one player. He is someone who doesn't shy away from a challenge, someone who plays with grit and passion, someone who is a leader. He may have arthritic knees but that doesn't change the fact that when healthy, he can really smack the cover off of a baseball.
If you haven't figured it out, the person I am referring to is All-Star second baseman Chase Utley.
Having yet to face major league pitching and the wear and tear of major league fielding, Utley is close to making his 2012 debut. In fact, according to a recent report via AOL Sporting News, Utley could be back before the calendar turns to July.
While Utley's return has been long anticipated, at this point in the season, one has to wonder if it will be enough or if the Phils have already dug themselves a hole too deep to climb out of.
Even then, a bigger question arises. When Utley comes back, how will he be? Will he go back to how he was pre-2011? Will he be able to play back-to-back games? Will his knees hold up for the rest of the season?
With all of these questions and so far, not enough information to create the answers, it is hard to predict how Utley's return will impact the team's chances at a sixth consecutive playoff berth. If Utley is healthy, however, and returns to the form he has had in the best years of his career, it would not be surprising to see the Phillies once again atop the NL East.
On the field, Utley brings solid defensive skills. He has never been perfect in the field but it is something he has invested time and energy in improving. With the bat, Utley has offensive prowess. His quick swing enables him to get the barrel on the ball and helps him get around on pitches. He grinds out each at-bat and is rarely ever an easy out.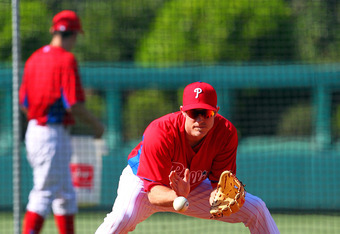 Rich Schultz/Getty Images
Something else that the Phillies desperately need is situational hitting and when at his best, Utley does this as well as anyone else in the game. With a runner on second, nobody out, such as in Thursday's game when Ty Wigginton led off the inning with a double, Utley knows what he has to do and more often than not executes.
In addition to what Utley offers with his bat and his glove, depending on his knees, he can also be a threat on the bases. Although not the fastest, Utley has also had good career numbers in base stealing percentage. Just like every other aspect of his game, he works so hard at it and as a result, when he does run, he picks his moments, and more often than not, he chooses them wisely.
In the dugout, in the clubhouse, in the locker room and on the field, Chase Utley is a leader. For someone who keeps his life relatively under wraps in terms of the media, Utley has proven himself to be a vital part of who the team is. Much of the confidence, swagger and personality this team alludes comes from the way Utley plays the game. The younger players on the team imitate him and the older players respect him. 
If Jimmy Rollins is the fire and Ryan Howard is the heart of the line up, Chase Utley is obviously the soul. Without its heart and soul, Rollins' fire is just an extinguishing flame. It goes without saying that with Utley back, this team will start to get some of its morale back. Rollins' flame, which has been starting to light up, will catch fire. Led by Rollins and Utley, the rest of this offense will catch fire too, just in time for a late playoff push in the heat of the summer months.
So even though the Chase Utley Phillies fans will see is still in question, what isn't in question is what he means to this team. So much of Utley's value is not measured in a box score. It is in the intangibles he exudes just when he takes the field. For the Phils, getting Utley back will impact their playoff chances and could very well make them a playoff team again. 
No matter what, though, the Phillies will be an interesting story to watch as the final, pivotal months of the season are underway.