After 4 Years of Losing with Class, Dale Earnhardt Jr. Wins with It
June 21, 2012

John Harrelson/Getty Images
On Sunday, Dale Earnhardt Jr. pulled into victory lane at Michigan International Speedway for the first time in four years.  He had taken the checkered flag, burned the tires off his No. 88 Diet Mountain Dew/National Guard/Dark Knight Rises Chevrolet and had a throng of supporters waiting to greet him as he emerged from his race car.  
Only he didn't, not right away.
That's because Dale Earnhardt Jr. was on the phone with owner Rick Hendrick.  And everyone would have to wait—the media, crew chief Steve Letarte, his team, fellow drivers, sponsors and of course the fans.  Junior was in no hurry as he sat in the car partially concealing his face during what may be the longest phone conversation in Victory Lane history.  
U.S. presidents have been brushed off faster in the winner's circle, but not Hendrick.
Since that moment, much of the NASCAR world has been interested in what was said during that conversation. And media members have asked the question, which may, in fact, be their job. 
To be honest, it really is none of our business, and even the sport's most public figure deserves a private moment every once in a while.  This was an emotional win, and Earnhardt Jr. wasn't ready to share it with the world just yet. 
It was, after all, Father's Day.  Rick Hendrick lost his only son Ricky (along with other family members and employees) in a plane crash eight years ago, and Dale Sr.'s death at Daytona has been well documented.  
From the day Junior decided to drive at HMS, each man has made it clear that their relationship was more than just business. From the famed napkin Junior signed as a kid to Ricky's declaration that one day he'd sign his friend Dale Earnhardt Jr. to drive for Hendrick Motorsports, this was personal.  The phone call reflected that, and we don't need to know the details of what was said.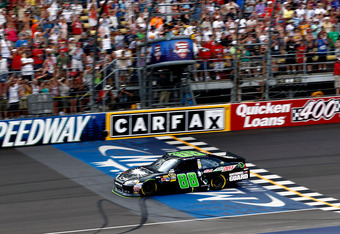 Jeff Zelevansky/Getty Images
When he finally emerged from his car, Earnhardt celebrated like he had been there before—which he had on 18 other occasions during his Sprint Cup Career.  He refused to fire a single shot at the naysayers, instead taking the time to appreciate everyone who stuck by him over the drought, expressing particular gratitude to his legions of fans and to Rick Hendrick.  
He won with the same dignity and class that has become the measure of this man over the past four seasons.
Although the late Jim Murray called baseball "the ultimate heirloom sport," NASCAR comes pretty close, particularly if your last name is Petty or Allison or Earnhardt or Baker.  A love of racing cars is passed down.  Talent behind the wheel is preordained, and the shadow cast by a father's greatness is steeper than the banking at Talladega.  And nobody has stood in it with more grace than Earnhardt Jr.
For all of the articles written over the last week about the win, his consistency this season, the promise of more victories and great expectations finally fulfilled, there has been little talk of that time between wins.  There is so much optimism pouring from the NASCAR media on the heels of this victory, that it is almost as if those dark days for the 88 didn't exist. 
How quickly we forget that less than two years ago, one respected NASCAR journalist brazenly predicted that Junior would throw in the towel before 40.  Or that other members of the media declared that the "ship had sailed" when it came to Junior competing for a championship.  You'd be hard pressed to find a writer who didn't question Junior's drive, dedication, talent and focus.  
Dale Earnhardt Jr. won't ever say it, but the stinging remarks had to hurt.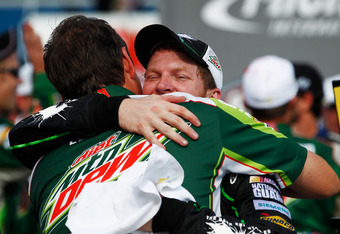 Jeff Zelevansky/Getty Images
Through it all, Junior took it on the chin. He answered the agonizing questions each week.  He expressed his genuine disappointment about just how much it bothered him to let down Rick, his sponsors and his incredibly loyal fans.  But he was honest to a fault and took every step with dignity, and he never quit.
Since his victory on Sunday, the Twitter universe has been abuzz with comments alluding to just how proud Dale Sr. would have been yesterday, and everyone from Darrell Waltrip to RCR fans have weighed in. 
But Sunday's win came without much resistance.  Earnhardt Jr. "whooped 'em" in  what he dubbed "a rocket," and Dale Sr. was never all that impressed by things that came easy.  
After all, he was the original "one tough customer," both on and off the track.  That's why Junior drove late models he worked on himself and spent his time changing the oil at Dale Earnhardt Chevrolet before his racing career took off.   So no, I am not sure the win itself would have impressed the man known as the Intimidator—pleased as he would have been. 
Now the four years prior to Sunday?  The constant glare of the media?  The army of doubters?  The snickering?  Struggling week after week deep in the pack only to strap yourself back in and do it all over again?  To take punch after punch after punch with humility and poise and class? 
Now that would have impressed the Man in Black.