How Twitter Can Help You Win Your Fantasy Football League
June 26, 2012

Michael Heiman/Getty Images
Some of you may see the word "Twitter" and knee-jerkingly guffaw (that's "laugh" to you young-ins). Even as a Twitterphile myself, I can see why many people would have no need or desire to join all the hubbub. But even if Twitter isn't "your thing," if your fake football opponent's thing is Twitter, you may be holding the short end of the fake football trophy.
So what's so good about Twitter, you ask? Good question. But let's narrow it down some. How about, how can Twitter help me win my fantasy football league? Well, disembodied voice, let me tell you.
1. Active or Inactive, That Is The Question
This is easily the most immediately-helpful item for your fake football team during the season. How often have you set your lineup only to find out that one of your stars hurt his pinky-toe during warm-ups? If you've ever had Brian Westbrook on your team, you know for sure what I'm talking about.
Active or inactive information on game day comes from NFL Team Beat Reporters and is then disseminated across the Twitterverse. You can follow many people for this information, but the reporters are the first with the info.
Here is a good list of NFL Beat Reporters to follow.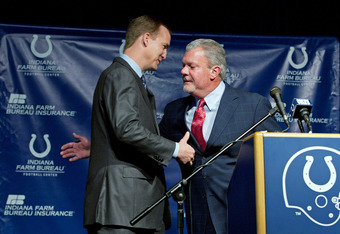 Joey Foley/Getty Images
2. Immediate Injury Information
When a player limps off the field it could mean he's done for the season, or just needed a shot of Gatorade. Unfortunately, our fake teams need to know which one, and as fast as humanly possible. This is where Twitter takes the information super-highway to light-speed.
NFL Insiders like Adam Schefter and Jay Glazer often know the results of an MRI before the players do. They may be the guys giving the MRIs! This information is vital to picking up players before someone else in your league gets to them.
3. Timely Trade and Free Agency Tidings
Like injury information, knowing who is getting traded and to where is important. A player moving from one team to another starts a domino effect in the fantasy world.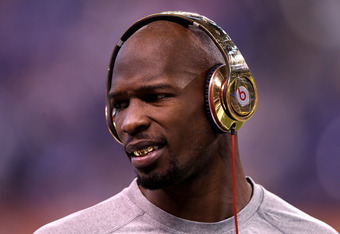 Elsa/Getty Images
You can go ahead and follow Adam Schefter and Jay Glazer and some of the insiders I'll link you to later for trade information, but after you get the information you will need some help deciphering how the dominoes will fall.
4. Following Fantasy Football Freaks For Foresight
There are plenty of people who are obsessed with fantasy football. You, me, the cat from Sabrina, The Teenage Witch and a whole bunch of other guys and gals. But there are some people that may just be a little more obsessed than others. Those people stay on top of the news, watch film, study statistics, write articles about all those things I just said, and just spend more time than most sane people do studying this silly game we love to play.
Those people also want to help you. Yes, they want followers and people to go to their fantasy football sites, but they realize that engaging on Twitter is a good way to prove themselves as non-hacks and to make perspective site-reading friends.
Take myself for example. I write articles that I hope help people with their teams, but those articles are finite. The words end at some point (Not soon enough! I hear that!), but if you follow me on the Twitter Machine we can actually discuss and clarify our ideas even more. And the same is true with a lot of writers.
There is an extremely healthy community of fantasy football writers and players that exchange ideas on Twitter freely and without being jerks! (Well, some of them.) I know I learn a lot from people on Twitter and you can, too!
Here is a big list of fantasy football writers that I pay attention to.
5. Waiver Wire, Start/Sit and Trade Advice
These three subjects are integral to your success as the coach of your fake team. And both are perfect for Twitter. Once you've found guys and gals that you trust for advice, all's you have to do is tweet, "Who do you think I should start this week, Joe Flacco or Aaron Rodgers?" Short and easy. The fantasy nerd will then be happy you gave him or her such a softball question and say, "Rodgers" and go about their business.
The good news is, you can get many different perspectives with minimal work on your part. Asking a few of your trusted writers will help you sift through your own thoughts on the question and help you come to a good decision. 
Just don't be a jerk-face. Remember that these people do actually care about being right or wrong and want to help you. They take the time to answer you, so you should take the time to be courteous. Remember, the people on Twitter are actually people and "please" and "thank you" still go a long way.
6. It's Fun!
You are probably someone who takes fantasy football fairly seriously, right? Okay, so Joe Bob from accounting plays fantasy football and likes talking NFL, so sometimes you strike up a conversation, say, about how quickly Adrian Peterson is recovering from his ACL/MCL injury. And you wonder out loud if he's worth a top pick in your draft. Joe Bob then goes off on how horrible the Vikings are and that the Lions will kick their asses every day of the week and on some days he made up in his spare time. "Ooooookay," you say as you back away slowly.
You can find Joe Bobs on Twitter, but you can also find people who take it as seriously as you do, and who can talk about statistics and injuries and schedules and trades and whatever, with intelligence. They are people that will make you smarter! And really, that's much more fun than being stupid.
So you've read this far, and maybe I've convinced you to sign up and give Twitter a shot and join the 500 million other Twitterers out there. So here's what you should do.
Sign up for a Twitter account and follow some of the best guys and gals out there for NFL info.  At the end of this post I'll give you a starter's kit of must-follows.
Download a Twitter program like TweetDeck.
There are others and I'm sure people would argue about which is better, but TweetDeck has always worked fine me.  I use it to separate the people I follow into different columns.  This allows you to group them so you can filter the type of information you want into categories.
Be a helpful Twitter-type person.
Yes, you can just follow some key people and gain fantasy knowledge, but interaction is the best way to learn and become a better fantasy player.  If you read a tweet that you find helpful, RT it to your followers so they can get that same info.  RT stands for "re-tweet" and all of your Twitter programs, including TweetDeck, will have an easy way to pass along RTs
And help people out. If they are asking who they should start or sit, give them your opinion, and maybe why you think what you do. 
I have had very few jerks cluttering up my Twitter experience. There is a laid-back, insightful and helpful fantasy football community to join. And the best thing about it is, it isn't insular or exclusionary. There isn't a cool-kids table that you aren't allowed to sit at. So get in there and ask and answer and pontificate and have a good time. One of the best parts about fantasy football is sharing experiences and knowledge. Keep up the tradition.
Follow people who follow you.
This is just nice. A lot of people on Twitter like to get followers and even though it's a pretty meaningless number, be nice and give real people with similar interests who give you a follow, a follow back. 
With a program like TweetDeck, if some of the people you follow aren't always writing exactly what you want, then it's no big deal to exclude them from the groups you pay close attention to. They get to be followed by someone as awesome as you and you don't have to read every thought that comes into their head. 
And this goes both ways. I tweet more than any human should and I'm sure people might get annoyed. I understand, and to tone me down, get TweetDeck and put me in that "insane fake football tweeter who never shuts it" column.
Don't follow players.
They are boring. There are some that can be somewhat interesting, but I just wait for someone to RT them. And it's usually not good fantasy information—it is more likely something stupid.
And don't follow celebrities. They are stupid and also morons.
Here is a starter pack of must-follows.
The Big Wigs
Adam Schefter—Yeah, he just gets the info.
Michael Lombardi—An NFL Network guy with the scoop.
Chris Mortenson—The old guard at ESPN. Still kickin', barely.
Jay Glazer—The NFL on Fox insider with the insider insides.
Jason La Canfora—NFL Network insider who likes punk music.
Peter King—Not as much a breaking-news type, but brings an interesting perspective.
John Clayton—The Professor.
Scout Types
These people watch film and know what the hell they are doing.
Matt Williamson—NFL Scout for ESPN.com and Scouts, Inc.
Matt Waldman—Author of the Rookie Scouting Portfolio.
Greg Cosell—Executive Producer of NFL Films.
Trent Dilfer—He may be the worst QB to win a Super Bowl but he gives a ton of good info from his tape study.
Alen Dumonji—Looks at the tape and gives us the scoop.
Doug Farrar—The Football Outsider.
Fantasy Football Writers
There are a lot of great people to follow in this category, but I'll focus on some the fantasy footballers that interact the most.
Evan Silva—Rotoworld writer who pulls no punches.
Chris Wesseling—Rotoworld writer who punches no pulls.
Sigmund Bloom—The Football Guys and Bleacher Report writer.
Mike Clay—Fantasy Editor at Pro Football Focus and Rotoworld contributor.
Jeff Haseley—Lead writer for The Football Guys.
Fantasy Douche—Stats for the new age of fake football.
Denny Carter -- Fake Footballer from Fake Football Land
Rotoworld Fantasy Football—Fantasy Football Updates.
Brad Evans—The noisemaker at Yahoo! Noise
Gregg Rosenthal—NFL.com's good fantasy guy.
The Fake Football—Like it says.
Andy Behrens—He's a yahoo from Yahoo!.
Rumford Johnny—Good egg and football-shaped mind
Dynasty League Football—The name says it all.
Jim Day—The Don of Twitter Fantasy Football.
Josh Moore and John Paulsen—The dudes from 4for4 Football bring the goods. 
Jeff Brubach—He's good at the fake football.

Jene Bramel—Great writer for The Football Guys and injury guru.
Dexter's Library—Fantasy football advice for the functionally illiterate.
Fantasy Football Pundit—He helps gather the best fake football info on Twitter.
David Dodds—One of the many awesome writers for The Football Guys.
Zach Law—He interviews the guys just above here, which is cool.
And you can always follow me, if that floats your boat.
Beat Reporters
Mentioned them before, but these tweeps are perfect for their own list/column.
My list of NFL beat guys and gals (No, Kerouac and Cassady are not on Twitter).
So, there's that.  Don't be scared of Twitter.  You don't have to be on it 24/7 like me to gain knowledge.  Have fun with it.  And follow me because for every new follower, the closer I get to liking myself.