Alabama Football: Why the Tide Will Still Be Stacked in Post-A.J. McCarron Era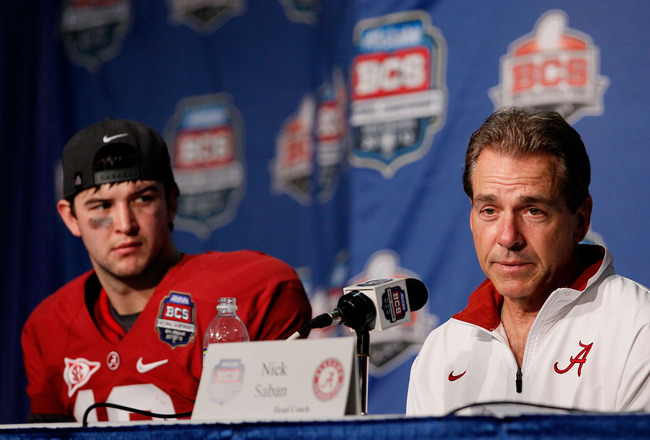 Chris Graythen/Getty Images
The Alabama Crimson Tide are looking at a streak of greatness over the next two years. With Nick Saban at the helm the future looks promising, but quarterback A.J. McCarron won't be there forever.
The term "Post-A.J. McCarron Era" may sound kind of strange, but McCarron is likely to be around for his redshirt senior year. That would make him the longest starting quarterback at Alabama under Nick Saban.
When it comes to career success, McCarron will also be at the top. He has a lot more talent around him than Greg McElroy and John Parker Wilson had, especially on the offensive line.
McCarron isn't a stat monster like Matt Barkley or Tyler Wilson, but he plays his role perfectly.
With Phillip Sims no longer at the Capstone, McCarron's presence is quite important, but here is why the Tide will be just fine when he eventually leaves.
Alabama's Young Receivers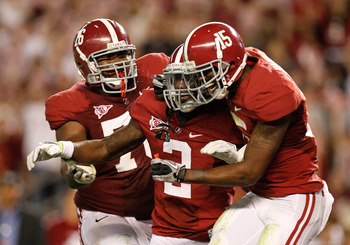 Kevin C. Cox/Getty Images
Alabama is absolutely stacked at wide receiver.
There is no Julio Jones, no A.J. Green and no Dorial Green-Beckham, but there are a slew of former 4-star wideouts on the Tide's roster.
Most of them will also be eligible for play in 2014.
You can also bet that Nick Saban with have a healthy crew of stud receivers coming in each and every year.
DeAndrew White, Marvin Shinn, Christion Jones, Chris Black, Amari Cooper and Danny Woodson, Jr. will all be seniors in 2014 unless they head to the NFL early.
You could put Tim Tebow out on the field and he wouldn't have trouble finding these targets when they are seniors.
Alabama's Young Running Backs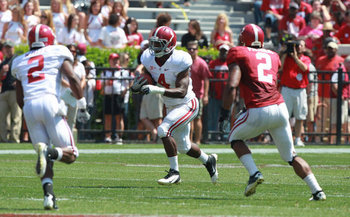 Like the receiving corps, the running back squad is pretty stacked.
After Eddie Lacy, it is led by true freshman T.J. Yeldon, who is almost certain to play in 2012.
Even if the NFL comes calling early, Yeldon will not be eligible for the draft in April 2014, nor will Kenyan Drake, who is from the same class as Yeldon.
Demetrius Hart will also be a junior after his medical redshirt in 2011.
The Tide's 2013 class also holds 4-star verbal commits Altee Tenpenny and Tyren Jones.
Alabama's a spectacular place to play for star running backs, and there will be plenty available long after McCarron is gone.
Alabama's Young Tight Ends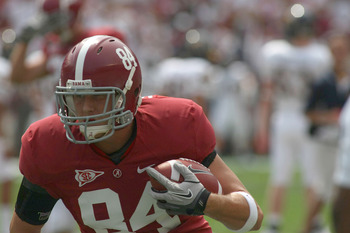 Greg McWilliams/Getty Images
One of the most important parts of Alabama's offense is their tight ends.
They aren't the type that rack up a ton of stats, but that isn't their job. They are required to block and sometimes go out for a clutch reception.
Alabama runs a two tight end set, and that likely won't change under Nick Saban. Alabama has no problems bringing in highly-touted tight ends.
Malcolm Faciane, Harrison Jones, Brian Vogler and O.J. Howard (if he sticks to his verbal commitment) will all be eligible for play in 2014. They are some of the best tight ends from their respective recruiting classes.
Alabama's Defense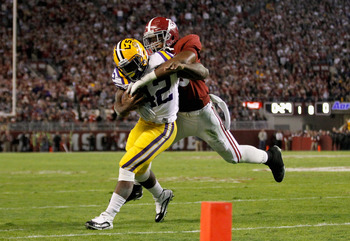 Streeter Lecka/Getty Images
Alabama's game plan is based completely around their defense, and that's why they typically run plays designed to move the chains and control the clock.
Nick Saban is a defensive mastermind and that won't change. Alabama's defense will always be stout.
Whoever the quarterback of the future may be, he will rarely be asked to pull the Tide out of a rut—the defense will take care of the rest.
Cooper Bateman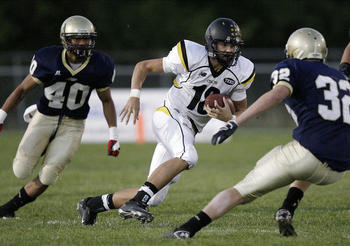 Cooper Bateman will more likely than not be the quarterback of the future at Alabama.
He should redshirt in 2013, but even if he doesn't he will only be a junior when A.J. McCarron exhausts his eligibility.
If he does redshirt, he will take the same path as McCarron. He will battle for the starting position and receive personal tutelage under Nick Saban. Then he will take the reins as a redshirt freshman.
Bateman is extremely promising and will live up to his potential, but if he doesn't win the starting position, then the other guy must be the next Joe Montana.
This is all assuming that he stays committed until February.
Nick Saban Is a Master of Recruiting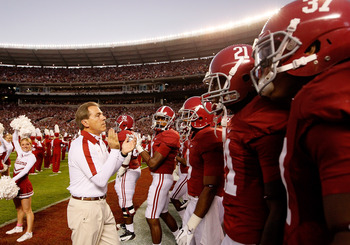 Kevin C. Cox/Getty Images
Nick Saban brings in the best overall talent every single year. He may not get all the 5-star recruits, but he gets the second-best of everything else.
Per ESPN, here is Alabama's recruiting ranking since Nick Saban arrived.
2007: 17th
2008: Third
2009: Second
2010: Third
2011: Second
2012: First
2013: Third (pending)
Rivals has another look on Alabama's recruiting.
2007: 10th
2008: First
2009: First
2010: Fifth
2011: First
2012: First
2013: Second (pending)
Regardless of which scouting agency ranks Alabama No. 1 this is certain: Alabama wins championships, and that's all that really matters.
Keep Reading

Alabama Crimson Tide Football: Like this team?