Big Ten Football Q&A: Who's the Big Ten's Best Linebacker?
June 21, 2012

Andy Lyons/Getty Images
On Thursdays on The Big Ten Blog, we will feature questions from the B/R inbox, Twitter and email. Do you have a question for next week's Q&A? Send them to Big Ten lead blogger Adam Jacobi via the B/R inbox, on Twitter @Adam_Jacobi or at ajacobi@bleacherreport.com.
@Adam_Jacobi Who will be the best LB in the conference this year?

— Dan V (@djv5030) June 21, 2012
I'm glad you asked. I don't want to give away too much as to who's atop my Top 150, but I will say this: Nine of my Top 30 are linebackers. I do have a top LB in mind, but I'll just list the top five in alphabetical order and let the readers fight it out in the comments. Seriously, look at this Top Five, then realize what that means about who I had to leave off. Incredible talent this year.
Chris Borland, Wisconsin: One of a pair of incredibly productive linebackers in Madison. Third-team All-American in 2011, First-Team All-Big Ten with both coaches and media.
Jonathan Brown, Illinois: An absolute terror off the edge who averaged more than two tackles for loss per game in Big Ten games and has a Honey Badger-esque nose for big plays.
Max Bullough, Michigan State: A big, tough tackling machine who anchored Michigan State's star-studded defense in 2011 and, amazingly, is still growing into the role.
Gerald Hodges, Penn State: The next great Penn State linebacker, with NFL athleticism and a rapidly improving sense of instinct. One hundred and seven tackles and 10 TFL in 2011; both numbers could rise.
Mike Taylor, Wisconsin: Borland's partner in crime and the Big Ten's leading defender, with an absurd 150 tackles in 2011. Voted First-Team All-Big Ten by media.
So, of those five, folks, who ya got?
@Adam_Jacobi Which B1G head coach is most likely to embrace a vegan lifestyle?

— Ben Dawson (@BenjaminJDawson) June 21, 2012
Vegans. That's rough stuff. But I'm glad you asked. Obviously there are easy jokes to be made about guys like Brady Hoke and Bret Bielema, especially considering the fact that even their morning coffee probably has meat in it. Guys like Jerry Kill and Danny Hope are basically Ron Swanson acolytes, so they're not about to stop eating steak.
But here's the thing about vegans: They're not all hippie-dippity-do pot-smokers. Lots of athletes, including MMA's Jake Shields, track star Carl Lewis, pro wrestler Daniel Bryan and long-time NBA forward John Salley are vegans. So, if any football coach in the Big Ten is going to put himself through that, it's going to be someone proud of his athleticism, focus and intensity. Which really narrows this down to one name:
Jonathan Daniel/Getty Images
Pat Fitzgerald. That guy looks like he could murder some marinated tofu right now. 
@Adam_Jacobi Is there any B1G stadium that you wish you could have seen a game at during a particular era? More about atmosphere than game.

— Craig D. Barker (@cdbarker) June 21, 2012
Oh, I'm glad you asked. There are a few answers here: Nebraska's Memorial Stadium during the Devaney dynasty, the Big House and the 'Shoe during the Schembechler-Hayes feud, even Iowa's Kinnick Stadium in the early 1980s when the Fry Revival was just starting to take hold.
But really, here's my ideal scenario: Sometime between the mid-1970s to the mid-1990s, at a reasonably loud and large stadium, witnessing a team make a miracle run at the roses. Here's why.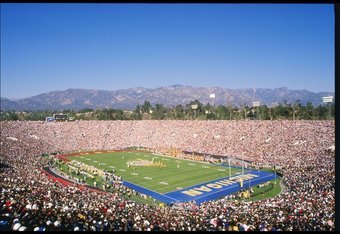 Tim DeFrisco/Getty Images
We're in a pre-9/11 scenario at that point, so stadium security hasn't been turned into a matter of power-mad badge-fondlers—WAIT, I MEAN super serious national security yet. It's late enough that the casual racism in the stands isn't nearly as much of a thing anymore. We're in the era of the Big Ten where teams other than Michigan and Ohio State are starting to go to Pasadena, but it's still infrequent enough that great success is a rare treat for appreciative fans.
Lastly and most importantly: The scoreboards don't have scores from other games flashing on them at that point.
At the risk of outing myself as a neo-Luddite (as I sit on my bed using a laptop with wireless Internet, publishing for an Internet company for money that I receive in automatic electronic payments), I think there's an information—if not outright sensory—overload at football games these days.
I miss the truest, least synthetic simplicities of the game-day experience: the dispassionate accounting of the ball-carriers and yardage by the faceless stadium announcer, the buzz of a crowd 15 minutes before kickoff of a big game, the entire sonic input coming from the marching band, chants and cheers.
Most of all, I miss the one or two unexpected interruptions from the PA per afternoon, as the announcer—dutifully concealing the grin from his voice—declares that it is a final score: [Heavy Underdog] 27, [Team You Hate] 24. Those are such great moments, and having the score of that game and five others readily available on the scoreboard during the game itself feels tantamount to peeking at presents every day before Christmas.
So, to answer your question, just take me back to a time when going to a football game was just, well, going to a football game. And the more tens of thousands of fans you can put around me at the same time, the better.