Arkansas vs. South Carolina: Tired Gamecocks Will Fall to Razorbacks in CWS
June 21, 2012

Ronald Martinez/Getty Images
South Carolina survived elimination by defeating Kent State, but the two-time defending champs will not be able to get past Arkansas.
A postponement on Wednesday forced the Gamecocks to play two games in one day, each of them a win-or-go-home situation. After a long season, the team might just be too tired to keep going.
The team was already in a tough situation within the tournament. The two-time defending College World Series winners lost to Arkansas after a record 22 straight tournament wins. While it was an impressive feat, the loss put them one loss from elimination.
In order to advance to the finals, South Carolina needed to defeat Kent State and then avenge the loss to the Razorbacks two times. They took care of the Golden Flashes by a score of 4-1 in a quick game, but beating Arkansas will be a different story.
Primarily, South Carolina has already used its ace in Michael Roth. The senior pitched a gem in the morning to keep the team alive, but the team will not be able to get anything else from one of the most successful CWS pitchers of all-time. 
The rest of the pitching staff will need to slow down talented hitters like Matt Reynolds and Dominic Ficociello, and that is a tall order, considering how well everyone is playing right now.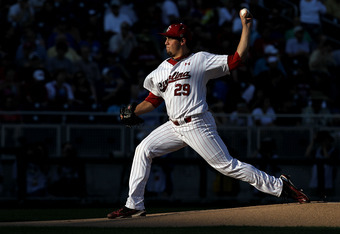 Ronald Martinez/Getty Images
As far as the South Carolina lineup, performing well in both legs of a double-header is always a tall order. They're bats have slowed lately, with only five runs in the past two games, and the short turnaround will only hurt the team's chances even more.
There is a reason no team has played two full CWS games in a day since Michigan in 1980.
These teams know each other well from the Southeastern Conference, and they have split the season series 2-2. However, Arkansas now has the confidence after the previous win and does not have the pressure of a must-win.
South Carolina has had an amazing run, but they would need to win three games in a 24-hour period to play for their third straight championship. As much talent as there is on the team, this simply will not happen.