Dolphins receivers Davone Bess and Brian Hartline will both be great fits in the West Coast offense being installed by head coach Joe Philbin.
The West Coast offense is a timing and rhythm offense, but there's much more to it than that. Bess' ability to find the soft spot in coverage, get open by maintaining leverage and create yards after the catch will allow him to remain one of the Dolphins' top options in the passing game.

According to
Pro Football Focus
, 225 of Bess' 537 receiving yards came after the catch. That means that 41.9 percent of Bess' receiving yards were YAC. Also according to PFF, 1,158 of his 2,668 receiving yards since 2008 (43.4 percent) have come in YAC.
Hard to argue that that's not a strong point in his game.
And those abilities were on display in the Dolphins' 38-24 loss to the Patriots in Week 1 of the 2011 season.
In that game, Bess hauled in five receptions for a season-high 92 yards, racking up 55 yards after the catch.
Let's take a look at how he did it.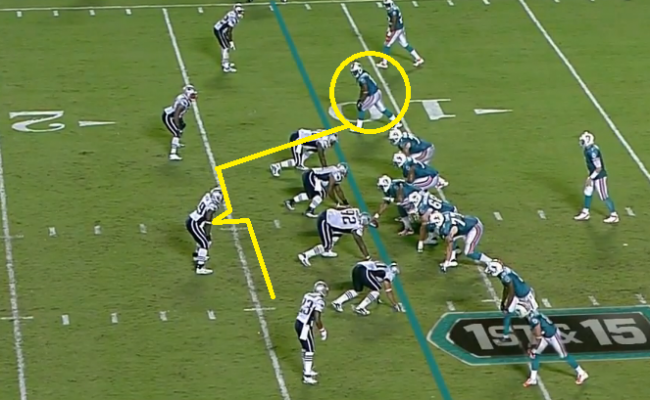 On 1st-and-15 in the third quarter, the Dolphins come out in the shotgun with four receivers and a tight end. The Patriots are in a dime package in slightly off coverage. Specifically, cornerback Kyle Arrington is about five yards off from Bess.
Bess breaks inside as Patriots linebacker Gary Guyton drops into a soft zone. Henne is pressured quickly by Patriots linebacker Rob Ninkovich, but having found a soft spot in coverage directly in front of Henne, Bess allows his quarterback an easy checkdown.
From here, Bess puts his quickness and speed on display to get some extra yards after the catch, resulting in a gain of 11 and a much more manageable 2nd-and-4.

As for Hartline, he's not quite the YAC-attack receiver that Bess is, but there are plenty of ways he can fit into the offense.
Bess and Hartline have worked together for three years, but the West Coast offense calls for its receivers to run route combinations, and the two teamed up on an early touchdown catch against the Patriots.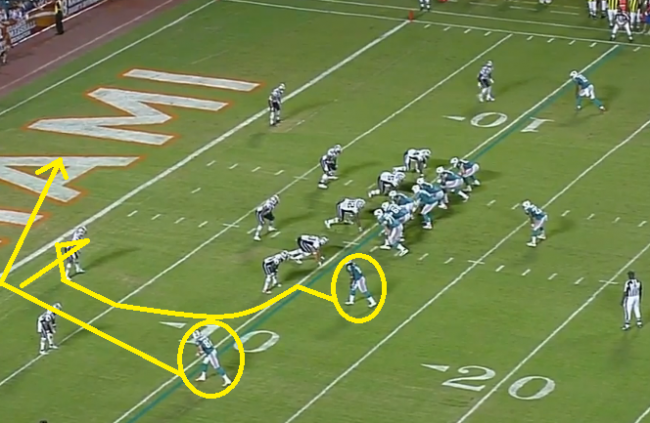 The Dolphins come out with the 11-personnel grouping—one running back, one tight end and three wide receivers. Hartline's on the outside, and Bess is in the slot. The Patriots match that by coming out in the sub package with four linemen, two linebackers and five defensive backs.
Against a two-deep zone, Bess and Hartline are both attacking safety Josh Barrett, and they force him to pick who he's going to defend.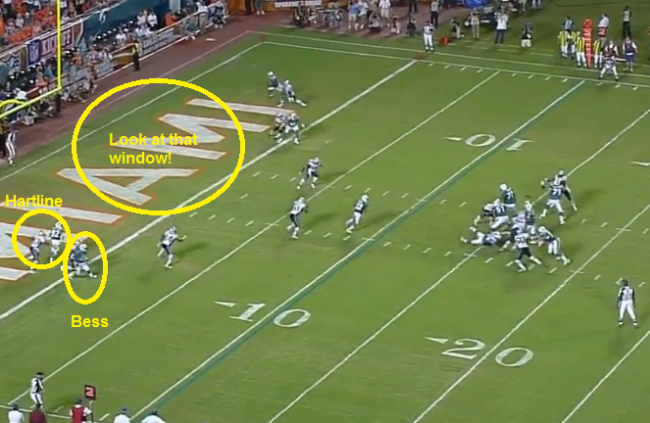 Once Barrett elects to cover Bess, Hartline comes wide open behind him.
Creating matchups and drawing up plays to get someone open are two hallmarks of the West Coast offense, and it looks like Bess and Hartline already have it figured out.
ESPN Monday Night Football analyst and former NFL head coach Jon Gruden on the call:
Henne sees it's two-deep zone, and they're going after Josh Barrett the young safety with Bess on a little option route, and you're going to see Josh Barrett jump Bess, and right behind him goes Brian Hartline.
Route combinations like the one Hartline and Bess ran against the Patriots offense are exactly the type of tool that will help them succeed in the West Coast offense. The two are familiar running them off each other, which bodes well for them as they make the transition.
Hartline didn't do as much damage after the catch as he usually does (he had only 94 YAC in 2011, according to PFF), but he's been adept in that role in the past. He's shown the ability to create YAC in the past, and his ability to run multiple routes and also do damage in the seam will be a major point of emphasis for his role in the Dolphins offense.
As two of the more experienced receivers on the roster, it will be interesting to see how early and often they are utilized with the West Coast philosophy. From this perspective, the presence of the two can only mean good things for the Dolphins offense.
Erik Frenz is the AFC East lead blogger for Bleacher Report. Be sure to follow Erik on Twitter and "like" the AFC East blog on Facebook to keep up with all the updates.