2013 NCAA Tournament Will Officially Be Without One of Its Big Dogs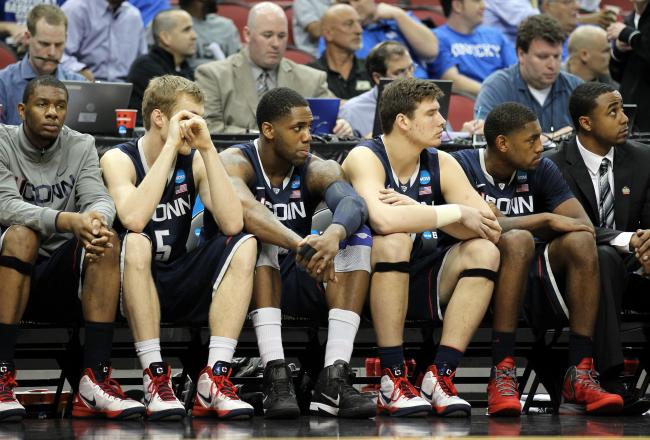 Andy Lyons/Getty Images
USA Today reporters Nicole Auerbach and Steve Wieberg have reported that the University of Connecticut's men's basketball team will be prohibited from participating in the 2013 NCAA tournament due to the team's low Academic Progress Report (ARP) score. Hartford Courant writer Dom Amore also reported that the Big East had also decided to ban UConn from their end-of-season tournament.
UConn, the 2010 national champion and 2010 Big East Tournament Champion, is, according to ESPN the only school from a major conference to receive the postseason ban in basketball. The NCAA also banned nine other schools from postseason play in basketball, however none of those teams came from a BCS conference.
According to Sports Illustrated the school had been holding out hope that the NCAA would alter its judgments on the ARP and postseason ban; however the NCAA decided to stick with their rules which they implemented last October, and state that a team must have a 900 ARP average over four years or a 930 average over two years in order to be eligible for post season play. UConn's four-year score is 889 and their two-year score is 903. SI also reported that UConn's ARP for this year is 978 out of 1,000, but that was not enough to change the NCAA's mind as UConn had applied for a waiver in January, but the waiver was denied.
With UConn being banned from postseason play, many players have decided to transfer as the NCAA has granted them the ability to transfer without sitting out a year, or enter the NBA Draft. Notable transfers include Alex Oriakhi who transferred to Missouri and Roscoe Smith who went to UNLV. The team also lost Jeremy Lamb and Andre Drummond to the NBA Draft, according to the SI report.
With the postseason ban, players leaving, recruits not coming like they used to and the health of head coach Jim Calhoun, it seems to be shaping up to be a rough few years for UConn. Now, UConn will not have the type of rebuilding issues that SMU had after being handed the "Death Penalty" by the NCAA in 1987, but UConn will still have a lot of questions lingering around their program. How's Calhoun's health? How long will he be the head coach? How will UConn fair in the Big East? Will the Big East still be around and/or relevant by 2014?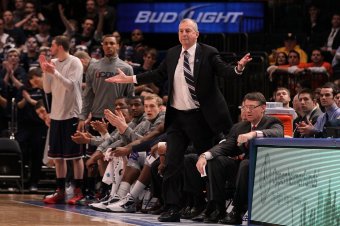 Jim McIsaac/Getty Images
New York Times writer Adam Himmelsbach reported that there are some people who believe UConn will not suffer any recruiting issues, but they were unhappy with the NCAA punishing athletes who were not responsible for the low scores.
Whatever happens, the NCAA will feel good that it has set an example by banning UConn from postseason play, as the USA Today also reported that NCAA Committee of Academics Chairman Walter Harrison said during a conference call on Wednesday that:
"I believe very strongly that this is a game-changer," NCAA Committee on Academic Performance chairman Walter Harrison said on a conference call Wednesday afternoon. "It sends a message to our teams and to our critics that we mean business. Teams need to take care of (academic) things first things first, or they won't be able to play in the postseason. Those teams not eligible for the postseason need to think hard about who they recruit and how they support their student-athletes."
With that, UConn will go into this season with a different outlook and different expectations than they are used to, and the Big East and NCAA tournaments will be without one of the big dogs come March.
This article is
What is the duplicate article?
Why is this article offensive?
Where is this article plagiarized from?
Why is this article poorly edited?

UConn Basketball: Like this team?