Justin Masterson: Cleveland Indians Hurler Wins AL Best of the Night Award
June 21, 2012

Jason Miller/Getty Images
Interleague play is agreeing with Justin Masterson. The Cleveland Indians' 27-year-old sinkerballer went into Wednesday night's start against the Cincinnati Reds looking for a third straight dominant start.
Surprisingly, he ended up outdoing himself.
Masterson pitched his first complete game of the season on Wednesday night, allowing just one unearned run while scattering three hits. He didn't walk a single soul, struck out nine, and racked up 13 ground-ball outs.
He upped his record to 4-6 on the season, and lowered his ERA from 4.38 to 3.98.
You can watch highlights of Masterson's dominant start over at MLB.com. When you get to it, pay close attention to the sinker that he struck out Joey Votto with to end the game. It was a truly nasty pitch.
Nasty enough, in fact, to get Carson Cistulli of FanGraphs to write up a post about it. He noted that Masterson's last sinker came in at about 94.6 miles per hour, and that it featured more sink and more lateral movement than a league-average sinker. Its placement was as perfect as can be, and home plate umpire Ron Kulpa did not miss the call.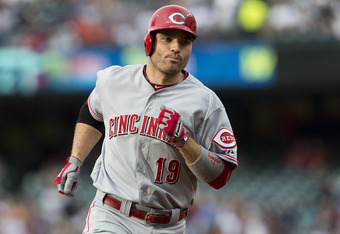 Jason Miller/Getty Images
To boot, keep in mind who was frozen on the pitch. Votto is leading baseball in batting average, on-base percentage, OPS, weighted on-base average (wOBA), and WAR. Statistically, he is the best hitter in baseball.
Masterson made him look like a chump. The same goes for the rest of the Reds' lineup, which has scored more runs than any team in the National League in the month of June.
As I said before, Masterson is feasting on NL hitting. He's allowed a grand total of one earned run in 23 innings pitched over his last three starts, good for an ERA of 0.39 (h/t Baseball-Reference.com). All told, he's allowed just three earned runs over 30 innings in his four starts against NL teams, good for an ERA of 0.90.
This is all well and good, but it masks the fact that Masterson has allowed a grand total of 40 earned runs in 67.1 innings against American League clubs. Once interleague play is over, don't be surprised when Masterson comes plummeting back to earth.
As far as the now is concerned, Masterson did more than enough on Wednesday night to earn today's American League "Best of the Night" award. He was absolutely filthy, and he dominated a damn good Reds lineup.
You might say he "Mastersoned" them...
Sorry, I couldn't resist. If you feel like throwing bricks at my home, you have my permission to proceed.
If you ever want to nominate somebody for American League "Best of the Night" honors, hit me up on Twitter.