Fact or Fiction: Pittsburgh Steelers Offseason Edition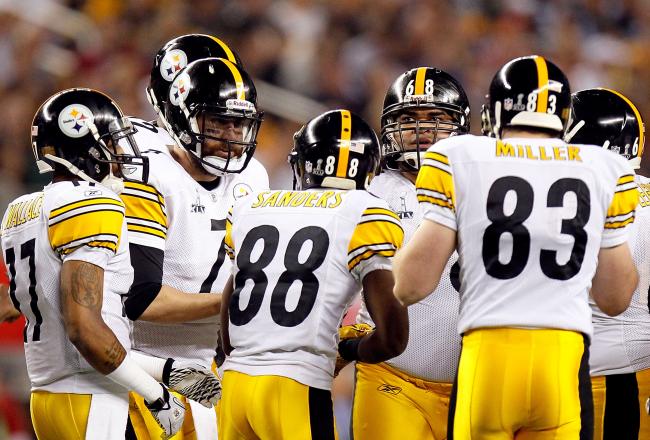 Will changing offensive coordinators make this group even better this season?
Kevin C. Cox/Getty Images
All week long, I've been breaking down a pair of scenarios for each AFC North team and determining whether they will prove to be fact or fiction. Our final installment concerns the Pittsburgh Steelers.
Scenario: The Pittsburgh Steelers offense will be better in 2012 than it was in 2011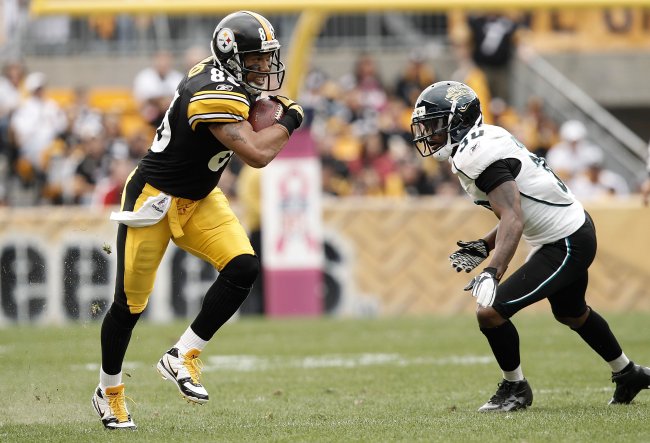 Jared Wickerham/Getty Images
There's certainly a learning process that goes along with a team replacing its offensive coordinator, and the Pittsburgh Steelers are no exception to that process. With Todd Haley in and Bruce Arians out, the Steelers have a lot of new concepts and terminology to learn between now and the start of the regular season.
Among the changes we're likely to see this year include quarterback Ben Roethlisberger working from the pocket more and running more no-huddle, more passes thrown to running backs and a renewed overall focus on the run game.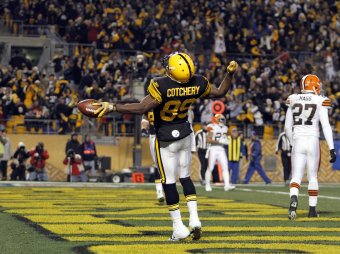 Justin K. Aller/Getty Images
At the same time, the Steelers will also be dealing with ways to make up for the absence of wide receiver Hines Ward, whom the team released in the spring and who then retired from the game.
While Ward was becoming less and less of a receiving threat as he got older, his incredible blocking skills will be missed. It's hard to imagine Jerricho Cotchery or Emmanuel Sanders blocking the way Ward did, and though they'll be asked to attempt it, a little something is going to be lost in the offense without Ward out there.
The thing to note about this new offense is that it's more a collection of plays designed to maximize the talents of every Steelers offensive player, rather than a rigid system into which they are all expected to fit.
There are signatures to Haley's offense that he takes with him from job to job, but it's not a proscribed philosophy. That's why he could have a high-production passing offense under his aegis in Arizona and one of the league's best rushing offenses when he was in Kansas City.
The Steelers offense is more balanced then that of the Cardinals or Chiefs when Haley was there, which means that he'll be able to get the best out of both their pass and run games and call plays that work with, and not against, the talent they have on the roster.
All of these improvements are moot, however, without a stronger offensive line. We've all heard countless times about the struggles of Pittsburgh's offensive line last season. Injuries forced players to move from right to left, from guard to tackle to center and back again, and as a result, harmed the Steelers' ability to be consistent, especially in the run game.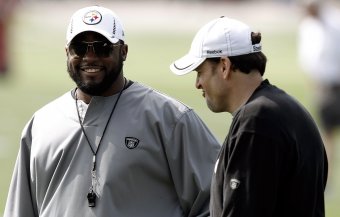 Jared Wickerham/Getty Images
This year, as long as all members of the line can stay healthy, this should be a much-improved area of their offense. Two draft picks, guard David DeCastro and tackle Mike Adams, should win starting jobs, Willie Colon is being moved from tackle to guard, and ideally, Jonathan Scott doesn't have to take the field at all.
Add in a fully healthy Maurkice Pouncey at center, and the Steelers should have the line they need to run plays with confidence.
But there's little point of running play after play with no results. The Steelers averaged just .321 points-per-play last season, ranking them 22nd in the league. They averaged just 2.2 touchdowns per game, and despite averaging 3.2 red zone scoring attempts per game, they scored a touchdown just slightly over 50 percent each time.
Thus, Haley's main focus needs to be on maximizing those scoring attempts and not settling for three points when six can be had with just a bit more intelligent effort. At least the Steelers have the talent on the roster to be able to make these improvements.
Their receiving corps—made up of Mike Wallace, Antonio Brown, Sanders and Cotchery and their running backs, and led by Isaac Redman, as well as tight ends Heath Miller and Leonard Pope and hybrid back/receiver Chris Rainey—are all playmakers in their own ways.
With talent like that, there should be little trouble installing a better, more effective and higher-scoring offense under Haley's leadership. It's tough to transition from one coordinator to the next, and the Steelers will likely have some stumbles during the season. But none should be long-lasting or serious enough to damage the team's overall season.
In fact, with all of these components under new leadership, it should be a better Steelers offense in 2012.
VERDICT: Fact
Scenario: The Steelers defense is too old and won't be as effective this year as a result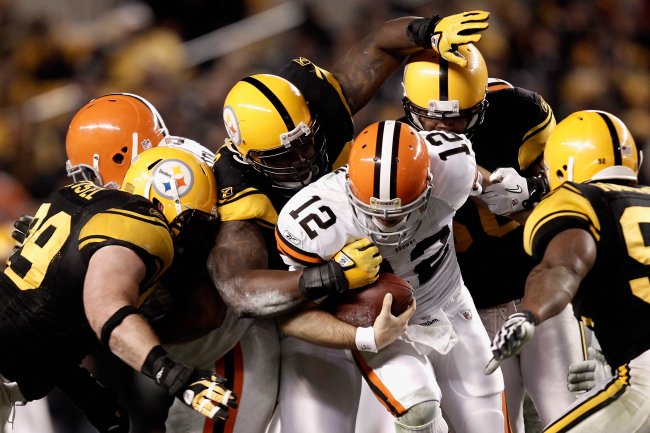 Jared Wickerham/Getty Images
Remember how last year, NFL analyst Warren Sapp declared that the Pittsburgh Steelers defense was old and slow and that their period of dominance had come to an end? Well, that supposedly done defense gave up the fewest overall yards per game last season, the fewest first downs, the fewest points per game and allowed the fewest red-zone scoring attempts.
The Steelers did this while not having starting linebacker LaMarr Woodley on the field for six games, fellow backer James Harrison for four and, yes, having collectively one of the older defenses in the league.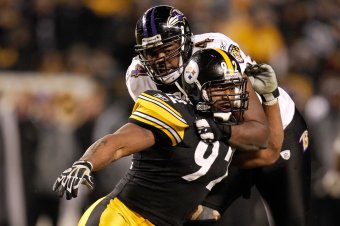 Gregory Shamus/Getty Images
This year, the Steelers are younger, and they're faster—all without lacking experience, as Cian Fahey mentions here. Aside from cornerback William Gay, who left to join the Arizona Cardinals, all the defensive veterans the Steelers released this offseason were age 30 or older and are being replaced by players under 30 years old (but who also have actual NFL experience, save rookie linebacker Sean Spence).
Critics of the age of the Steelers defense critique by looking at one man: James Harrison. No, Harrison isn't all that young for a linebacker, at age 34, but he's also three years younger than the Baltimore Ravens' Ray Lewis—a player many still refer to as ageless.
One 34-year-old man does not an elderly defense make. Having players who are over 30 as starters also doesn't doom a team if they still play to a high level.
There's little evidence that the ages of the Steelers' defensive starters are any liability, considering how they performed last year. Now that they've gotten even younger, yet no less effective, bodes well for Pittsburgh to field another league-leading defense this season.
VERDICT: Fiction
This article is
What is the duplicate article?
Why is this article offensive?
Where is this article plagiarized from?
Why is this article poorly edited?

Pittsburgh Steelers: Like this team?