Counting Down the NFC North's 5 Biggest Busts: #2, Tony Mandarich, OL, Packers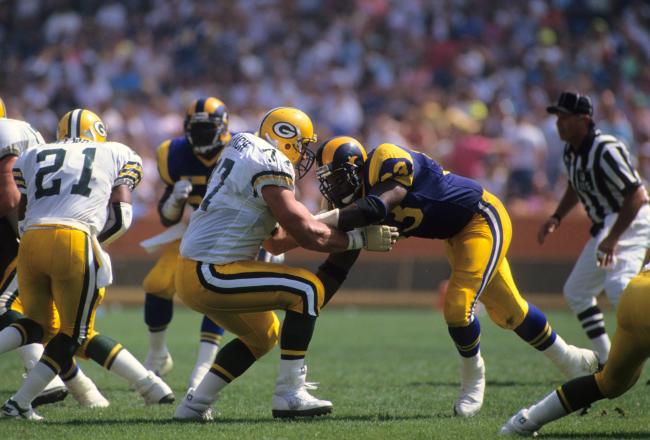 George Rose/Getty Images
I had a really hard time with the last two players here.
Not because I had no idea—they were the guys I pegged for the top of the list before I started. It was hard because both failed so spectacularly.
So Tony Mandarich is the second player on this list by microns, though he's still worlds ahead of the guys before him.
Mandarich was a guy who came into the league with unbelievable hype—he was featured on the cover of Sports Illustrated as 'the best offensive line prospect ever'.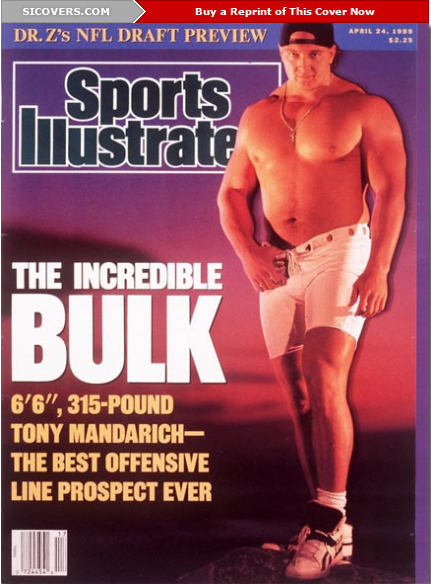 This was in 1989, well before the monolithic promote-a-thon the NFL Draft has become today. There had been 'can't miss' prospects before, but rarely was it something anyone outside of the NFL talked about the way we do today.
You think there was an uproar when Cam Newton said he wanted to be an icon and an entertainer? I can't imagine Mandarich entering the league today with the hype he had then. The money and hype was what Mandarich was about. He challenged Mike Tyson to a boxing match, missed public appearences because he was drunk or too hung over to function and famously called Green Bay "a village" to express his displeasure in being "trapped" in a small market and missing out on the endorsements he might have gotten elsewhere.
When pushed on the issue of his attitude, Mandarich said: "I am not like other players, I am Tony Mandarich, and they have to understand that. If they don't like it, that is just the way I am and they are going to learn to like it."
Things started off rocky as he held out and ended up on the special teams unit when he did join the team.
He had dominated in college, but never pulled it together in the NFL. He lost weight and strength, which led to questions about steroids. In 2008, he admitted using at Michigan State, but not the NFL—a fact which is backed up by his diminishing size and impact on the playing field.
While he says he didn't use steroids, he admitted to being addicted to painkillers and alcohol, another factor in his dismal NFL career.
Mandarich was released by the Packers in 1992, citing a non-football related injury and he entered rehab in 1995 and once sober, had a brief stint with the Indianapolis Colts where he played well, but not anywhere near what he had once shown the promise of.
While he has since found peace and satisfaction in a life after football, his hype, his utter failure to succeed and the ridiculous antics he performed when he entered the league puts him at #2 on this list, and pretty high on the All-Time NFL Bust list as well.
He has two things over our number one pick (who we will cover later) in that he played in five times as many games, started five times as many and actually ended his career on a relatively high note, all things being equal.
Check out the B/R NFC North Facebook page - like us and keep up with everything NFC North on Bleacher Report!
This article is
What is the duplicate article?
Why is this article offensive?
Where is this article plagiarized from?
Why is this article poorly edited?