Boston Bruins: Latest Trade Rumors, Free Agent News and Draft Buzz
June 21, 2012

Bruce Bennett/Getty Images
The Boston Bruins are still rotating in the Rick Nash rumor mill, albeit without much steam. Ken Campbell, one of the top columnists at The Hockey News, has them in the company of the Rangers, Hurricanes, Flyers, Sharks and Maple Leafs as the Columbus captain's six most eligible pursuers.
Although, in his Tuesday piece, Campbell deemed the Bruins "a wild card" who would not even approach the Blue Jackets until a week after the upcoming draft. That is consistent with reports from the local press corps that general manager Peter Chiarelli plans to stand back rather than try to catch any trade winds blowing within Pittsburgh's Consol Energy Center.
(Postscript: Boston had no "big trades" per se over the days of the draft and Nash is still a Blue Jacket as of Sunday. But there was a deal on the Bruins end and other rumors detailed in the addendum at the bottom of this column.)
If he follows through on that, then Chiarelli will put 2012 up with 2009 as one of the more uneventful drafts in his tenure of six years and counting. The only ripples he and the Bruins will make this weekend would involve utilizing their five draft picks, beginning with the 24th overall selection in the first round.
Chiarelli, as reported by the Taunton Daily Gazette's Mike Loftus, has not ruled out seeking a trade for an additional pick. At the same time, he considers the recent signings of two free-agent prospects in goaltender Niklas Svedberg and defenseman Torey Krug the equivalent of supplementing the seven rounds.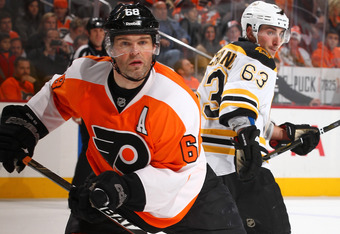 Al Bello/Getty Images
As far as who they select in Friday's first round and over the course of Saturday, the Bruins could be swayed by the defense-laden pool of prospects.
If the International Scouting Service's top-50 rankings are any indication, Boston could realistically be in a position to pick up anyone from Matt Finn of the Ontario League's Guelph Storm to Adam Pelech of the OHL's Erie Otters.
The ISS has Finn projected at No. 18, Pelech at No. 30. Ranked in between are another five blueliners in Slater Koekkoek, Derek Pouliot, Brandon Skjei, Dalton Thrower and Ludvig Bystrom.
But by simple virtue of their picking position, this weekend's draft will not provide any keys to Boston's immediate future. Regardless of who they select, the Bruins will need to rely on established professionals to add any new faces who will be on the team and make an impact next season.
And with free agents set to be turned loose eight days after the final round of the draft, beat reporter Matt Kalman of CBS Boston Sports has a suggestion that they pursue veteran forward Jaromir Jagr.
Elsa/Getty Images
Douglas Flynn of nesn.com is also taking up the topic of Jagr, but he has his doubts about the 40-year-old Czech coming to New England.
As their roster stands right now, the Bruins have 12 active forwards under contract for the coming campaign. The future of Benoit Pouliot and Brian Rolston remains uncertain and Chiarelli has only offered that a new contract for Pouliot is not off the table yet.
Whatever they do, be it through a trade, a re-signing or a new signing, the Bruins would be wise to add at least one relatively seasoned spare part to their strike force. But precisely how they go about that will not become apparent until July 1 at the earliest.
Update: As of Saturday morning, that aforementioned Pouliot possibility was officially off the table. The Bruins bought themselves an extra draft pick from the Tampa Bay Lightning in exchange for the pending RFA's rights.
And they used that fifth-round pick (131st overall) rather shrewdly, selecting Seth Griffith, the top scorer for the OHL champion London Knights. Griffith joins goalie Malcolm Subban, defensemen Matthew Grzelcyk and Matthew Benning and forwards Cody Payne and Colton Hargrove as Boston's newest prospects.
Transitioning the discussion to a former Knight, the Nash trade is still technically conceivable, especially in light of Friday's news that Tim Thomas will waive his no-trade clause.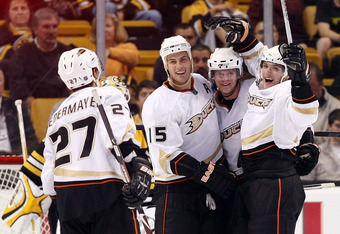 Elsa/Getty Images
Exiting the draft weekend and entering the final week before July 1 commences the frenzy of summertime transactions, the Bruins have only $3,877,857 worth of cap space. Relieving themselves of Thomas would instantly swell that space up to $8,777,857, just enough to take on Nash's $7.8 million hit with a little less than $1 million left over.
One kicker, though: Thomas' successor, Tuukka Rask, is still a restricted free agent and will indubitably need more than his previous yearly income of $1.5 million to stay.
Thinking realistically, not even a trade of say, Krug, would be sufficient to re-sign Rask and also import the pricey Nash. This author, for one, would advise Bruins buffs not to bank on acquiring the Columbus captain.
But there are other options to shore up the upper echelon of the Boston depth chart. The aforementioned Jagr has yet to re-sign with Philadelphia and could make for a decent one-year rental as he transfers from one prolific strike force to another.
Or, if the Bruins prefer to take someone on for a longer stretch, they could try to woo Bobby Ryan, who reportedly wants out of Anaheim and has expressed interest in the rival Flyers.
If Jagr goes elsewhere, joining James van Riemsdyk on the egress out of Philadelphia, the Flyers' interest in Ryan could grow keener. Boston could do itself a twofold favor by intercepting the 25-year-old Duck from their conference rivals and taking him for themselves.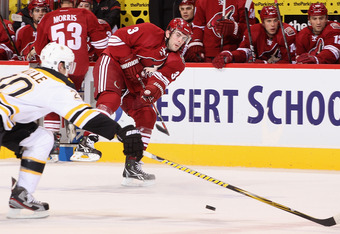 Christian Petersen/Getty Images
Wherever he might go, Ryan would bring in a three-year contract and $5.1 million cap hit. But more importantly, he would bring a consistent scoring touch that has had him finish each of his four full NHL seasons in the 30-goal range.
He hasn't been too shabby in the playoffs, either, tallying eight goals and 11 points in 19 career games.
Joe Haggerty of csnne.com brought up the subject of Ryan as well as Phoenix Coyotes defenseman Keith Yandle. The 25-year-old Massachusetts native could lend some playmaking proficiency to the points and join the five-man core as another established NHL blueliner in case Dougie Hamilton is not yet up to par.
There are potential complications with these scenarios as well, though. Haggerty suggests that either Ryan or Yandle could come at a price in the form of center David Krejci.
If that is the case, considering the measures he took to re-sign every holdover from the 2011 Stanley Cup championship, it's hard to envision Chiarelli parting with one of his top pivots at this time, regardless of the return package.
Boston's best bet, from this author's corner, is to focus on trading Thomas to free up cap space and using that space to obtain a free-agent forward.