Syracuse Basketball: The 10 Most Underrated Players in Syracuse History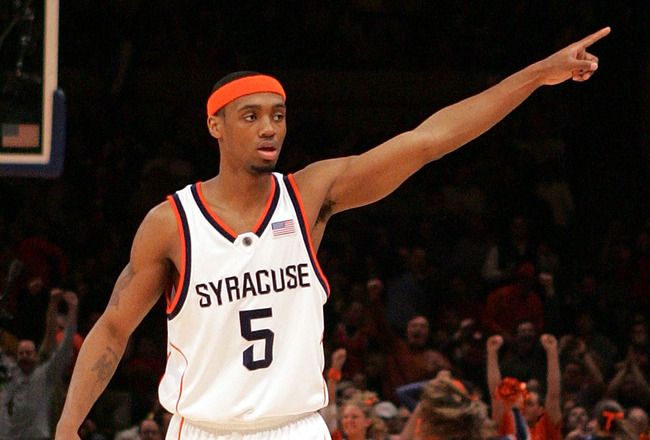 Jim McIsaac/Getty Images
The Syracuse Orange basketball program has seen a ton of terrific players come through the ranks, and some of them are more renowned than others.
Stars like Dave Bing, Carmelo Anthony and Derrick Coleman overshadow key players who were vital to their squad's success.
Sometimes players aren't properly valued by fans and media because they don't fill up the stat sheet or deliver jaw-dropping plays. They just execute their role on the team, whether it's on defense, rebounding or clutch scoring.
It's time these unsung heroes get their due. Have a look at this rundown of the most underrated players in Syracuse history.
10. Stevie Thompson (1986-90)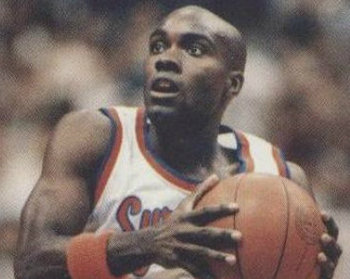 Photo Courtesy of NationofOrange.com
In an era dominated by Derrick Coleman and Sherman Douglas, Stevie Thomas did a bunch of his own damage.
He logged nearly 4,000 minutes and scored nearly 2,000 points for the late 1980's Orangemen, yet he's not as historically renowned as DC, Douglas or Billy Owens. During his playing days he wasn't underrated, but he's relatively unappreciated by today's generation.
Thompson was an athletic slasher whose effort on and off the floor earned him Big East Scholar Athlete of the Year honors in 1990.
9. Adrian Autry (1990-94)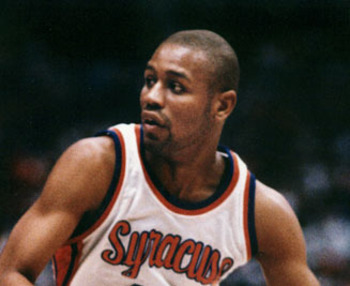 Photo Courtesy of Collegiatetimes.com
How does a guy who scores 17 points, dishes six assists and grabs five rebounds per game as a senior get snubbed by the NBA?
That's exactly what happened to guard Adrian Autry after his time at Syracuse. He led the Orangemen in assists all four years and was selected to the first team All-Big East his senior year.
The NBA letdown didn't stop him from having a solid professional career in various European leagues.
Autry's coaching career gradually ascended from the high school and AAU ranks all the way back to his alma mater. The 2011-12 season was his first on Jim Boeheim's staff.
8. Conrad McRae (1989-93)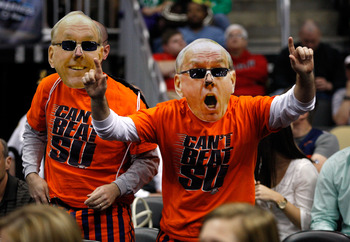 Jared Wickerham/Getty Images
The only players ahead of Conrad McRae on Syracuse's all-time blocked shots list are Roosevelt Bouie, Rony Seikaly and Derrick Coleman.
That's some good company.
Over the course of his junior and senior seasons, McRae swatted 145 shots, which is pretty impressive considering he came off the bench for most of his junior year.
Unfortunately, the 6'9" center's life ended far too soon, as he died of a heart attack at 29 years old.
7. Kueth Duany (1999-2003)
Craig Jones/Getty Images
The lone senior and captain on the 2003 national title team, Kueth Duany provided timely scoring, poise and leadership to an otherwise young roster.
Duany gave great energy on both ends of the floor, as he played superb defense and scored inside and out.
He was the fourth scoring option on the championship squad, something that set Syracuse apart from other programs and gave them an edge heading into tournament play.
6. James Theus (2000-02)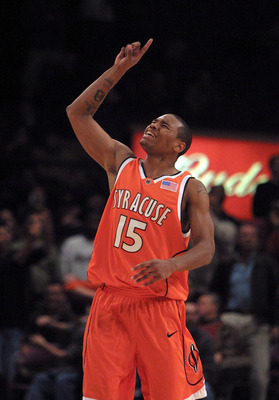 Al Bello/Getty Images
Basketball's defensive masters often get overshadowed by prolific scorers and highlight-reel players.
That was the case for James Theus, whose pick-pocketing skills were under-appreciated during the Preston Shumpert and DeShaun Williams era.
In 2001-02, Thues tied the Syracuse single-season steals record with 101, terrorizing Big East offenses by snagging three steals per game.
Theus transferred to Detroit Mercy after his sophomore year, where he had a more prominent role and was closer to home.
5. Eddie Moss (1977-81)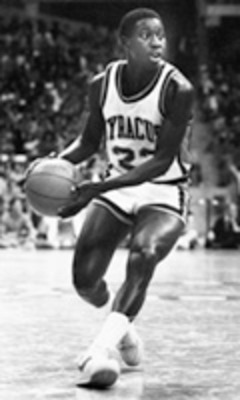 Photo courtesy of Lifeinlegacy.com
He didn't fill up the hoop at an alarming rate, but Eddie Moss made his impact on several other aspects of the game.
Moss was one of Syracuse's best all-time perimeter defenders, racking up 230 steals in his 117-game career. He also facilitated the offense to the tune of 539 career assists, and he shot the ball extremely efficiently.
OrangeHoop discussed Moss's open-court prowess:
Moss was the master of running the fast break, and while he did not score a lot, he took advantage of defensive breakdowns to make the high percentage shot.
4. Rick Jackson (2007-11)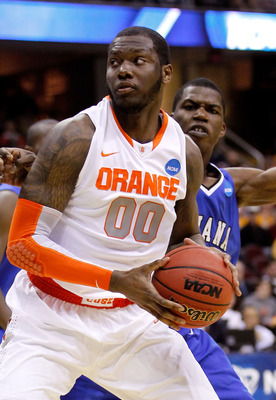 Gregory Shamus/Getty Images
Rick Jackson certainly wasn't a flashy player, which is part of the reason he's underrated in the big picture.
He didn't make eye-popping plays or hit big shots, but his positioning, timing and nose for the ball helped him become one of the best rebounders in the country his junior and senior year.
Jackson averaged a double-double in 2010-11 while shooting a blistering 59 percent from the field (and he actually shot 59 percent for his career).
His defense was underrated also, as he had one of the best defensive ratings on the team during his Orange career.
3. Jimmy Lee (1973-75)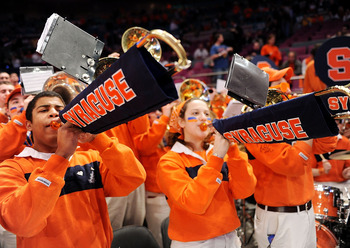 Michael Heiman/Getty Images
Hometown guard Jimmy Lee owns the best single-season free-throw percentage in Syracuse history and was a critical part of the team's 1975 Final Four run.
The Kirkwood, NY native wasn't an All-American or a widely-known star, but his game-winning shot over North Carolina to send the Orange to the Final Four was a signature moment in Syracuse lore.
Jim Boeheim thinks that Lee's achievements, which include the Syracuse All-Century Team and the 1975 All-NCAA Tournament Team, merit the retirement of his No. 10 jersey. Here's a piece of his 2009 interview with the Post Standard:
Normally, we retire guys who were named All-Americans, but we haven't kept it to All-Americans, only. Certainly, Jimmy — who just was given the Letterman of Distinction Award — is a guy who did hit a lot of big shots for us. I'd say he's a definite candidate to have his jersey retired.

2. Chuck Richards (1963-65)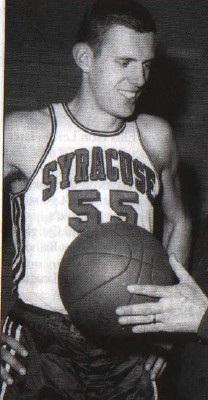 Photo Courtesy of OrangeHoops.org
When people think of Syracuse basketball in the '60s, they think primarily of two people: Dave Bing, who's probably the best player in program history, and Jim Boeheim, a player who became an iconic coach.
Lost in the shuffle is hometown post player Chuck Richards, who had a couple of extremely productive years after transferring from West Point.
The forward/center dominated the paint in 1963-64, scoring 22 points and hauling in 9.5 rebounds per game. He teamed alongside Bing to form an exceptional duo for the Orangemen.
1. Josh Pace (2001-05)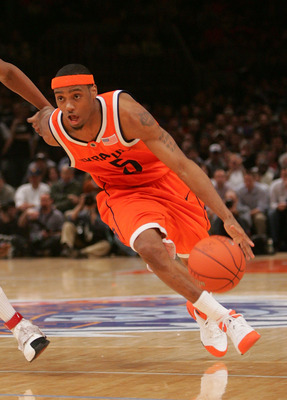 Jim McIsaac/Getty Images
Syracuse's 2003 championship season will always conjure memories of Carmelo Anthony, Gerry McNamara and Hakim Warrick.
But there was also a great supporting cast, and one role player whose contributions were underrated was Josh Pace. The 6'5" guard had a knack for giving the team exactly what it needed, whether it was energy, scoring or defense.
In the NCAA title game against Kansas, Pace grabbed eight huge rebounds and scored eight points to help the Orange hold off the Jayhawks.
Jim Boeheim himself indicated that Pace was the most under-appreciated player he's ever coached.
For more Syracuse hoops, NCAA and NBA coverage, follow me on Twitter: @Danielobleacher
Keep Reading

Syracuse Basketball: Like this team?