Re-Ranking the Oakland A's Top 10 Pitching Prospects
It's been a year of ups and downs for Oakland pitching prospects this year. Some players have had extremely disappointing years so far, while others have used that to their advantage and have risen in Oakland's system.
One positive to the current, overall lackluster performances that seem to be plaguing the A's system is that there's still plenty of time for players to turn things around. Adjustments can be made, and players may be promoted or demoted—all in an effort to help teach these young players how to reach their full potential.
Regardless of how unremarkable the numbers may be, the Oakland farm system does boast some tremendous talent.
It just so happens that a lot of said talent is extremely young and inexperienced, needing much more time for their skills and production to rise. Those who are closer to the show are perhaps the more disappointing of the bunch, having plenty of past success to suggest they should be performing better than they are.
In the second half of the season a lot can happen, and it should become clearer as to who's ready to take the next leap and who still needs a lot more work. Here are the top 10 Oakland minor league pitchers as they stand today.
10. Michael Ynoa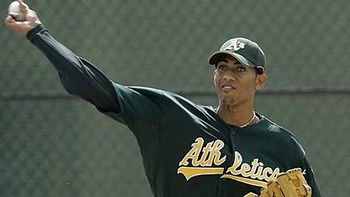 In what's sure to be an extremely unpopular choice, the decision to include Ynoa comes down to two basic factors: He's still only 20 and the A's are rather thin when it comes to serious pitching prospects.
For those who aren't familiar, Ynoa was signed by the A's at the age of 16 for a whopping $4.25 million. Needless to say, the A's have barely seen their investment actually pitch. Throwing only a handful of innings to date, the biggest success of Ynoa's career thus far is that he seems to be recovering just fine from the Tommy John surgery that he underwent in 2010.
Ynoa makes the list purely on potential. He still has the frame and projectable stuff of a top-of-the-rotation starter, and using Jarrod Parker as a relevant example, you can come back strong from Tommy John surgery. Only time will tell.
9. Drew Granier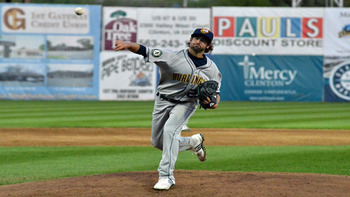 Leading the entire A's farm system with nine wins, the little-known Granier is proving that last year's success wasn't a fluke. Following up a season in which his ERA was south of 2.00, Granier currently sports a 3.02 ERA to go with his impressive win total.
Though his stature may not appear intimidating, Granier can rack up the strikeouts in bunches, compiling 76 in only 83 innings this year.
If it weren't for one dreadful start last week against Quad Cities, he might have the farm system lead in ERA as well. Bouncing back to give up only three earned in seven innings with seven K's, look for Granier to slowly creep up onto other people's radars.
8. Pedro Figueroa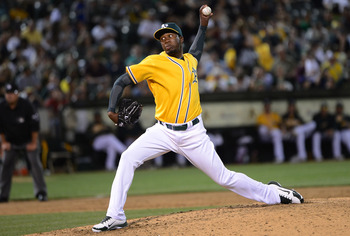 Thearon W. Henderson/Getty Images
Though bouncing around between Triple-A Sacramento and Oakland this year, Figueroa still figures to be an interesting prospect. A reliever, the young lefty always manages to perform considerably well when called upon.
In Sacramento, Figueroa's ERA was 1.96, and his major league ERA is even better—at 1.50 in nine games.
Figueroa has proved thus far that he can handle any setting, even if it's not the one he'd prefer. It's just a matter of him being given a shot to prove he belongs in the Oakland bullpen long-term. At the very least, Figueroa figures to be a lefty specialist with the big club.
7. Ian Krol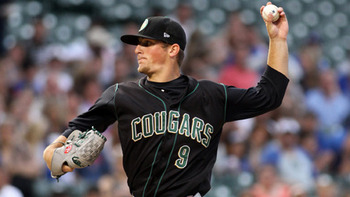 Had it not been for a painful-to-watch campaign last year, Krol may very well have been in the top three of this list. After missing most of last season for a variety of reasons—most notably an elbow injury and a regrettable tweet—Krol hasn't quite been able to replicate the success of his first professional season so far this year.
With Krol, it's not so much talent as much as it is his head.
There was a ton of drama revolving around Krol coming out of high school, and it seems to have followed him into his professional career as well. If Ian Krol the player is to become the top prospect that he once was, he must first straighten out Ian Krol the person.
6. Raul Alcantara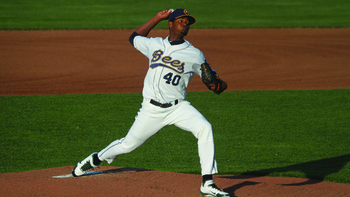 Coming over along with Josh Reddick in the Andrew Bailey trade, Alcantara, at this point, is all potential.
A young, hard-throwing righty, Alcantara is still learning how to harness his natural gifts. He is able to throw strikes but not always with the best location.
Although it's not a given that he sticks as a starter, Alcantara could develop into an extremely talented reliever who possesses more than just a one- or two-pitch repertoire. Aside from his overpowering fastball, Alcantara throws a plus slider and his changeup has the potential to develop into a plus pitch as well.
When all is said and done, the A's might've gotten away with armed robbery (pun intended) as Reddick, Alcantara and Miles Head all seem to have promising futures ahead of them in Oakland.
5. Sonny Gray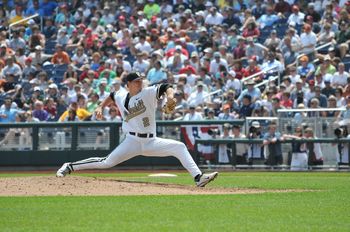 Though not the start the A's envisioned Gray having, the 2011 first-round pick still has a lot that Oakland does like.
His build isn't the biggest, but his repertoire certainly makes up for it.
He has a fastball that sits in the mid-90s, and Gray supports it with a plus breaking ball. An improving changeup should have Gray developing into a middle-of-the-rotation starter. What he lacks in physical attributes, he makes up for with his knack for pitching, which comes from having a ton of experience while pitching for Vanderbilt.
4. A.J. Cole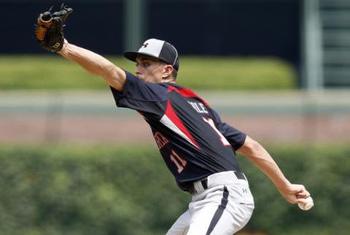 Another player who hasn't quite lived up to expectations, Cole may have the highest upside of any Oakland minor league pitcher.
Despite possessing an excellent frame and electrifying stuff, Cole was hit hard in High-A Stockton to start the season, prompting a demotion to Low-A Burlington.
Since the demotion, Cole seems to have figured out at least a few things, lowering his ERA to the low 3.00s. The ability is clearly there. There's just no reason to rush his progression. Don't expect to see Cole in an Oakland uniform for years, but when you do, you're looking at a potential top-of-the-rotation starter.
3. Brad Peacock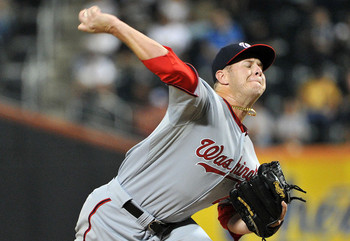 In what seems to be an unfortunate recurring theme for the A's, Peacock has underperformed thus far.
After entering spring training this year with every opportunity to win a rotation spot, he couldn't. He struggled during the spring, and it seemingly carried over into his starts with Triple-A Sacramento as well.
Regardless of how poor the numbers suggest Peacock is pitching, he does still command a very good three-pitch repertoire that suggests he could one day become a two- or three-spot starter. If he straightens out everything quickly, A's fans could see that promise as soon as this year.
2. Dan Straily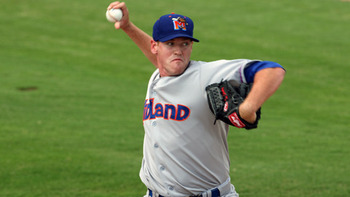 A little under the radar heading into the year, Straily has been on a tear as of late. In his last three starts at Double-A Midland, Straily has pitched a total of 21 innings, allowing only two runs while amassing 29 strikeouts and prompting a promotion to Triple-A Sacramento.
He's had his occasional meltdowns this year, but the numbers speak for themselves.
He is leading the Texas League in K's by an extremely large margin and has been a pleasant surprise for Oakland this year. Putting up rather pedestrian numbers in previous years, no one in the Oakland organization could've suspected such a leap. If Straily continues as is, it's not out of the question to see him in Oakland making a spot-start late in the year if needed.
1. A.J. Griffin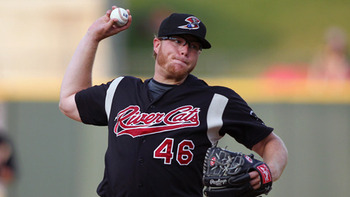 One of the quickest risers in the A's system, Griffin has established himself as one of Oakland's top prospects this year and has found himself in Triple-A after only two previous seasons in the minors.
Sporting back-to-back complete games earlier this month, Griffin showed just how gifted a pitcher he really is.
After an initial rough patch following his promotion to Sacramento, Griffin buckled down and showed resiliency, despite his lack of overpowering stuff. Griffin's greatest attributes are his changeup and feel for pitching—two factors that should see him pitching in the green and gold relatively soon.
Keep Reading

Oakland Athletics: Like this team?