Arsenal Transfer Rumours: Why Van Persie's Standoff Could Save Arsenal's Legacy
June 22, 2012

Stanley Chou/Getty Images
The Curious Case of Robin van Persie's Contract has stirred up more debate and speculation than Pamela Anderson's breasts, but objectively we still know very few concrete details regarding the situation.
We know that van Persie has a year left on his contract, and that despite prolonged talks he has yet to commit his long-term future to Arsenal. We know that there has been officially declared interest from both Manchester City and Juventus, both reigning champions of their respective domestic leagues. We know that popular opinion says van Persie will be sold before the end of the calendar year.
Amidst all this doom and gloom it is easy for us to focus on the negatives. But Arsenal fans are renowned for their blind optimism, and so I mindfully proclaim that this transfer saga could be the best thing to happen to the Gunners since Arsene Wenger's appointment way back in 1996.
Why? To explain why, we first have to take a look at RvP's history as a Gunner, just to establish some ideas.
RvP the Youngster: Exquisite Frustration
Arsenal bought Robin van Persie in 2004 for the bargain price of £2.75 million. Since then, he has played his entire career at Arsenal under the tutelage of Wenger, possibly the most effective cultivator of footballing talent to ever have managed a football team.
During that time he has, without hyperbole, been demolished by injury. Five of his eight seasons with Arsenal have either been ended or cut significantly short by a variety of injuries, severely limiting his continued influence as an Arsenal player, despite showing his undoubtedly world-class ability on a consistent basis when match-fit.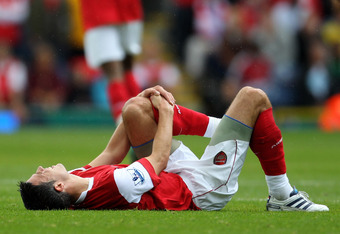 Alex Livesey/Getty Images
In the 2011-2012 season, following the inevitable departure of Cesc Fabregas, van Persie was promoted to the official position of club captain, and the unofficial status as Arsenal's one indisputably great player.
Despite the pressure on the shoulders of the Dutchman, he responded to this added power and responsibility magnificently: he played every game of the Premier League season, scoring 30 league goals in the process (a feat bettered only once in Arsenal's history, by a bloke named Thierry Henry). And, after what can only be described as a cataclysmically dreadful start to the season, he led his team with passion and by great example to a third place finish.
Make no mistake, were it not for van Persie's tenacity and leadership in a role thrust upon him more by necessity than design, Arsenal's future as one of England's elite clubs would be in serious jeopardy.
At the risk of generating more debate, I would say that van Persie would not be one of the best footballers in the world today were it not for Arsene Wenger's guidance and faith in his ability. Lesser managers—and better managers, for that matter, if they exist—would have given up on RvP at the first sign of recurring injury. And make no mistake, van Persie knows this better than anyone.
This introductory spiel becomes pertinent here: call me a one-eyed goon, but the suggestion that van Persie would leave Arsenal for the singular pursuit of glory doesn't hold weight with me.
He owes everything he is, was, and will be to Wenger and Wenger alone. How could anyone suggest that a grounded, level-headed player such as van Persie, whose career is just beginning to peak in a team built around his goalscoring and creative talents, would simply cast aside the club and the man who made him what he is? Mindful of his personality and role within the fibre of the club, this sounds uncharacteristically mercenary-like.
And RvP is no mercenary.
When you add his own father's statements that moving to another Premier League team is impossible, that a transfer to Barcelona would be foolish, and that both van Persie and his wife and children are happy and well-established in London, the question is begged: why is he doing this? What does he stand to gain from a prolonged stand-off? What does he want?
And this is where Arsene Wenger the villain, and Robin van Persie the hero, come in.
Arsene Wenger: the Maker and the Breaker
Arsene Wenger has a very distinctive managerial style. He doesn't buy teams—he builds them, and in order to build them he requires a foundation.
When he first came to Arsenal, the backbone of the team was their defense: Adams, Keown, Dixon, Bould, and Winterburn. After adding Patrick Vieira to the mix, Wenger had a rock solid defense capable at one stage of keeping eight consecutive clean sheets in the league. With that area of the team sorted out—and the purchase of burgeoning youngsters like Kolo Toure, Lauren, and Ashley Cole bought on the cheap—Wenger could turn his attention to developing other areas of the team, safe in the knowledge that at least one of the three fundamental areas of a successful squad had a tick next to it.
This philosophy led to great success, particularly with the acquisitions of the attacking quartet of Thierry Henry, Dennis Bergkamp, Robert Pires and Freddy Ljungberg. In 2003-04 the Arsenal squad achieved what was thought impossible: to go an entire season in the EPL undefeated. The team was recently voted the greatest in twenty seasons of Premier League Football.
After the Invincibles disbanded, Wenger set about rebuilding his squad from a new foundation, and this foundation was centred around a young midfielder named Cesc Fabregas.
After making a few supportive purchases for his midfield—such as the young Frenchmen Mathieu Flamini and Samir Nasri, and the promising Theo Walcott—and with a solid attacking base in van Persie and Emmanuel Adebayor, this Arsenal side looked to have the potential to at least equal, if not surpass, the achievements of their predecessors.
But they were too young, too ambitious.
Footballers in the modern game measure success by trophies, and in many cases this insatiable desire for silverware overwhelms any feelings of loyalty or love for one's club.
And so, one by one, the future of Arsenal packed up and left for clubs with more established, experienced teams. Flamini and Adebayor were the first to go, and were soon followed by Toure and, eventually, the mercenaries of Nasri and Clichy. Then, after a protracted saga, Fabregas, once the jewel in Arsenal's crown, returned to his own boyhood club Barcelona.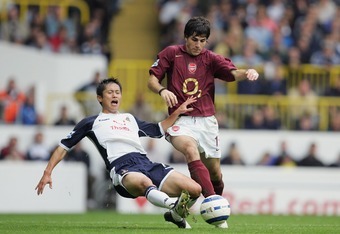 Richard Heathcote/Getty Images
The thing about football in the modern climate is that a manager simply cannot grow a team in the pure and organic way that Wenger had so much success with.
It can take eight or nine years to develop a player from a promising 18-year-old into a world-class player, but when your rivals can afford to spend £30 million on a guaranteed superstar without batting an eyelid, those eight or nine years become, ironically, too high a price to pay.
It's all very well holding a strong mentality of how football should be played, how a team should be constructed, and when the Financial Fair Play rules come into force, Arsenal under the tutelage of Wenger may become one of the strongest teams in the world.
But when Jose Mourinho spends more on players in two years than Wenger has done in 14, and leads his club to two Premier League titles and an unparalleled home record, managerial principle becomes secondary to success.
You have to buy players these days, if you wish to challenge for honours. And you have to buy good players.
You simply cannot bank on the youth academy of a club filling key positions with adequate players, because you can be damn sure that a club with £100 million in the kitty will be filling those same positions with the best players in the world.
But during this time period—when all of these potentially great Arsenal players were leaving for "greener pastures"—who was the one constant? Who was the one world-class player who stuck with Arsenal through thick and thin, sale after sale, mediocre purchase after youth academy flop, just as Arsenal had stuck by him?
You got it. Robin van Persie.
Poker Face: Why RvP's Bluff Can Save Arsenal
Van Persie has been at Arsenal for long enough to know Wenger's managerial style pretty much inside and out.
He has seen the good. But don't kid yourself for one second that he hasn't seen the bad. Everybody has. It's part and parcel, unfortunately, of being involved with Arsenal.
Van Persie will be as aware, if not more aware, of Wenger's flaws than anyone.
The thing is, up until this season, RvP hasn't been in a position to issue any kind of ultimatum. Gifted player though he has always been, he has never been the sole focal point of the team.
Now, after his 30-goal bonanza, and a successful season showcasing his abilities as both a player and a leader, he is in that position.
Van Persie's reluctance to sign a new contract is a power play. It is the club captain standing up to his manager and saying, you know what, you're great, Arsene. You are. But you need to open your eyes to the reality of the situation. I'm 28, I'm one of the best players in the world. I am your new Henry. Now you need to build on me. And if you don't, I'm out of here.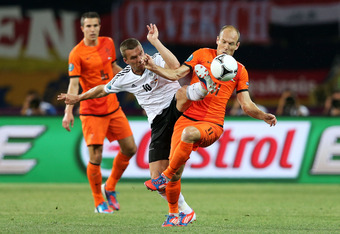 Julian Finney/Getty Images
He won't leave. It's a bluff. But so far it's a bluff that has led to the acquisition of Lukas Podolski, the almost-certain acquisition of Olivier Giroud, and—it seems increasingly likely—the acquisition of Yann M'Vila.
Such purchases would have been unheard of three years ago.
Allow me, then, to make a prediction. Arsenal will sign Giroud within two weeks from today. They will sign M'Vila before the first game of the 2012-13 season begins. They will make at least one, probably two more signings before the end of the calendar year.
And before September, RvP will commit his future to Arsenal unreservedly.
This saga is simply another demonstration of van Persie's leadership.
It has come to a point where in order to create a legacy for himself, he must take on a pseudo-managerial role to open Wenger's eyes to the reality of the footballing world in 2012. He must demand signings, and he must demand quality.
He knows that if Arsenal can come back from the kind of opening to a season that they experienced to a third-place finish while relying almost exclusively on the talents of one player, new, proven players can only enhance this.
Arsenal has character and class, and Wenger. Very few players fail to flourish under the Frenchman's tutelage. It is one of his defining features.
We will see an end to this saga soon. That much is inevitable.
And though my viewpoint may be seen as being crudely optimistic, I stand by it.
There is no reason for van Persie to leave. Staying at Arsenal will cultivate for him a legacy in the vein of Totti at Roma, Del Piero at Juve, or Raul at Real Madrid. Leaving will see him branded as either a mercenary or a flake.
RvP is neither of those things. He loves Arsenal, and Arsenal is good for him. Let's just hope, for all our sakes, that I have channeled Nostradamus in this article.