Manchester United News: Rating the Red Devils Players at Euro 2012 so Far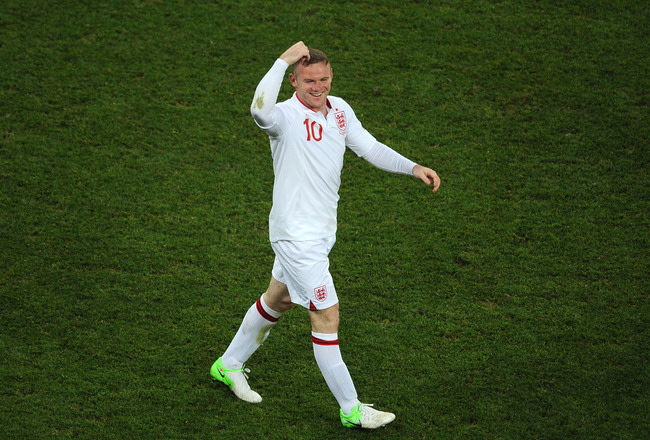 Christopher Lee/Getty Images
With the group stages of Euro 2012 out of the way, it's time to look back on what we've seen so far and in particular, the performances we've seen so far from certain players.
Manchester United sent seven players to compete at Euro 2012 for their respective countries—Anders Lindegaard for Denmark, Nani for Portugal, Patrice Evra for France as well as Ashley Young, Phil Jones, Danny Welbeck and Wayne Rooney for England.
The Red Devils' players have been in fine form throughout the tournament so far, so let's take a look at the performances we've seen and see who has been the best United player at Euro 2012.
7. Anders Lindegaard, Denmark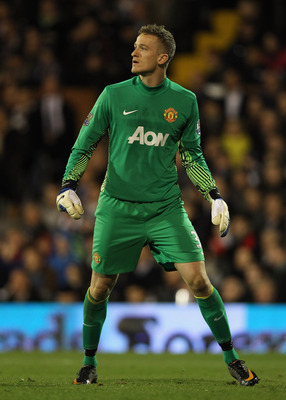 Clive Rose/Getty Images
It's perhaps a little harsh to even put Anders Lindegaard on this list considering he didn't play a single minute of Euro 2012, but he's here nonetheless.
With Stephan Andersen's sensational opening game against Holland, Lindegaard was always going to be hard-pressed to work his way in to the starting lineup—despite Andersen's average performance against Portugal.
6. Phil Jones (England)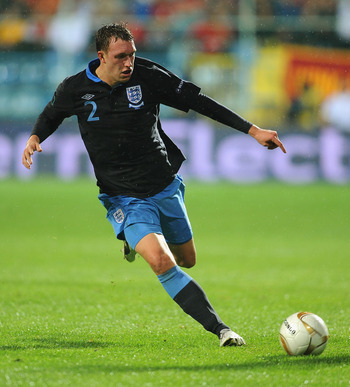 Michael Regan/Getty Images
Phil Jones—like Lindegaard—hasn't seen any game time at Euro 2012 and isn't likely to either, despite England's progression to the knockout stages of the tournament.
Jones was tipped to feature in England's midfield in the group stages, but lost out to James Milner and Scott Parker and with the return of Wayne Rooney to the starting side, will not see anything other than the bench for the remainder of the tournament.
5. Patrice Evra, France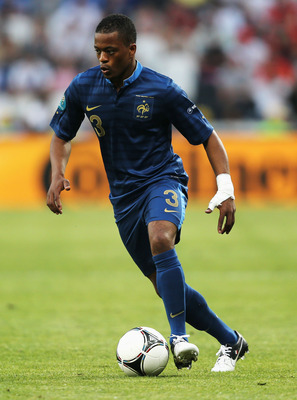 Ian Walton/Getty Images
Patrice Evra started for France in their opening round Group D clash but, after failing to impress, was dropped for the other two group matches—replaced by Gael Clichy.
Clichy's solid performances have left Evra unlikely to feature again for France—especially considering their upcoming match against tournament favorites Spain may well be their last.
Evra managed just one tackle and no interceptions in their 1-1 draw to England.
4. Ashley Young, England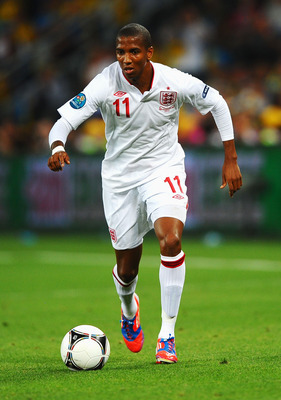 Laurence Griffiths/Getty Images
Ashley Young has started and finished all three of England's group matches in Euro 2012 but hasn't been a huge hit in any of the three occasions.
With Wayne Rooney's absence and Roy Hodgson's tactics against France, Young has had a relatively average tournament so far. However, he is continuing to improve and could be a huge factor for the Three Lions against Italy—especially should his Manchester United strikers continue to start up front.
3. Wayne Rooney, England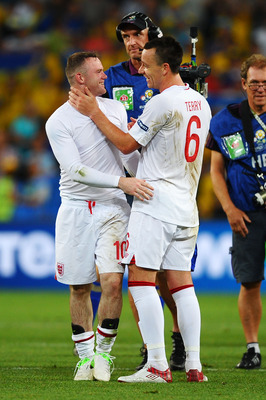 Laurence Griffiths/Getty Images
Wayne Rooney comes in at third on our list here simply because he hasn't played the minutes to be as impressive as some other Manchester United players.
After being suspended for the first two matches of Euro 2012, Rooney scored the decisive goal against Ukraine to send England through to the quarterfinals. But even still, his performance wasn't completely decisive to send him higher on this list.
Rooney averaged just 75 percent in pass completion and picked up just one interception whilst turning the ball over seven times against Ukraine—the highest out of any English player. Having said that, the United striker is a huge addition for England and a definite boost for their championship dream.
2. Danny Welbeck, England
Laurence Griffiths/Getty Images
In Rooney's absence, Danny Welbeck has been very solid and complete for England and has been their best striker through the group stages. Welbeck netted an incredible game-winning goal against Sweden and has been the go-to man in attack without Rooney.
He has recorded the highest pass completion rate out of any English player in the group stage at 95 percent and ranks fourth in average match rating for his country—topping the strikers in that category.
His place in the starting lineup might have been under some question considering Rooney's return and the impact that Theo Walcott and Andy Carroll have had, but in light of his performances so far, there's simply no way that England can afford not to play Welbeck against Italy.
1. Nani, Portugal
Julian Finney/Getty Images
But the best Red Devil so far at Euro 2012 has to be Portuguese winger Nani, who has propelled his side from the "Group of Death" in to the quarterfinals of the tournament.
Nani has the highest average match rating for his country—yes, even higher than Cristiano Ronaldo—and has a superb turnover/interception ratio throughout the opening three matches.
Portugal have an excellent opportunity to progress through to the semifinals after drawing the Czech Republic in the quarterfinals, and if they are to get that far, they'll need Nani to continue to work his magic on the wings in both attack and defense.
All statistics courtesy of WhoScored.com.
Who do you think has been the best United player at Euro 2012 so far?
Comment below or hit me up on Twitter — Follow @dantalintyre
Keep Reading

Manchester United: Like this team?