"Hitch" Makes Ultimate Cameo at NHL Awards as Coach of the Year
June 21, 2012

Bruce Bennett/Getty Images
The great film director Alfred Hitchcock was notorious for not only creating theatrical works of art, but also for inserting himself into each feature like a hidden watermark. 
Ken Hitchcock seems to share some of the same characteristics.
His coaching style dominated the St. Louis Blues' team-first approach as he worked behind the scenes and only took center stage at key moments, like last night in Las Vegas at the NHL Awards ceremony.
The Blues organization received some well-earned recognition, as the team banked two more awards, in addition to the William M. Jennings Trophy already won by Brian Elliott and Jaroslav Halak for allowing the fewest goals against during the regular season.
Elliott and Halak were a dynamic duo between the pipes for the Blues all season. They both dominated for long stretches as each goalie pushed his netminding partner to consistently bring their A-game. Neither would have had as much success without the other.
The same could be said about Hitchcock and general manager Doug Armstrong.
Expectations were realistically high for a young, but maturing, St. Louis Blues squad that seemed poised to earn a middle seed in the Stanley Cup Playoffs.
Under second-year coach Davis Payne, however, the Blues never clicked and started the season with seven losses in the first 13 games. Armstrong made a decisive decision to replace Payne with notorious taskmaster Ken Hitchcock.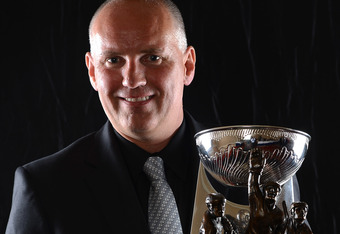 Harry How/Getty Images
The Blues would go 43-15-11 the rest of the way to finish with 109 points which was the second-highest point total in team history. Hitchcock brought his trademark aggressive defense to a still-somewhat-raw team and, aside from a hiccup here and there, it was executed to perfection.
Longtime NHL-ers noticed that Hitchcock did dial back his inner drill sergeant, which was wise to do with a young team and proved the crusty coach was still relevant and agile enough to be a successful leader in today's NHL.
Doug Armstrong found the "Hitch" to pull his wagon into the playoffs, and the better Hitchcock and the Blues performed, the more light it cast on the outstanding job Armstrong has done with a rock-bottom budget and uncertain club ownership.
Fittingly, Armstrong took home the General Manager of the Year award.
On a team lacking individual stars, it is telling that the awards won by the Blues were team awards and with the Blues' ownership now settled, Armstrong will be able to start adding those individual stars to the mix.
The Blue Crew would love nothing more than to emulate the postseason work the Kings did this year next spring and have a Stanley Cup run of their own.