Why Dodgers Would Clinch World Series with Trade for Phillies Star Cole Hamels
June 21, 2012

Christian Petersen/Getty Images
As soon as the Guggenheim Partners ownership group fronted by Magic Johnson bought the Los Angeles Dodgers in late March, many anticipated a new era for the team. Finances were not going to be a concern for the new owners, bursting with cash that purchased the franchise for $2 billion. 
The Dodgers could once again pay top dollar for the best free-agent talent. They could make trades to take on already established or ensuing big salaries. You could almost hear Dodgers fans and baseball observers giggling and rubbing their hands together with anticipation. Another heavyweight was entering the ring.
And now, we're approaching the point of the season where we'll see if the Dodgers' newly cash-lined pockets can make some moves to improve a roster that could use a big bat and another starting pitcher. According to the Los Angeles Times' Dylan Hernandez, Dodgers general manager Ned Colletti is ready to make a move. However, the market has been slow to develop, as the extra wild-card spot has several teams still believing in their playoff chances. 
But it's a little bit early in the process. Though Colletti would surely prefer to make a move now, especially while Matt Kemp is on the disabled list, we're still six weeks away from the July 31 trade deadline. Teams that aren't ready to make a deal now might be willing to talk in a few weeks. 
In his article, Hernandez mentions several names that could be available. Carlos Lee, Justin Morneau and Carlos Quentin are presumed to be some of the hitters that could be dealt. Pitchers that might be offered up include Ryan Dempster, Zack Greinke and Shaun Marcum.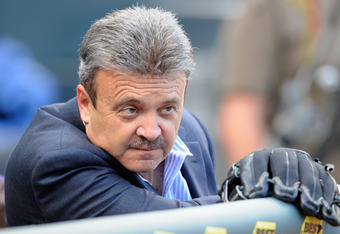 Hannah Foslien/Getty Images
However, there's one significant pitcher that wasn't mentioned, and it's curious as to why. If the Philadelphia Phillies continue to stall in negotiations with Cole Hamels on a contract extension, it seems increasingly likely that GM Ruben Amaro, Jr. could try to get something for his star left-hander rather than lose him to free agency. 
With the Dodgers expected to be a major player in the trade and free-agent markets, plenty of observers have tried to connect the dots between the team and Hamels. Hamels is a southern California native who might want to return home. He'll be seeking a contract in excess of $130 million. The Dodgers' megabucks ownership should be able to meet those terms.
If the Dodgers want to bring in a big name and show the rest of baseball that they're serious about creating a juggernaut on the West Coast, trading for Hamels would make a statement.
Oh, by the way, the Dodgers are in first place now. They have the best record in the National League. But the San Francisco Giants are only four games behind in the NL West. And there is plenty of competition for those two wild card spots. They need an upgrade to help assure a postseason bid. 
But if the Dodgers got Hamels, they'd do better than just make the playoffs. He would get them to the World Series for the following reasons.
Best Rotation in the League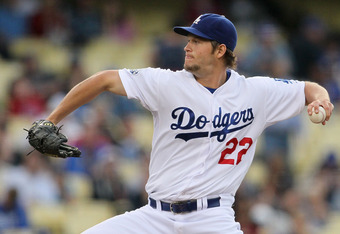 Victor Decolongon/Getty Images
Clayton Kershaw, Chad Billingsley and Cole Hamels would be a front-line trio that could win any postseason series for the Dodgers.
Yes, the Giants also have a formidable top three in Matt Cain, Madison Bumgarner and Ryan Vogelsong. The Mets have R.A. Dickey, Johan Santana and...maybe Jonathon Niese or Chris Young? The Braves have three question marks after Tim Hudson and Tommy Hanson. And the Reds have to cross their fingers after Johnny Cueto. 
But Chris Capuano, Aaron Harang or Ted Lilly would each be a better fourth starter option than any of the other playoff teams, with the exception of the Washington Nationals and perhaps the St. Louis Cardinals if Chris Carpenter returns. 
Pitching Beats Hitting in Postseason
It's a cliche, but only because it's true. If a fearsome lineup guaranteed a World Series title, then the Texas Rangers would be defending back-to-back championships. The Cardinals compiled a 3.82 ERA in the 2012 World Series. The Giants, of course, were even better in 2010, racking up a 2.45 ERA. 
In 2009, the Yankees muscled their way to a championship despite a 4.58 World Series ERA. But the year before that, the Phillies compiled a 2.58 mark. Red Sox pitchers put together a 2.50 ERA in winning the 2008 championship.
Right now, the Dodgers have a 3.15 team ERA. They'll need to keep pitching at that level to get past teams like the Reds and Cardinals in the NL playoff, or beat teams like the Rangers, Yankees or White Sox in the World Series. With Hamels, they can do that. 
The Staff Gets Deeper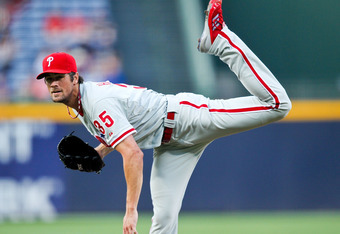 Daniel Shirey/Getty Images
Colletti says he's also looking for a reliever to bolster his bullpen, preferably a left-hander.
Sure, the Dodgers GM will probably go after a lefty specialist like Randy Choate of the Marlins or the Blue Jays' Darren Oliver. Maybe he could even take a shot at the Royals' Tim Collins or Charlie Furbush from the Mariners, though those younger pitchers might cost more. 
But what if the Dodgers add Hamels to the staff? Then manager Don Mattingly can slide lefties Chris Capuano or Ted Lilly to the bullpen.
Would either pitcher like that? Probably not. But if it was during the postseason, where rotations are shortened anyway, both pitchers would likely accept whatever role they were given. Those would give the Dodgers a pair of top lefties to use as relievers. 
Follow @iancass on Twitter