Kentucky Basketball: Most Underrated Aspect of Each Draft Prospect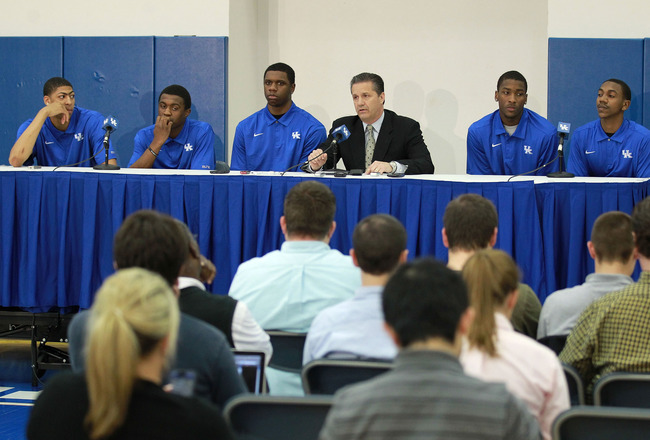 Andy Lyons/Getty Images
There are six former Kentucky Wildcats entering the 2012 NBA Draft. Each player is expected to be drafted in the first or early second round, and their talent and athletic gifts have professional scouts excited about this crop of future Kentucky draftees.
However, there is an underrated aspect of each player's game that is not being mentioned enough by draft "experts" and pundits. Therefore, the following slides will highlight the most overlooked part of each player's game, and how that will help them in the NBA.
Anthony Davis' Strength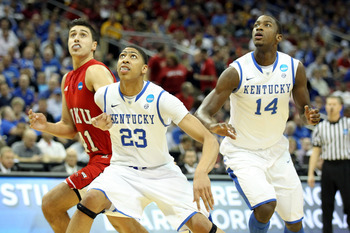 Andy Lyons/Getty Images
There are not many weaknesses in Anthony Davis' game, and he is expected to become the first overall pick in the upcoming NBA draft. However, scouts and critics have criticized Davis because of his lack of strength.
To be fair, he does have extremely thin arms and possesses a long, lanky frame devoid of a lot of muscle tissue. On the surface, he does need to add strength and muscles to his bones in order to compete with NBA stars such as Dwight Howard and Andrew Bynum.
However, his strength improved during the course of last season with Kentucky, and his rebounding improved tremendously as his strength came along. Davis pulled down plenty of hard rebounds and fought through traffic to grab and secure the ball.
By the end of the season, Davis was getting loose balls and rebounds that should have gone to stronger players such as Cody Zeller, Chane Behanan and Thomas Robinson. Instead, Anthony increased his determination and muscled plenty of boards near the rim.
He also showcased plenty of strength in terms of finishing plays inside. Very few players had more rim-rattling jams than Davis, many of which were stuffed over and through physical defenders such as Florida's Patrick Young and Vanderbilt's Festus Ezili.
Strength is an underrated aspect of Anthony Davis' game, as he pulls down more loose balls and finishes more aggressively than his wiry frame would suggest. However, he will certainly have to add more weight in his adjustment to the NBA in order to reach his full potential.
Michael Kidd-Gilchrist's Passing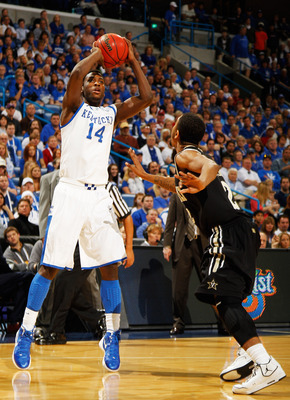 Chris Graythen/Getty Images
When Michael Kidd-Gilchrist's name is mentioned, people automatically think about his dunks, blocks, rebounds and drives to the basket. However, fans do not focus on his passing skills nearly enough, as he has the ability to become a true point forward in the NBA.
Kidd-Gilchrist evolved this part of his skill set throughout his freshman season at Kentucky. His passing improved as the Wildcats' transition opportunities increased. On the fast break, defenders had to respect MKG's attacking skills, so he would run towards the rim and kick out to a cutting teammate or an open shooter.
Anthony Davis saw his lob opportunities increasing as Kidd-Gilchrist became more aggressive with the basketball. Kidd-Gilchrist would drive to the top of the key and fire a quick-strike pass to the jumping Davis—a process that happened multiple times per game near the end of conference play.
Davis was not the only beneficiary of a perfectly-time pass from Kidd-Gilchrist. Shooters Doron Lamb and Darius Miller received great feeds from Kidd-Gilchrist as he drove into the lane and passed out for an open three-point attempt. This aspect of his game developed as his confidence and experience grew, and it was one of the reasons why the Wildcats had plenty of spacing for shooters to have room to move and get open looks.
This will be an important ingredient for Kidd-Gilchrist's success in the NBA. He will likely develop into a premier defender and rebounder from the small forward position. However, his game will take the next step if he can increase his assist totals by using his court vision and crisp passing to hit open teammates.
Terrence Jones' Shot Blocking
Kevin C. Cox/Getty Images
Terrence Jones has been stuck with the dreaded "tweener" label since he declared for the 2012 NBA Draft. His 6'9", 250 pound frame suggests that he has great size for a power forward, but scouts believe his perimeter shooting and ball handling suggest skills at the small forward position. In other words, he is considered a "tweener" by many, and people are skeptical whether he can succeed in the post.
One key ingredient of Jones' success during the past two seasons has been his post play, specifically on defense. For all of the accolades that shot-blocking extraordinaire Anthony Davis received, he alone was not enough to break the NCAA record for team blocked shots in one season.
The team would not have sniffed the record without Jones' defense and length. He has been an above average shot-blocking prospect since his first day on campus in Lexington. During his two college seasons, Jones averaged nearly two blocks per game and made his presence felt on the defensive side of the court.
Part of his success stems from his length. Jones has a wingspan that is similar to Davis', albeit slightly shorter. He also has great timing on his blocks, and uses his terrific upper body strength to swat shots with authority.
Jones enters the NBA with a strong offensive reputation and versatility in his game. However, his shot blocking will be a welcome addition to whichever team selects him.
Doron Lamb's Point Guard Skills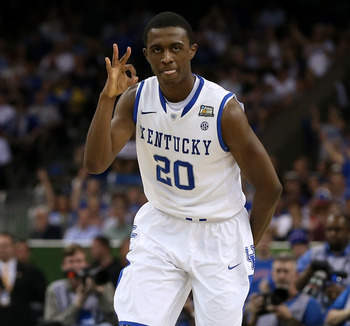 Jeff Gross/Getty Images
Doron Lamb enters the draft as a certified three-point threat, ending his Kentucky career as the school's leader in three-point percentage, and is fresh off of a monster performance in the 2012 NCAA National Championship game.
Lamb's shooting pedigree is accurate, but his skills at the point guard position could keep him in the NBA for years to come, and gives him great potential as a combo guard.
During his two seasons at Kentucky, Lamb would fill in for Brandon Knight and Marquis Teague at the point. This was out of necessity, being that the Wildcats did not have a strong backup at the position. However, Lamb assumed the duties nicely and has grown immensely in terms of ball handling, decision making and passing.
Granted, he will never confuse anyone for an elite floor general, but Lamb would often take the reins when Teague was out of control, and in turn slow the team down and control the pace of the game. He would get the offense in gear and encourage more ball movement, whereas Teague or Knight would dribble more often at the top of the key.
Lamb also stretches the floor when he plays the point because of his shooting and driving ability. Defenders have to respect his perimeter skills, but he also has the ability to blow by them and attack the rim.
In addition, Lamb is 6'4" and plays as a big guard. This will give an NBA team flexibility, as Lamb could be subbed in to guard larger point guards such as Rodney Stuckey and Deron Williams.
Doron Lamb may be just a shooter to most people, but it is his ability to man both guard positions and control the team's offense that will prove invaluable to the team who drafts him.
Marquis Teague's Perimeter Shooting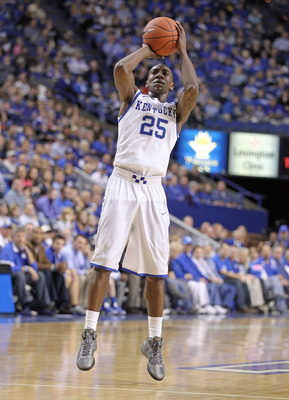 After leading the Kentucky Wildcats to the 2012 NCAA national championship, Marquis Teague is ready to take his talents to the NBA. Teague has a reputation as an elite athlete, a strong finisher around the rim and has potential to become a very good defender at the next level.
However, his shooting numbers in college were not very impressive and seemed to leave a lot to be desired. Teague shot extremely poorly during the first half of his freshman season, and those totals dragged down his shooting numbers and paint an inaccurate portrait of Teague's shooting.
Somehow, he actually turned his jump shot into a team strength and really came on late in the season. It is not as if Teague has bad form. His mechanics seem perfectly fine. For some reason, though, his three-point shot and pull-up jumper failed him during the majority of the season.
Yet when Kentucky entered the home stretch of their magical year, Teague consistently stepped up and hit huge shots when they mattered most. This was most apparent in the NCAA title matchup against Kansas.
The Wildcats had lost all offensive momentum and struggled to pull away from the Jayhawks. With a few minutes left in the game, Teague put the team on his shoulder and hit the biggest three-point shot of the game from the top of the key, then followed that up with a mid-range jumper that put Kentucky ahead for good.
Most of Teague's shooting struggles early on came from lack of confidence, and it showed in his hesitancy to shoot. Yet by the end of conference play and beyond, Teague would take shots in the flow of the offense and shot confidently.
If he can continue to improve this aspect of his game, then Marquis Teague has a chance to become a great player in the NBA. Combining his athleticism and driving ability with a consistent perimeter shot would turn Teague into a matchup nightmare for opposing coaches, enabling him to sustain a long and successful career in the league.
Darius Miller's Post Offense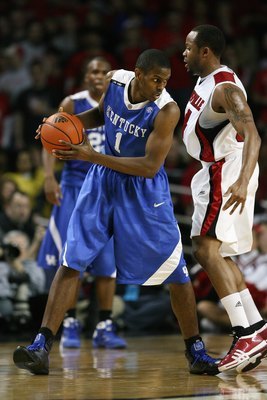 Andy Lyons/Getty Images
Darius Miller might be the most versatile Kentucky player in this draft. He has great size, can guard multiple positions, shoots well from the perimeter, has a great mid-range jump shot, blocks and steals on the defensive end and plays within the flow of the offense.
Of all of his great qualities, perhaps the most overlooked aspect of Miller's skill set is his post offense. This has been a consistent area of improvement since Miller's freshman season as a Wildcat.
From the outset, Miller possessed a great floater that John Calipari fell in love with when he first joined the program. Miller's sweet shot would come into play as the team employed the dribble drive offense. He would attack the rim and finish with a high, arching shot that got better each and every season.
During his junior season, Miller began attacking the free-throw area more often and used his size to post up smaller guards. As the season progressed, he occasionally showed off a small baby hook and an improving floater.
Miller then further developed his post skills during his senior season, which culminated with the recent national championship banner won by the team. This season saw Miller make great efforts to reach the middle of the key, which allowed him to either shoot the open shot, drive into the paint or kick out to an open shooter. His post game continued to develop as he perfected the runner and incorporated an occasional turnaround fade-away shot from the post-up position.
These are skills that will translate well in the NBA. Professional teams want players who can create easy shots for themselves or others, and Darius Miller has the post game to do so. By using an array of baby hooks, floaters and turnaround shots, Miller will employ an improving post game to flourish in the NBA.
Keep Reading

Kentucky Wildcats Basketball: Like this team?