UFC on FX 4: 10 Reasons You Can't Miss This Event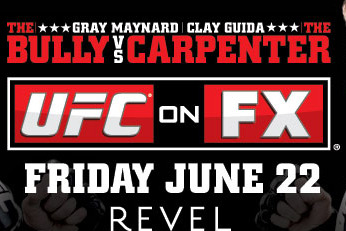 Photo Courtesy of mmamania.com
The summer has officially started and the UFC's summer of fights is about to begin. And there's no better way to kick it off than a card on free TV.
This Friday's UFC on FX: Maynard vs. Guida is live from Atlantic City, New Jersey, and will feature a four-fight main card on FX, six preliminary fights on Fuel TV and the remaining two prelim bouts live on Facebook.
Besides the fact that the card is free, which is reason enough for many to watch, here are 10 more reasons you can't miss UFC on FX: Maynard vs. Guida.
Begin Slideshow

»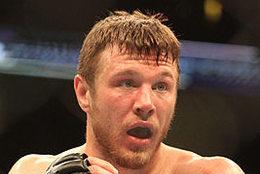 via tapology.com
UFC welterweights Dan Miller and Ricardo Funch haven't had much luck as of late in the UFC.
Funch, who signed a four-fight deal with the UFC back in 2007, has a 0-3 record inside the Octagon and enters this fight coming off a much-needed win over former Bellator fighter Ryan Quinn in the local circuit.
Miller's bad luck, on the other hand, is a little more understandable. Miller's five losses inside the Octagon have come against Chael Sonnen, Demian Maia, Michael Bisping, Nate Marquardt and Rousimar Palhares. That's five of the best and toughest middleweights in the world, so you may be wondering why his job is in question.
Miller is currently riding a two-fight losing streak and is 2-5 over his last seven fights. Therefore, a loss to a guy who isn't a big name will more than likely mean Miller receiving his release from the company.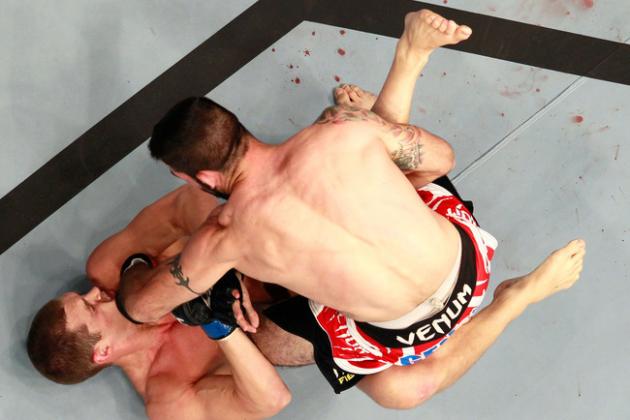 via Kevin C. Cox/Getty Images
If you just look at Matt Brown's record, you might not be excited about this fight. So, instead, go find and watch the video of Brown against 63-0 kickboxer turned MMA fighter Stephen Thompson from UFC 145.
Thompson, fresh off his UFC debut where he won via highlight-reel head kick, had all the hype in the world. Nobody thought Brown stood a chance...except Matt Brown.
Brown ran down and grounded the outstanding kickboxer and worked his wrestling and ground-and-pound game, which included hard elbows that cut Thompson, to pick up a huge victory.
Now, Brown takes on Luis Ramos at UFC on FX 4 on short notice after Matt Riddle was injured and forced to pull out of the fight.
Will we see the Brown that's lost five fights in his UFC career or the Brown that knocked off Thompson?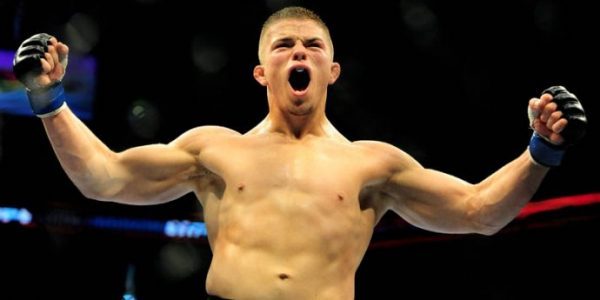 via fighters.com
Rick Story kicked off his UFC career on a sour note when he lost to John Hathaway at UFC 99, but after that, Story went on a tear through the UFC welterweight division.
Story won four straight fights followed by the two biggest wins of his career when he picked up unanimous decision victories over Johny Hendricks and Thiago Alves.
Story was then looked at as a top 10 welterweight, and when Anthony Johnson was injured, Story stepped in to fight Nate Marquardt in Marquardt's UFC welterweight debut less than a month after his victory over Alves.
The day of the weigh-ins, it was announced that Marquardt didn't receive medical clearance to fight and pulled out of the main event. This is where the trouble started for Story.
He would face Charlie Brenneman on just a day's notice and lose by unanimous decision. Story would then fight Martin Kampmann at UFC 139 and would once again take a loss by unanimous decision.
Story was scheduled to fight Rich Attonito, but Attonito was forced to pull out due to injury and was replaced by Papy Abedi, but soon after, Abedi was forced to pull out as well.
Now, Story finds himself in a must-win situation against UFC newcomer Brock Jardine.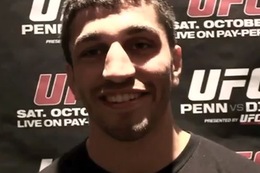 via mmaweekly.com
Both Nijem and Keith are young prospects in the UFC's stacked lightweight division, but a decisive win over the other man could propel one of these youngsters into a main card slot next go around.
Nijem, a finalist on The Ultimate Fighter 13, holds a 1-1 record inside the Octagon, with his loss coming at the hands of TUF 13 winner Tony Ferguson at The Ultimate Fighter 13 finale. Last October, Nijem picked up his first UFC win after knocking off Danny Downs by unanimous decision.
He was scheduled to fight Anthony Njokuani at UFC 141, but Nijem was forced to pull out due to injury.
Keith holds a perfect professional MMA record of 8-0 and is set to make an impact in his UFC debut. Keith has won his last three fights by either KO or TKO.
A win for either man would be a significant step in their respective climbs to the upper half of the lightweight division.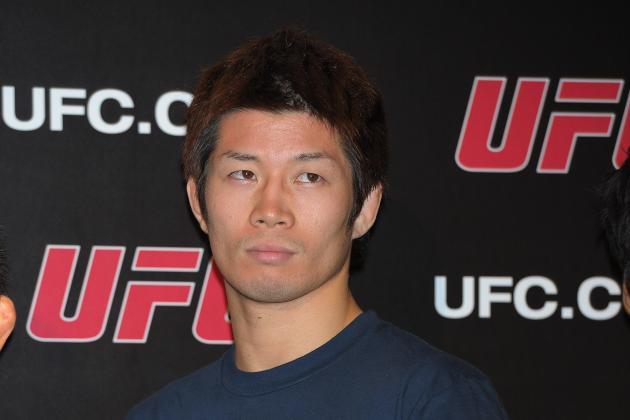 Koki Nagahama/Getty Images

Many believed following Hioki's win over Bart Palaszewski at UFC 144, he would be named the No. 1 contender in the UFC's featherweight division, but that was not the case.
Following the fight, Hioki asked for one more fight inside the Octagon before a shot at featherweight champion Jose Aldo, and his wish was granted.
Now, Hioki will face Ricardo Lamas, who is coming off back-to-back finishes over Matt Grice by TKO, and Cub Swanson by submission.
A win for Lamas would be a major upset and would definitely throw his name into the featherweight title picture, but a win for Hioki might ensure a future title shot.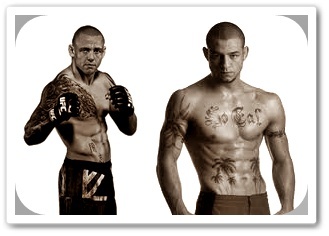 via prommanow.com
A combined five fight of the nights between the two men, the featherweight bout between Ross Pearson and Cub Swanson is due to steal the show.
Pearson, the Season 9 winner of The Ultimate Fighter, made his featherweight debut at UFC 141 in a win against Junior Assuncao. Pearson, who was 4-2 as a lightweight in the UFC, was briefly linked to a rematch against Dennis Siver, a fight that won Fight of the Night at UFC Fight Night: Florian vs. Gomi, but the bout never happen.
Swanson, a WEC veteran, lost his UFC debut against Ricardo Lamas, but was able to rebound and pick up a huge knockout victory over George Roop at UFC on Fox: Evans vs. Davis.
I still feel Hioki-Lamas deserves a shot on the main card, but it's hard to say Pearson-Swanson doesn't deserve this shot as well. Either way, Pearson against Swanson is almost guaranteed to be a choice for Fight of the Night.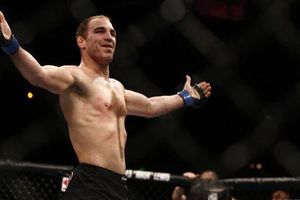 via heavy.com
As if the UFC's welterweight division isn't packed enough already, UFC on FX 4 will see another welterweight emerge as a contender.
The entertaining Brain Ebersole returns to action for the first time in 2012 after a perfect 2011 that saw the much traveled veteran find a home in the UFC. He finished up 2011 with a split-decision win over Claude Patrick at UFC 140 that brought his UFC record to 3-0.
Matching up with Ebersole is the 24-year-old T.J. Waldburger, who is coming off back-to-back submission wins over Mike Stumpf, via triangle, and Jake Hecht, via armbar.
A win for Ebersole will without question bring him a top-15 opponent, while a win for Waldburger will definitely propel him higher in the welterweight division.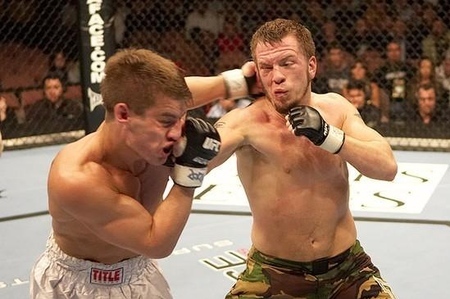 via mmamania.com
The two men have already had two battles with each other, and now...the rubber match.
Stout and Fisher first faced each other at UFC 58 in 2006, which saw Stout take the victory by split decision. Stout, who is 4-2 in his last six fights and has won three Fight of the Night awards and a Knockout of the Night in his last victory, is coming off a loss at UFC 142 to Thiago Tavares in Brazil.
Fisher would get his rematch in the main event at UFC Fight Night: Stout vs. Fisher in 2007, and Fisher would get his revenge, defeating Stout by unanimous decision. Fisher hasn't been so hot as of late, and losing this fight might cost him his job.
Fisher has lost four out of his last five, including back-to-back losses, and now, with his back against the wall, he will try and win his second fight against Sam Stout.
Both fights were fast-paced and full of action; now, a little over six years from the first time they met, they will finally have the anticipated rubber match.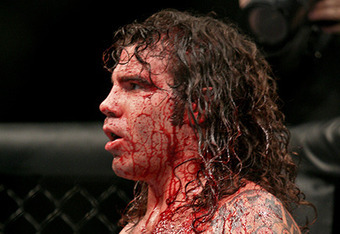 via fighthubtv.com
Clay Guida is one of the most exciting fighters in the UFC, as well as one of the most beloved by the fans.
Guida was riding a three-fight winning streak when the UFC asked him to welcome former WEC lightweight champion Anthony Pettis to the UFC. Pettis was coming off the "Showtime Kick" and his huge victory over Ben Henderson, and many considered Pettis destined to be UFC lightweight champion.
Guida shut that talk up quick.
"The Carpenter" used his great wrestling to ground Pettis and picked up an upset unanimous decision victory. In his next bout, he would fight Ben Henderson with a UFC title shot on the line.
Henderson would use his wrestling and technical striking game to defeat Guida, and he would go on to defeat Frankie Edgar to become UFC lightweight champion.
Now, Guida returns knowing he's defeated two of the top lightweights in the division (Pettis and Nate Diaz), and he knows what it'll take to defeat Henderson.
The only question now: Can Guida knock off former lightweight No. 1 contender Gray Maynard?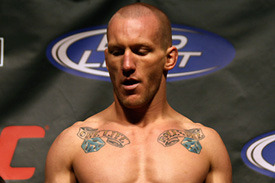 via mmajunkie.com
It's hard to imagine Maynard fighting anyone besides Frankie Edgar, but this Friday, he will make his return to the Octagon in unfamiliar territory.
Maynard hasn't fought in a non-title fight since August of 2010, but thankfully for him, this fight with Guida will be a five-round fight.
Gray Maynard stepped into the Octagon on New Year's Day 2011 to fight Frankie Edgar for the UFC Lightweight Championship, and Maynard's confidence was high due to the fact that Maynard already held a victory over the champion.
Maynard landed early and almost had the fight finished in the first, but Edgar would storm back, and the final result would be a draw. The two would meet again nine months later, and this time Edgar would finish Maynard, winning by TKO in the fourth round.
"The Bully" now begins his climb back to the top with this matchup with Clay Guida. Will Gray prove he deserves another title shot, or will Guida finally make the step from gatekeeper to title contender?
Find out at UFC on FX: Maynard vs. Guida Friday night live on FX!