Washington Wizards Are Playoff Contenders After Acquiring Okafor, Ariza
June 21, 2012

Harry How/Getty Images
John Wall is finally receiving some veteran help in Washington, as the Wizards completed a trade that brings in forwards Trevor Ariza and Emeka Okafor from the New Orleans Hornets. In exchange, Washington gave up high-priced disappointment Rashard Lewis and the 46th overall pick in the 2012 NBA draft.
This trade is beneficial to both sides, as the Hornets desperately needed to gain cap space and do so by acquiring Lewis' one-year expiring contract, which is not fully guaranteed. As for Washington, they continue shedding themselves of poor contracts and acquire two NBA veteran players who excel on defense and complement the remaining players on the Wizards' roster.
Before moving on, one thing needs to be clear: Ariza and Okafor are not All-Star caliber players. At the same time, they are legitimate starters in the NBA and excel on defense, which was the Wizards' biggest weakness last season. Ariza also possesses championship playoff experience, which is sorely needed on a team full of young players.
The key component of this deal is the development of John Wall. After exploding onto the scene with a stellar rookie campaign, he cooled off last season and essentially repeated his rookie numbers during his sophomore season. Part of this falls on Wall's shoulders, but a lot of the blame can also be placed on the inept roster surrounding him.
To put it bluntly, the Wizards did not possess high-IQ basketball players. Rather, Washington relied on the likes of Javale McGee, Nick Young and Lewis to help win basketball games. This was obviously a formula for disaster, as none of those players complement Wall's game and none were able to help him grow as a player.
Instead, they made numerous boneheaded decisions and did not exert energy on the defensive side of the court, with the exception of McGee.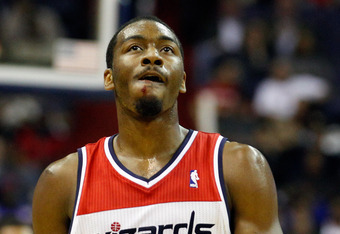 Rob Carr/Getty Images
Now Washington possesses a trio of strong NBA veterans who have all had success in the league and give Wall a veteran frontcourt to play with. Each player has a good basketball mind and they know how to play team ball, crash the boards and commit to defense. In fact, refer to the career stats below of all three players:
Nene and Okafor are not offensive juggernauts, but they convert a high percentage of their inside shots. Both players are also strong rebounders from the post. Meanwhile, Ariza has developed into a double-digit scorer in the past three seasons, and he contributes on the glass and by intercepting passing lanes.
This is in stark contrast to last season's frontcourt of McGee and Andray Blatche (who is currently on the roster but is expected to be amnestied), as well as departed guard Nick Young. Their career totals are below:
Up to this point, Wall has had to feed post players who did not convert a high percentage of their shots, did not attack the glass and did not score many points. Replacing those players with Nene and Okafor gives him big players who can convert close looks, pull down rebounds, extend possessions and provide the team with legitimate double-digit scoring threats. 
As for Young, he was a nice perimeter scorer but did not convert a high percentage of his shots. He also failed to contribute in any other meaningful way on the court, hardly producing any assists, steals or rebounds.
Ariza is much more effective in all aspects on the court and does not need the ball in his hands to make his presence felt. He is a much better fit for the Wizards and gives Wall a good backcourt and frontcourt playmaker to find in transition or on the perimeter.
All of this is important, but there is more at stake beyond pairing Okafor and Ariza with Nene in the frontcourt. This trade sends a strong signal that the Wizards have their eye on Florida guard Bradley Beal in the NBA draft. Washington has the third overall pick, and there is a good chance that Beal will be available at that spot.
Now that the Wizards have addressed their immediate needs at small forward and center, they can take a chance on Beal and form a dynamic backcourt with him and Wall.
These two guards have loads of potential and complement each other extremely well. Wall is 6'4" and Beal is 6'5", so they would have big guards at both positions. Wall is extremely gifted in transition and has excellent court vision. His ability to penetrate into the lane and either finish or kick out is outstanding. 
As for Beal, he excels as a perimeter scoring threat and is an excellent three-point shooter. Beal is also effective without the ball in his hands and constantly makes cuts and goes through screens to create open space. Wall can draw the defense in on his drives and kick it out for an open look to either Beal or Ariza.
If the Wizards go this route, they will have a potent and dynamic backcourt pairing in addition to a veteran-led front court that excels on defense, hauls in rebounds and converts looks close to the basket.
The team also still retains the 32nd overall draft selection, which is the second pick of the second round. In such a deep draft, they have a great chance at adding another young talent to the roster. This new lineup for Washington is not ready to challenge the NBA's elite, but it does provide Wall with the teammates he needs to develop into a superstar and have this team challenging for a playoff spot.