US Olympic Men's Track & Field Team: Why No US Sprinter Will Medal in the 100
June 20, 2012

Mike Stobe/Getty Images
Not only do the US Olympic Men's Track & Field Team and star 100-meter sprinters Tyson Gay, Walter Dix and Justin Gatlin stand little chance of upsetting Jamaican sensation Usain Bolt in London, the team is in serious jeopardy of missing the podium entirely in 2012.
Since its inception during the inaugural modern Olympic Games in 1896, the men's 100 has seen a quadrennial decrease in winning Olympic times.
Since that first year, athletes from Jarvis Frank (Paris 1900) to Bob Hayes (Tokyo 1964) and Carl Lewis (Seoul 1988) have cut the event's winning time from 11.80 seconds (Tom Burke— Athens 1896) to just 9.69 (Bolt—Beijing 2008).
In a sport requiring razor-thin finesse, no athlete can afford much as a second's worth of a distraction. That includes offseason training.
In Beijing, for instance, Gay missed out on the final heat entirely due to the thinnest of margins, just nine hundredths of one second from advancing to the final.
Prior to his elimination on a 10.13 in the semifinal, Gay had posted a 10.09 in the quarterfinal and 10.22 in qualifying heat No. 5.
With Gay putting up a 10.00 during heat B of the Adidas Grand Prix in New York, the former Razorback demonstrated that not even a surgically-repaired right hip will slow him down on his quest to return to the US Olympic Team.
Meanwhile, teammate Gatlin has found himself struggling to return to 2004 form, when the two-time Jesse Owens Award winner ran a personal best of 9.85 during the Sydney Olympics 100 final—earning himself a gold medal.
Since 2004, Gatlin has flirted with the 10-second mark, running a 9.98 in the 2005 World Outdoor Championship, a 10.08 in the USA Outdoor and a 9.95 in the nation's 2011 incarnation.
In a sport where the fast get faster, there is absolutely no room for stumbling blocks and slower times. Any figure north of 10 seconds carries with it an instant ticket out of medal contention.
If the Americans have one hope at the London podium, it is with Florida State alum Walter Dix, who carried the bronze in Beijing.
Since running a 9.91 in 2008, Dix has also hovered around the 10-mark.
In 2010, he ran a 10.04 at the USA Outdoors and a 10.08 at the World Outdoors before coming back strongly with a 9.84-second performance at the 2011 USA Outdoor event.
If any American athlete is headed in the right direction, it surely is Dix.
Meanwhile, Jamaican Bolt has continued lowering the bar, so to speak, setting a world record of 9.58 and dispatching Gay at the 2009 World Championships in Berlin.
Bolt's teammate Asafa Powell should place in the top three, as well.
After conceding the 100 world record in May 2008 due to several injuries that kept him out of competition early in the year, Powell returned in September. He ran a personal best of 9.72 at the Athletissima Grand Prix in Switzerland.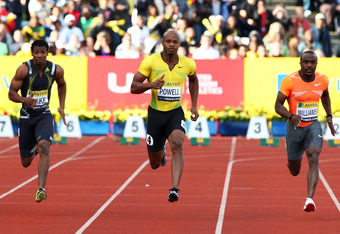 John Gichigi/Getty Images
Even worse for Team USA, Powell cited Bolt as his inspiration:
"Two years ago I said to myself I could go 9.65 or faster but based on how Usain is running it's my aim now to go below 9.6. Usain can obviously run very fast but I'm not going to put him out of my reach."

"I'd say in the Olympic 100m it looked like Usain could have run 9.63, 9.65 maybe. I was shocked to see what he did in the race, it was ridiculous. I can't imagine the times he's capable of running at the moment. He's the man to beat right now but before it was me and if I can break another world record then I'll be the one back in the spotlight."
If Powell and Bolt continue their intrasquad rivalry, there will be absolutely no room for the Americans.
But, 22-year-old Yohan Blake—training partner of Usain Bolt—could find himself easily chasing the coattails of his two fellow countrymen, ahead of Gay and Dix.
Of all comers, it is Blake who most recently ran his personal best. He cruised to a 9.82 finish at Zurich in 2011.
At his young age, Blake is the youngest sprinter to have broken the 10-second barrier, completing the feat at 19 years, 196 days old. Blake has the momentum, potential and the tools necessary to follow right in the footsteps of the mentoring Bolt.
At the end of the day, the 2012 London 100-meter sprint belongs to Jamaica—there simply isn't any room on the podium for the red, white and blue.