Big Ten Football: Breaking Down Athlon's Top 25 B1G Heisman Contenders
June 20, 2012

Leon Halip/Getty Images
With the season less than three months away, it's time to start thinking bout Heisman contenders for 2012.
To that end, conference preview mag Athlon Sports is breaking down the top 25 Heisman contenders for each conference. Its list of Big Ten Heisman contenders was released on Wednesday, and as with any subjective Top 25, there are lots of points of debate and contention. Here are three of the biggest bones to pick.
Big expectations for Braxton Miller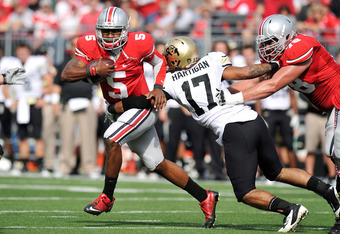 Jamie Sabau/Getty Images
Braxton Miller checks in at fourth on Athlon's list, which is rather surprising for a true sophomore running his third offense in as many years. Sure, he should be high on the list, but his stats don't hold up to the rest of the pack as yet.
Okay, granted, it takes a lot of talent to be a productive dual-threat quarterback as a freshman in big-time college football. And there's no arguing with this kind of production from a freshman QB:
162 rushes, 965 yards, 12 TDs; 116-of-196 passing, 1631 yards, 10 TDs, 7 INTs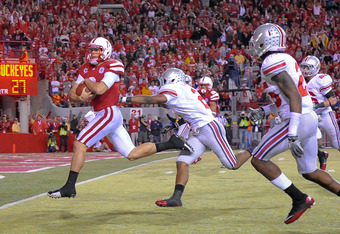 Eric Francis/Getty Images
Ohhhhh, wait, those aren't Braxton Miller's freshman numbers; those belong to Taylor Martinez in his freshman season in 2010. Here's what Miller did as a freshman instead.
159 rushes, 715 yards, 7 TDs; 85-of-157 passing, 1159 yards, 13 TDs, 4 INTs
Martinez's rushing production dipped slightly in 2011, but his passing improved substantially, especially over the second half of the season. Overall, he's still significantly more productive than Miller. So why is Miller higher than Martinez on this list? 
Overselling the offense
One of the aspects of Athlon's list is that it's "the way it should be," and that it would honor more than just quarterbacks and running backs. Hey, that's neat.
My Big Ten Top 25 has 14 defenders—and that's even with the list closing with three straight offensive players. It only has six quarterbacks or running backs. In other words, this is a great, great year for defensive and non-QB-or-RB talent in the Big Ten.
So naturally, Athlon's list opens up with six straight QBs and RBs.
Now, we get that this is a Heisman list and not just a straight "best player" list, and yes, Michigan State tailback Le'Veon Bell is more likely to win the Heisman than even the mansome Ohio State defensive end John Simon. But if we're really honoring the defenders, linemen and receivers of the Big Ten, we can do way better than nine out of the Top 10 contenders being QBs or RBs. There are too many defenders of All-American caliber in the conference this year for that.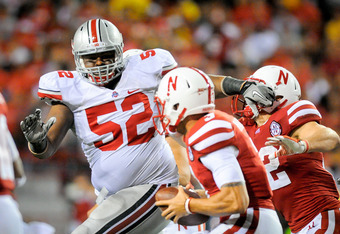 Eric Francis/Getty Images
Not enough love for Big Hank
Johnathan Hankins is a first-team Phil Steele preseason All-American, the only Big Ten player to earn such honors in 2012. He and DE John Simon are going to be a major problem for opposing offensive lines all year long, and the only thing keeping those two out of All-American consideration by the end of the season is the capricious nature of the injury gods. "Big Hank" is, quite plainly, an elite defensive tackle. 
So Athlon plopped him at 14th, two spots behind Minnesota QB MarQueis Gray.
Let's be absolutely clear: MarQueis Gray will not get a single Heisman vote in 2012. I don't even have to know his final stat line to now that. That's because Minnesota is easily the worst team in the Legends Division, and quarterbacks of teams that end up winning three or four games do not get Heisman consideration.
They rarely even get All-Conference consideration. They certainly don't get All-Big Ten consideration.
But even in the framework of the inherently QB/RB-obsessed Heisman voting structure that we actually live in, Hankins has a greater-than-zero chance of putting up an Ndamukong Suh type of season and putting up such dominant numbers that voters can't ignore. Even if he has a season that's 80 to 90 percent as good, he'll get some Midwestern voters who toss him a token third-place vote or two. Or 10.
And if we're talking about what the Heisman list should be, like Athlon purports, Hankins should be comfortably in the top 10 of the conference.