Italy and England are set for a showdown in the Euro 2012 quarterfinals. Both are squads that are coming off disappointing showings in the World Cup in 2010. However, the two soccer powerhouses have seemingly shrugged it off and performed well at Euro 2012.
England won Group D after drawing with France then defeating Sweden and Ukraine. The English have a new manager in Roy Hodgson and he has apparently been pushing the right buttons with his players.
Italy finished second in Group C with two draws with Croatia and Spain then a 2-0 victory over the Republic of Ireland.
Italy and England have not met in a major international tournament in 22 years, but that long absence from each other is about to come to an end.
Where: Olimpiyskiy in Kiev, Ukraine
When: Sunday, June 24 at 2:45 p.m. Eastern
Watch: ESPN
Live Stream: ESPN3
Player to Watch for Italy: Midfielder Andrea Pirlo
The 33-year-old midfielder is still one of the best in the world and is proving it thus far in Euro 2012. Of Italy's four goals in the tournament, Pirlo has either scored or set up each one. He's Italy's most important player, as he does a little bit of everything for the Azzurri.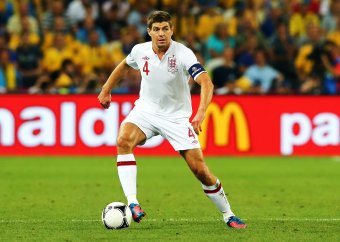 Martin Rose/Getty Images
The Juventus midfielder can provide adequate defensive support or be a viable attacking threat from the midfield. Thus far in Euro 2012, it's evident that Pirlo makes Italy tick.
Player to Watch for England: Midfielder Steven Gerrard
Judging by their 2-0-1 record, you would think England has been dominant—but you'd be wrong. The lone bright spot has been Steven Gerrard. After being named captain for Euro 2012, the Liverpool midfielder has assisted on three of England's five goals in the tournament.
Like Pirlo for Italy, Gerrard can do it all for England and is the catalyst for many of their goals—especially in set pieces. Gerrard also has impressive striking ability (two shots on goal in Euro 2012) so don't be surprised if the English Captain puts one in the back of the net.
Key Matchup: Mario Balotelli vs. John Terry
Balotelli certainly has the ability to take over a tournament, but his lack of levelheadedness and petulant attitude on the pitch are what's holding him back. On Sunday, add defender John Terry to that list. Terry will likely check Balotelli and will certainly look to get under the skin of the easily frustrated 21-year-old.
Who will win Sunday's match?
The two know each other well as both play in the English Premier League. While Balotelli has the advantage physically, Terry will be making his 77th international appearance compared to Balotelli's 12th. It will be a classic young gun vs. wily veteran matchup out on the pitch on Sunday.
What They Are Saying
England's Captain, Steven Gerrard, is urging his team to not take Italy lightly (via guardian.co.uk):
It was fantastic to top the group and we need to enjoy it now but then dust ourselves down because it will be a very tough game against the Italians. . . . They are similar to us and it will be a very close game. Let's not underestimate them one little bit.
Gerrard also addressed their strategy against Balotelli (via BBC.co.uk):
"I'll be giving Mario Balotelli a bit of banter, and hopefully we can keep him quiet."
On the Italian side, there is nothing but sheer excitement and respect coming from the Azzurri players. Midfielder Daniele De Rossi praised the play of Gerrard (via theglobeandmail.com):
Gerrard has always been my idol and he's a player who's been at the top level of the game for 10 years. . . . The compliments have been nice, but Gerrard is the real universal player, De Rossi said. He can close down in defence and contribute in attack. I still need to acquire some of his characteristics.
Alessandro Diamanti can't believe this match has come to fruition (via theglobeandmail.com):
I thought a match like this could only be played on PlayStation. It's a dream.
Prediction: Italy wins in penalty shootout
This match is the tightest of the quarterfinals as both teams are seemingly even. With that in mind, expect a close match that could very well end up going into PKs.
And England, with the heavy weight of their entire nation upon them, would crumble in that scenario, giving Italy the victory.