9 Fighters Who Fizzled Under the Bright Lights of the UFC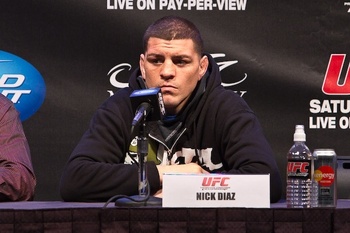 Sherdog
The bright lights in the UFC can force some of the best MMA fighters in the world to turtle up into but a shell of their true potential.
We've seen it throughout the history of the company, and it's due to a number of reasons. Besides the stiff incline in competition, the pressure that goes along with being a UFC fighter has proven to be somewhat daunting. Just ask Nick Diaz.
The increased media attention, the influx of responsibilities to hype a major fight and substantial gain in popularity caused Diaz's anxiety to skyrocket. So much so that he lost a title shot against Georges St-Pierre at UFC 137, which would have undoubtedly been the biggest payday of his career.
Along with Diaz, these are the fighters that fizzled under the spotlight.
Nick Diaz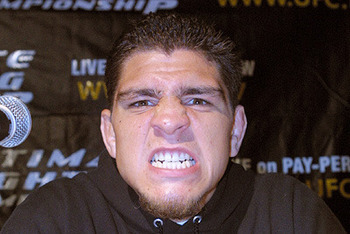 Sherdog
As storied as Nick Diaz's career may be, I'm afraid he'll always be remembered for what could have been.
After having a successful run in the UFC and dominant runs in Elite XC, Strikeforce and Dream, Diaz's return to the UFC was disappointing on so many levels.
First and foremost, I'd like to say that my favorite fighters are guys that throw caution to the wind and put everything on the line to entertain the fans. So obviously, Diaz is on my lengthy list of fighters I enjoy watching.
But even I have to admit that his disappearance from press conferences leading up to UFC 137, which caused him to be pulled from the title fight, was nonsensical.
Diaz could have been one of the greatest fighters in the history of the sport, but because of his troubles outside of the Octagon, like getting suspended for a year after testing positive for marijuana, we'll simply never know how great he could have been.
Mirko Cro Cop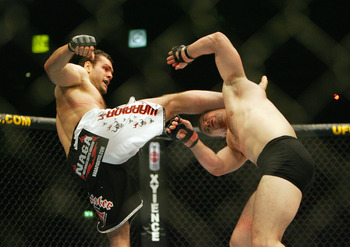 Gary M. Prior/Getty Images
In Pride, Mirko Cro Cop's right leg equaled hospital and his left leg spelled cemetery.
In the UFC, Cro Cop was an above average heavyweight. Thought to be one of the most dangerous men in the world, Cro Cop entered the UFC with an incredible amount of momentum following winning the 2006 Pride Grand Prix.
Cro Cop was placed in a main event against Gabriel Gonzaga at UFC 70, and the Croatian who made a living off of his spectacular head kick knockouts found himself on the receiving end of the most devastating head kick knockout in history.
Gonzaga "Cro Copped" Cro Cop, and from then on, Cro Cop would fail to make any real noise in the heavyweight division.
Cro Cop would finish his career in the UFC with a 4-6 record following losing three fights in a row by knockout.
Kimbo Slice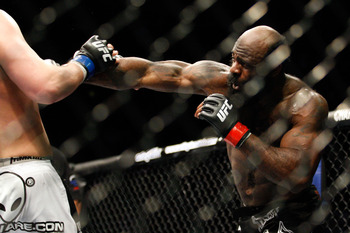 Richard Wolowicz/Getty Images
Due to the amount of attention he received from all markets, Kimbo Slice has to be considered the most overhyped fighter in UFC history.
Purists of the sport knew that Slice wouldn't last in MMA, and going against the best fighters in the UFC, they knew he would serve as comedic relief.
To his credit, though, he did make fights entertaining. Well, the ones without Houston Alexander circling him as if it were a NASCAR race.
After going one-and-done in the 10th season of The Ultimate Fighter, Slice went 1-1 in the UFC and showed little to no promise as a viable threat in the heavyweight division.
In fact, I considered not putting him on this list because rather than not living up to the hype because of the pressures; he simply didn't live up to the hype because he lacked the skills required to do so.
Jake Shields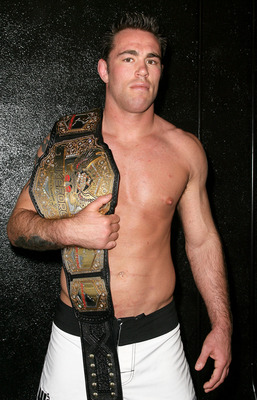 Valerie Macon/Getty Images
Though he's faced stiff competition, Jake Shields just hasn't panned out in the UFC.
He switched brands riding a wave of momentum after defeating Dan Henderson to retain his Strikeforce middleweight championship.
Shields entered the UFC with an impressive 25-4 record with wins against notable fighters like Carlos Condit, Paul Daley, Jason "Mayhem" Miller and Yushin Okami. And after defeating Martin Kampmann by a less than entertaining decision, he faced Georges St-Pierre for the UFC gold.
Shields lost and then went on to lose by knockout to Jake Ellenberger in the first round. The bottom line for Shields is that he represents the old-school MMA fighters that were good at one or two disciplines.
Considering that every fighter is evolving and becoming full mixed martial artists, he'll never be a true contender in the UFC until he develops a striking game.
Jason 'Mayhem' Miller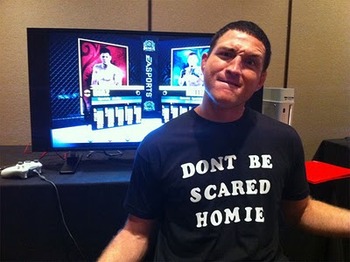 The Mayhem Monkeys won't like this one.
As good and as entertaining as Jason "Mayhem" Miller has been throughout the years, he has never won a UFC fight. Just let that sink in.
The guy that MTV selected to host Bully Beatdown defeated the likes of Tim Kennedy and Robbie Lawler and had some of the most dazzling entrances in MMA history failed to win one UFC fight.
Overseas, Miller had a cult following for the way he fought and the way he represented himself. Because of those very same qualities, Miller had a strong fanbase not only over there, but in the United States as well.
Chosen to coach opposite of Michael Bisping in the 14th season of TUF, Miller was given the opportunity of a lifetime. He had the grand stage, and he had his career-making moment gift-wrapped and placed right before his eyes. The only problem was, Bisping dominated Miller to win by TKO, and after losing to C.B. Dolloway last month, Miller now finds himself without a UFC contract.
Damacio Page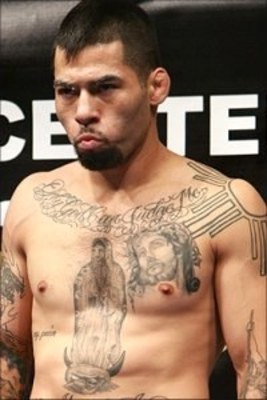 Sherdog
Damacio Page is one of those fighters that you wish was better than his record states.
Always sure to give the fans a crowd-pleasing fight, Page goes for the kill each and every night, even if his record suffers for it.
As a matter of fact, Page is still looking for his first UFC win since the WEC and UFC merged together.
In the WEC, Page went 3-2 with victories over well-known tough competitors like Scott Jorgensen and Will Campuzano. But Page has found himself on quite the losing streak recently.
After dropping three straight fights, two of them being UFC bouts, Page finds himself on thin ice going into his clash against Alex Caceres at UFC on Fuel TV 4.
Takanori Gomi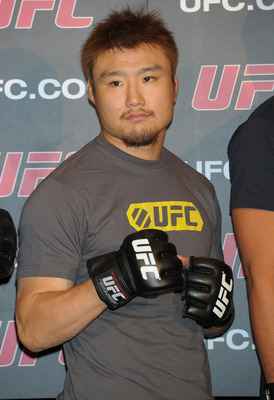 Koki Nagahama/Getty Images
Takanori Gomi's run in the UFC was a bust.
One of the greatest lightweight fighters in the history of the sport was highly regarded as one of the greatest fighters in the world back in his dominant days in Pride.
Gomi held a record of 13-1 and one no contest against Diaz, so entering the UFC years later, the buzz was at an all-tilt. He faced off against Kenny Florian, and after Florian out-pointed him, Florian took it to the ground and choked him out in the third round.
Every time Gomi faced top lightweight fighters in the UFC, he lost, as Florian, Clay Guida and Nate Diaz all beat him. He does hold UFC wins against Tyson Griffin and Eiji Mitsuoka, but for a man who was regarded as one of the greatest fighters in the world, he's surely underachieved in the biggest MMA organization in the world.
Kid Yamamoto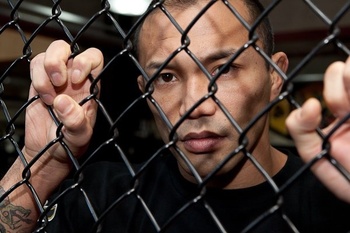 Sherdog
Norifumi "Kid" Yamamoto was a star in Japan.
The star power never really translated on American soil. The result was largely due to the fact that Yamamoto couldn't string along any wins in the UFC.
In K-1 and Shooto, Yamamoto held an MMA record of 18-2 with victories over Bibiano Fernandes and Rani Yahya, but he was winless in the UFC.
Though his fights were entertaining and he went out on his shield in his last fight against Vaughan Lee at UFC 144, Yamamoto lost all three of his UFC fights.
Houston Alexander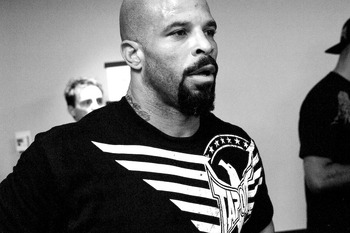 Houston Alexander was a wrecking ball...or so we thought.
Alexander entered the UFC as a relatively unknown fighter, but he began his UFC career with a bang.
After defeating Keith Jardine in 48 seconds and dismantling Alessio Sakara in a minute, Alexander was thought to be the next big thing at light heavyweight. Boy, were we wrong.
Following his thrilling knockout victories, Alexander would lose three fights in a row, and his MMA career would never get back on track.
Alexander is a perfect example of what hype and pressure on the grandest stage can do to a promising athlete.
Keep Reading