Arsenal Transfer News: Latest Notes on Gunners' Offseason Action
June 20, 2012

Bryn Lennon/Getty Images
When the English Premier League's season came to an end, Arsenal started addressing their offensive needs and have made progress in upgrading their team. 
Going into the offseason, the Gunners were not sure about the future of Robin van Persie. The striker played for the Netherlands in the Euro 2012, and he now turns his focus to figuring out where he will play next season. He can choose to leave Arsenal, and he will likely cash in. By staying with the team, he would team up with some new members and help the Gunners improve on offense.
No matter what Van Persie decides, Arsenal has made significant changes in the offseason.
The team went after Olivier Giroud, and they appear to have reached an agreement. With a four-year deal in place, they have a young player to turn to if Van Persie leaves. The 25-year-old scored 21 goals last season, and he helped lead his French club, Montpellier, to the Ligue 1 title.
Also joining the team will be Lukas Podolski, who is coming from FC Cologne. The German forward adds to an impressive roster, and the Gunners hope to compete for the EPL title with their new scorers.
With Euro 2012 finishing up, Arsenal will get their key strikers back. Now that Van Persie and Netherlands have been eliminated, he will begin negotiations with teams. Arsenal added new players, but they will aggressively try to re-sign him. 
Giroud will continue to play for France in the Euro 2012, while Podolski does the same for Germany. Podolski scored against Denmark, and Germany looks prepared to have a legitimate chance to win the tournament.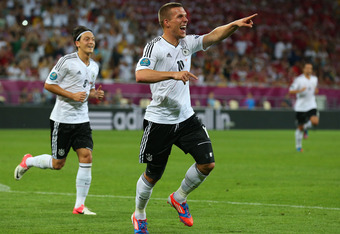 Alex Livesey/Getty Images
The international experience gained in the Euro 2012 should help Arsenal's young stars, so they will be a legitimate threat to overtake Manchester City and Manchester United next season.
After adding pieces to the offense, the Gunners might not be done. According to the Daily Star (also reported by ESPN), there is mutual interest between Arsenal and Yann M'Vila, who also plays for the France.  
If they could acquire M'Vila and keep Van Persie, they would be an explosive offense. The 21-year-old M'Vila would be an important addition to the Gunners' midfield depth. He plays terrific defense, which would allow their scorers to play aggressively. They will look at the possibility of a transfer, so their offseason may continue to be productive.
He is not much of a scoring threat, but Arsenal has made plenty of improvements to their offensive attack. Right now, M'Vila would be a welcome addition on defense. Not only is he a good defender at such a young age, but he also has plenty of room to develop into a better player.
Arsenal has made some great moves, but they still need to pursue Van Persie. Adding Giroud may influence Van Persie's decision either way. With the addition of Giroud's scoring ability, Van Persie could see his goal total decrease. However, the addition would also increase the number of scoring opportunities increase. The biggest reason for him to stay is to help Arsenal compete in the EPL.
With Van Persie, Giroud and Podolski, the Gunners will feature one of the best scoring attacks in the world. The offense will be much improved from a season ago, and they will not rely on Van Persie for carrying their offense. Even if he leaves, this team can still be competitive and should put the ball in the net.
Now they look to improve their defense, and they will have a deeper team than last season if they get everyone they are chasing.