Dallas Cowboys: Encouraging Signs Heading into the 2012 Season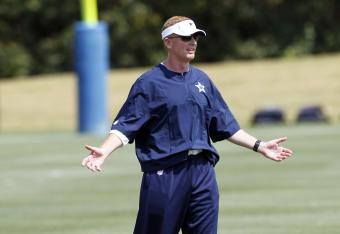 Layne Murdoch/Getty Images
The 2011 season is well in the rear view mirror of the Dallas Cowboys and optimism abounds as we head into 2012. While there still is that lingering feeling of disappointment and bitterness that usually happens in December, the Cowboys, as an organization, have displayed a swift hand in trying to right the wrongs of last season.
Gone are players such as Terrance Newman, Keith Brooking, Alan Ball and Bradie James. The overall roster has seen a significant upgrade throughout with a total commitment to getting younger, faster and stronger.
After signing numerous free agents highlighted by Brandon Carr, drafting seven players and signing an additional 21 undrafted free agents, the Cowboys have the look and makings of the roster they will take to Oxnard in July.
Not only will the Cowboys be different in 2012 but there are encouraging signs this team will be better. Let's explore them.
Improved Secondary
Cowboy fans will no longer be watching Terrance Newman being used as a human hurdle or watch Alan Ball get turned inside and out. Gone are also the days where relying on Bryan McCann was a necessity. The Cowboys signing of Brandon Carr and the drafting of Morris Claiborne have transformed a secondary into a force to be reckoned with.
Of course the results will have to take place on the field, but revamping the unit will allow Rob Ryan to implement his entire package. This was the first and most successful step in the offseason process. If the Cowboys get solid safety play, then this unit has the potential to land in the top five to seven in the NFL. A focused and somewhat happy Mike Jenkins could land this unit in the top three.
Sense of Urgency and Commitment to Improvement
A major theme this offseason has been focused on the window of opportunity closing for this team. It was first mentioned by Jerry Jones and the sentiment was reiterated by some veterans as well. This team knows that 2012 represents a crucial year in their development of getting closer to a Super Bowl.
When you look at the positive turnouts in voluntary workouts, OTA's and minicamp, I get the feeling that the entire team "gets it." Jason Garrett has created a competitive environment throughout the team that will pay huge dividends. Management has shown the commitment to improving the team and for as much as Jerry Jones gets criticized, he has come through in a big way.
I think this team is tired of being on the outside looking in and it will reflect in its play.
Defense, Defense, Defense
With a full offseason and plenty more time to implement his entire defensive system, Rob Ryan could in a lot of ways be an MVP for this team. With returning players Sean Lee, DeMarcus Ware, Jay Ratliff and Anthony Spencer, the Cowboys have a solid core on defense.
Additions like Dan Connor, Brodney Pool and rookies Morris Claiborne, Tyrone Crawford and Kyle Wilber are clear indications what kind of defense the Cowboys want to build. With fierce competition in the NFC East alone, this unit will have to bring it every snap. Something tells me there won't be too many fourth-quarter collapses.
Full Season of DeMarco Murray
He showed flashes of what he's capable of and the results brought smiles to the faces of Cowboy fans. Although his injury couldn't have occurred at a worse time, it's hard not to see a glimpse of what the future holds for Murray and what he means to this offense. I don't think riding him alone will be beneficial to his longevity in the NFL, but he is a dangerous weapon that will only improve.
The Cowboys will be counting on Murray to be the engine to this offense as well as the springboard from which big plays will ensue. A full season of Murray, barring injury, will make not only maximize this offense but it will make Tony Romo's life better as well.
Bill Callahan
The hiring of assistant coaches isn't always the most exciting or sexy news for fans to read about but they are worth paying attention to. When Callahan was brought in to catapult the play of this offensive line, it marked the end of the Hudson Houck era and the beginning of a new regime.
If the Cowboys are going to improve their protection of Tony Romo, I feel it needs to start philosophically and Callahan is the answer. His influence on this young unit will not only have a major impact that will show in the results on the field but he really has a knack for developing linemen. Not that Houck didn't possess those same qualities but you can sense that Garrett wanted to make the change coaching-wise.
Better protection for Romo will result in more wins. More wins will get this team to where it belongs. That is encouraging for me.
This article is
What is the duplicate article?
Why is this article offensive?
Where is this article plagiarized from?
Why is this article poorly edited?

Dallas Cowboys: Like this team?