US Open Golf 2012: Youngsters Who Emerged and Won't Fade Away
June 20, 2012

Stuart Franklin/Getty Images
Old guys get too much attention.
While all the cameras were on Tiger Woods and Phil Mickelson in the 2012 U.S. Open, a handful of young guns emerged. Here are the golfers who had success this past weekend and won't go away anytime soon.
4. Webb Simpson
Okay, the U.S. Open champion isn't exactly "emerging." He was one of the best players in the world before his victory.
But still, Simpson is just 26 years old and it was his first major victory. He became a serious contender in 2011, so expect plenty more strong finishes in upcoming majors.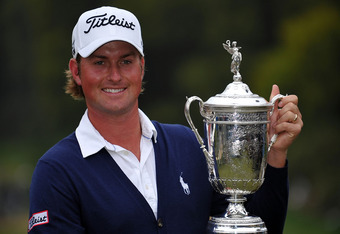 Stuart Franklin/Getty Images
3. Kevin Chappell
Chappell turned pro in 2008, but the 25-year-old is just emerging. Last year, he finished third in the U.S. Open. This season, Chappell concluded the tournament tied for 10th, proving that his previous success wasn't a fluke.
He was once the best amateur golfer in the world, and he's just beginning to participate in major PGA events, so listen up for his name.
2. John Peterson
Peterson is only 23 years old, but you couldn't tell by his strong finish in the U.S. Open. He finished tied for fourth, behind only Simpson, Graeme McDowell and Michael Thompson. And perhaps he had the highlight of the tournament with his hole-in-one on the 13th hole (via jakethe13snake).
He just turned pro in 2011, the same year he won the NCAA Championship at LSU, so expect nothing less than more success.
1. Beau Hossler
Beau Hossler is still in high school, but that didn't stop him from taking the majority of the U.S. Open field to school. Hossler didn't finish strong and settled for 29th place, but the fact that he began Sunday at just three over par is amazing.
Michelle Smith of ESPN reported that fourth-place finisher Jason Dufner talked about how special Hossler's early success is. He said:
I had no idea how to play golf at his age. I know he wishes he would have probably finished a little bit better, but any time you're in the top 30 of a U.S. Open at 17 years old, you got to have a lot going for you.
Get used to hearing Hossler's name because he'll be around for the next 20 years.
David Daniels is a featured columnist at Bleacher Report and a syndicated writer.