Why Vince Young Won't End the Season as Buffalo Bills' Starting QB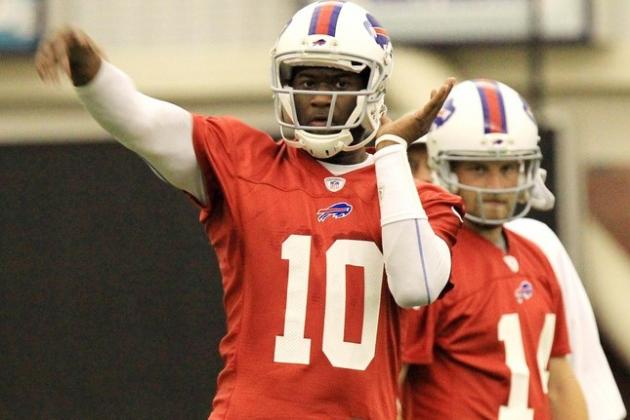 When the Buffalo Bills acquired quarterback Vince Young during the 2012 NFL free-agency period, the move sparked a short-lived discussion about Young's potential in Buffalo.
Some fans opposed the move, arguing that it could lead to a potentially unnecessary quarterback controversy. Others believed it was smart to establish competition behind Ryan Fitzpatrick and add depth at the position.
Regardless of what fans think of the signing, one thing is clear: Fitzpatrick is the Bills' starting quarterback. And he will be all season long.
Young may be an upgrade over Tyler Thigpen as Fitz's primary backup, but Bills fans can rest assured that he won't challenge the Amish Rifle for the starting gig.
It's a huge season for Fitz and the Bills, and the veteran quarterback should play a large part in the team's success.
Here are five reasons why Young won't pose any risk to taking Fitzpatrick's starting job, and why he will both begin and end the season as the backup quarterback.
Begin Slideshow

»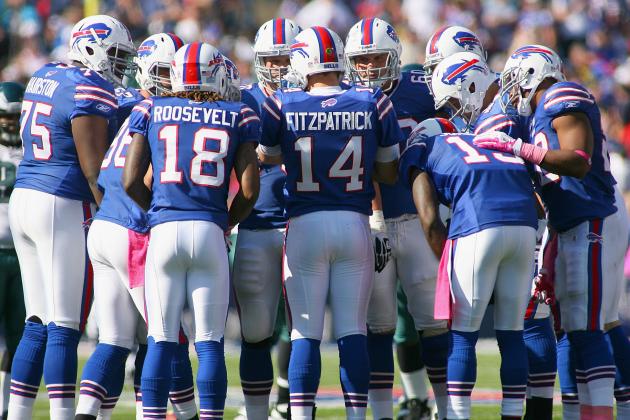 Rick Stewart/Getty Images

The current Bills squad is a tightly knit group. There's a certain camaraderie among the players that is difficult to establish overnight, and it's a refreshing sight for Bills fans.
In particular, the relationship Fitzpatrick has with his wide receivers and fellow offensive weapons is unique. The guys trust one another, believe in one another and, more importantly, buy into what the team as a whole is working to accomplish.
Vince Young will have to earn that kind of trust in his first year with the organization.
It can't be easy to move to a new city, work with a new team and learn an entirely new system. It's actually quite admirable that so many players do this so often in their NFL careers.
For Young, he's starting at square one. He's working hard to get to know his teammates and build relationships with them. And those guys are doing the same thing trying to get to know Young .
Fitz clearly has an intangible advantage here. After receiving a hefty contract extension midseason in 2011, Fitz is clearly the signal-caller the Bills—both the front office and the players—want to build a contender around.
Letting any kind of conversation about a quarterback controversy leak into the locker room would be detrimental to such progress. The team has developed steadily with Fitz at the helm, and they'll be sure to stay behind him 100 percent of the way.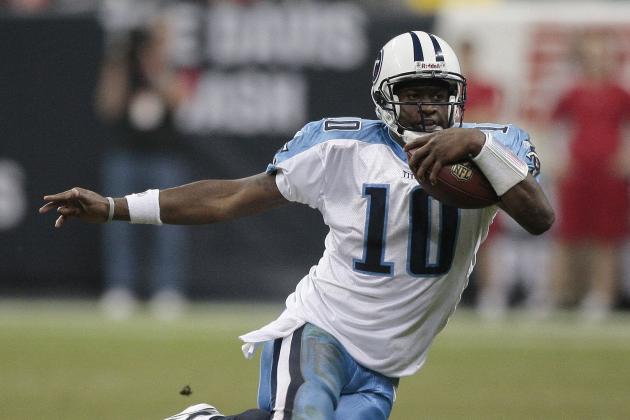 Bob Levey/Getty Images

Head coach Chan Gailey has already left his stamp on the Bills' offense, even though his work is essentially just starting.
Heralded as an offensive guru, Gailey is revered around the league for his ability to build around his players' strengths. Regardless of his roster, he always finds a way to get the most out of his players.
Coming to Buffalo, Gailey has gradually established an offensive philosophy to do just that. The 2012 offense will feature two dynamic runners in Fred Jackson and C.J. Spiller. Pair those two guys with a solid line, and the run game is easily one of the team's biggest strengths.
For the passing game, the Bills emphasize short and intermediate routes, relying on quick reads and timely throws to catch the defense off-guard. And Gailey has tailored this style to fit Fitzpatrick's strengths.
Fitz has shown the ability to make smart reads and tight throws. Now that he's working with new quarterbacks coach David Lee, establishing tighter technique and smoother fundamentals will help him get back to his sharpshooting ways.
On the other hand, Young is a big, mobile quarterback with a strong arm. He can throw across the field and downfield, and he can make plays with his feet.
This isn't to say that the Bills don't like those qualities. However, they presently don't feature them in the offense. Young has the tangibles to make big plays, but he'll need to understand the system first in order to make the important third-and-short passes to move the chains in the fourth quarter.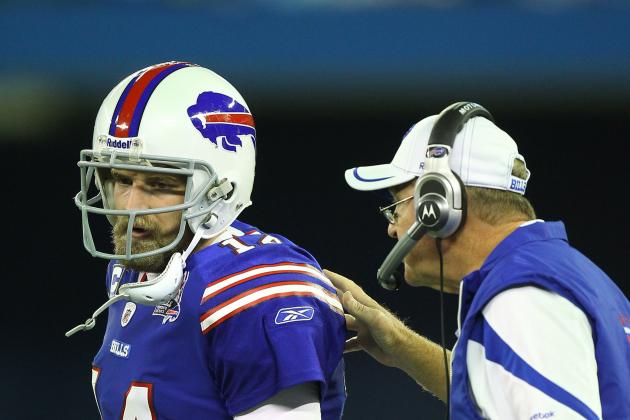 Tom Szczerbowski/Getty Images

It's now year three under head coach Chan Gailey, and that means more consistency. Some of the league's most successful franchises are those with key pieces in place for long periods of time, particularly coaches and quarterbacks.
Another season as the starting quarterback simply means a better understanding for Ryan Fitzpatrick. Learning an entirely new system takes time, and after two seasons in Gailey's offense, now is the point where players start to grasp the plays by memory. Their movements and reactions become second nature, and they do less thinking and more doing.
Furthermore, Fitz still has his go-to guys in place. No. 1 wideout Steve Johnson returns along with secondary receivers David Nelson and Donald Jones. Tight end Scott Chandler had a career year in 2011. And who could forget about Jackson and Spiller?
It's difficult to succeed at quarterback without having a sense of comfort or familiarity, and Fitz will have plenty of that in 2012.
For Vince Young, he'll be learning the offense and working with these guys for the first time. That's not to say he can't be successful, but it will take time to fully grasp the nuances of the Bills' playbook and the subtle habits of his teammates.
Considering Gailey's spread offense, Young will be more likely to tuck the ball and run if he doesn't see his first or second read. By contrast, Fitz will be more comfortable sticking in the pocket for his third or fourth receivers to gain separation.
Young will certainly have an understanding of the playbook once the regular season rolls around, but Buffalo's best chance at producing on offense is with Fitz running the show.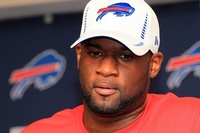 Photo courtesy of BuffaloRumblings.com
Vince Young hasn't thrown for over 2,500 yards since 2007, when he passed for a career-high 2,546 yards. The most touchdowns he's ever recorded in a single season is 12, and that was during his rookie year. He's a career 57.9 percent passer even though he's never attempted more than 390 passes in any given year.
Yes, Young has added a respectable amount of rushing yards and scores to supplement is passing statistics, but the fact remains that he's never had a truly impressive statistical passing year.
Fitzpatrick, on the other hand, could have another career year in 2012. To do so, he'd have to top 3,832 passing yards, 24 touchdowns and complete more than 62 percent of his passes.
All those numbers came just last season.
It's evident that Fitz is finally hitting his stride and coming into his own as a passer. He did throw for a career-high 23 interceptions last year, but that number too should improve in 2012 with a better overall supporting cast, refined mechanics and an even stronger grasp of the offense.
Considering the different paths these two passers are on, it simply makes sense to predict that Fitz will continue to shine while Young watches from the sideline. That's not a knock against Young, but rather an endorsement of what Fitz has done with the Bills.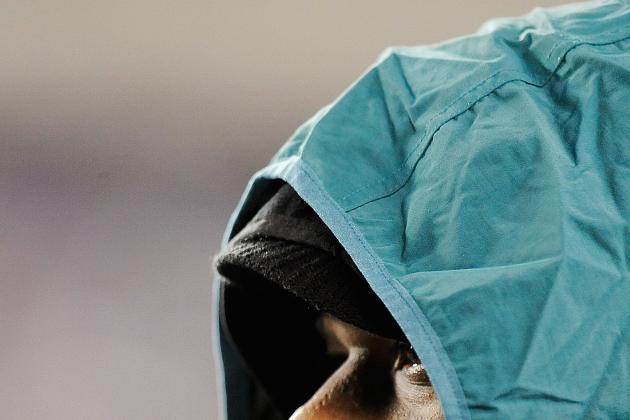 Patrick McDermott/Getty Images

It's very unlikely that Young will get an opportunity to play simply by outperforming Fitz. He may see game time in lopsided affairs, but other than that, the only action he'll probably see is if Fitzpatrick suffers an injury.
Fitz has been a pretty durable quarterback thus far in his career, though he's only been a true starter for a couple seasons. Nonetheless, he's a tough player with a great work ethic.
Last season, he played through four cracked ribs and an injured sternum, according to the Buffalo News. This obviously affected his play during the middle of the year and was a large reason why his numbers dropped after starting off so well.
While there's no guaranteeing he'll avoid such injuries in the future, it's looking more likely that he will with a revamped supporting cast.
The offensive line is as strong as it's been under Chan Gailey. Buffalo added Cordy Glenn in the draft and returns the other four starters in Andy Levitre, Eric Wood, Kraig Urbik and Erik Pears. Behind the starters, the Bills have stronger depth in case anybody goes down, especially Eric Wood. The Bills struggled without Wood at center last season. Now they have rookie Mark Asper to team with returning backup Colin Brown.
Ultimately, the Bills brought Young in to add more depth behind Fitz, not to compete with him. He understands that his role is as a backup now, and if he does see the field, the Bills and their fans certainly hope—and believe—he'll perform at a very high level.
But even if he does, he won't be able to pry the starting job away from Ryan Fitzpatrick.