UFC 147: Is Rich Franklin UFC Hall of Fame Worthy?
June 20, 2012

UFC 147 is one of the least anticipated events in the history of the UFC. With the soccer stadium idea falling through along with the Silva-Sonnen rematch, the card was doomed from the start. But, the event does feature two potential Hall of Fame fighters.
For Rich Franklin, defeating Wanderlei Silva for a second time won't do much for his career, but does he need anything else to add to a already successful career?
Franklin got into MMA to, "just earn a little extra money." he said in an interview, while teaching in Cincinnati. Rich Franklin would make his UFC debut at UFC 42 against the late Evan Tanner which he won by TKO.
Franklin's first loss would come to the hands of future UFC Light Heavyweight Champion Lyoto Machida in December of 2003. Rich would go to win a couple of fights outside the UFC before returning at UFC 50 defeating Jorge Rivera. 
Franklin's first big break came at The Ultimate Fighter One Finale, in which he faced Ken Shamrock in the night's main event. The trouble with that was the co-main event was the Ultimate Fighter Light Heavyweight Final which seen one of the greatest fights of all-time between Forrest Griffin and Stephan Bonnar.
This did not bother Franklin at all as he made a mark himself, knocking out Shamrock in the first round. At this point in Ken Shamrock's career, he had never been knocked out, making the win that much sweeter for Franklin.
Franklin jumped around between light heavyweight and middleweight early in his career, but would find a nice home at middleweight when he defeated Tanner again at UFC 53 to win the UFC Middleweight Championship.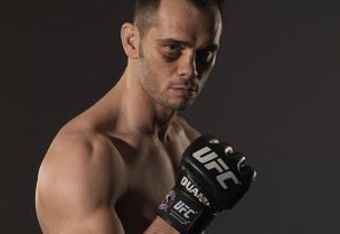 "Ace" would go on to defend the championship against Nathan Quarry at UFC 56, in which he won by KO in the first round. He would also defend the title at UFC 58 against David Loiseau in a five round battle that seen both men bruised and beaten at the conclusion. Franklin would walk away with a unanimous decision win.
Franklin's next title defense was against some new guy named Anderson Silva. Silva, who was known to many MMA fans from his Pride days, dominated Rich in a way no man had ever done before. Silva's muay thai was too much for Franklin, as he was defeated by TKO in the first round.
Rich Franklin would then defeat Jason MacDonald and Yushin Okami to get back in the title picture and receive his rematch with Silva. This time, the fight was held in Rich's hometown of Cincinnati. It didn't help Franklin much, as he was defeated once again by Silva.
Since then, Franklin's career has been very up and down. He's been defeated by Dan Henderson, Vitor Belfort and most recently, former UFC Light Heavyweight Champion Forrest Griffin.
Franklin, since his loss to Silva, has defeated Travis Lutter, Matt Hamill, Wanderlei Silva and holds a highlight reel knockout over former UFC Light Heavyweight Champion and Hall of Fame fighter Chuck Liddell.
Franklin blocked a Liddell kick that broke his arm. As Liddell pushed forward toward the end of the round, Franklin threw an almost Liddell-like overhand that knocked Liddell unconscious. Franklin would win knockout of the night for this win that would also mark Chuck Liddell's final appearance inside the Octagon.
Is Rich Franklin Hall of Fame worthy? Is that even a question?
Franklin, in my opinion, should be one of the next men inducted. His career speaks for itself, but if you want to go deeper, there isn't a better ambassador for the sport of MMA then Rich Franklin. He's one of the best fighters in UFC history as well as one of the nicest and most loved guys in the sport's history.
A UFC Hall of Fame isn't complete without Franklin and if Franklin retired after this Saturday's fight with Wanderlei Silva, win or lose, Franklin is 100 percent Hall of Fame worthy. The scary part, though, Franklin's career may be far from over. 
Rich Franklin fights this Saturday night at UFC 147: Silva vs. Franklin II at the Estadio Jornalista Felipe Drumond in Belo Horizonte, Brazil live on Pay Per View!