New York Yankees: Could Rafael Soriano Opt out of His Contract After 2012?
June 20, 2012

Patrick McDermott/Getty Images
With Mariano Rivera on the shelf for the 2012 season, Rafael Soriano has thrived as the closer of the Yankees.
Since taking over the role full-time, Soriano is 13-for-14 in save opportunities for the Yankees, has a 1.78 ERA with 22 strikeouts in 25.1 innings.
As the closer for the Yankees, Soriano looks very comfortable; as opposed to when he was the setup man last season for the Bombers in 2011 and had a 4.12 ERA and struggled at times.
Soriano signed a three-year, $35 million deal with the Yankees back on January 13, 2011 to be Rivera's setup man after he was the closer for the Tampa Bay Rays in 2010.
Soriano lost the role to David Robertson, who emerged as one of the league's best relievers. But when Rivera tore his ACL in early May, Soriano got his chance to take over as a closer again.
And since then, Soriano has been brilliant for the Yankees, making his value as a pitcher increase tremendously.
What makes Soriano's situation unique is when he signed his deal with the Yankees last year, Brian Cashman included two opt-out clauses in his contract after the 2011 and 2012 seasons.
Because Soriano struggled in 2011, he decided not to use his opt-out clause. But now that Soriano is pitching well for the Yankees, could he decide to use the opt-out and become a free agent again?
Soriano could look to become a full-time closer again by hitting the open market, although this past winter was not very kind to free agent closers.
Ryan Madson was on the open market for a long time before signing with the Cincinnati Reds, but never pitched an inning in 2012 after he had a torn ligament and required Tommy John Surgery.
Francisco Rodriguez started out as a closer for the Mets in 2011, but was traded to the Brewers to be John Axford's setup man and had to settle for the same role again in 2012 because of his shaky performance with the Mets.
Other closers got good deals over the winter—Jonathan Papelbon got four-years and $52 million with the Phillies, and has pitched well. Heath Bell got three years and $27 million with the Marlins, and has struggled in his first year with his new team.
Does Soriano want to give up $14 million guaranteed money pitching with the Yankees in 2013 to attempt to hit the market again as a closer?
Joel Sherman of the New York Post wrote about the Soriano situation and choice the 32-year old reliever will have to make come November.
If Soriano were to opt out, he would join a list of closers looking for a job such as Jose Valverde, Jonathan Broxton and Kyle Farnsworth.
Joakim Soria, Huston Street and J.J. Putz also could be free agents too, but they have options on them for 2013, so they won't be on the market just yet.
Oh, and then there is Rivera, who will be a free agent again, but has already said he wants to come back in 2013 and pitch for the Yankees.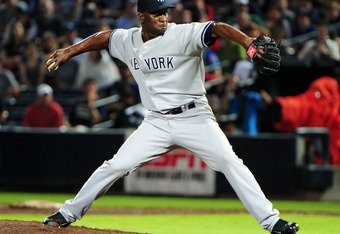 Scott Cunningham/Getty Images
And the fact that Rivera has stated that he wants to be the closer for the Yankees in 2013 makes the situation with Soriano even more tricky.
Would Soriano turn down a chance to be a closer one more time to stay with the Yankees?
Giving up $14 million guaranteed would certainly be a major risk, because he and his agent Scott Boras saw what happened to K-Rod and Madson on the open market last winter.
For now, Soriano will continue to thrive in the role as the closer for the Yankees and help the Bombers get back to the postseason.
But when Rivera takes back the closer's role, what will Soriano do for 2013?
Stay tuned, Yankees Universe.