Euro 2012: Have Spain Become Victims of Their Own Success?
June 20, 2012

Michael Steele/Getty Images
Spain entered the European Championships as the hottest of favorites, with the discussion centered around who could beat La Furia Roja rather than who could win the championship.
Given their previous achievements at Eurp 2008 and the 2010 World Cup, it's understandable why Spain were touted as the team most likely to clinch the title. In reality, they were, and still are, the team most likely to win their third successive international tournament.
Spain opened their Euro 2012 with a draw against Italy—perhaps a fair result of the midfield and defense battle that panned out between the two teams. They then put up victories over the Republic of Ireland and Croatia to top Group C and progress through to the knockout stages undefeated—conceding just the one goal in the process.
Yet despite their previous achievements combined with their early dominance at Euro 2012, Spain are facing critics right around the footballing world, with many believing that the favorites are looking vulnerable heading in to their quarterfinal clash with France. 
Take Croatian coach Slaven Bilic, who insisted that Spain look vulnerable at Euro 2012.
People are going crazy about Spain, but the world moves so fast that we forget the detail—they have looked vulnerable...
One must beg the question as to which moment in the tournament that they looked vulnerable. Was it the fact that they didn't manage to win all three of their matches and suffered a draw in one of them? Or was it the fact that they only managed to beat Croatia 1-0 courtesy of a late Jesus Navas goal?
Spain might look vulnerable, but looking at their performances and their previous achievements, they are arguably the furthest thing from vulnerable at Euro 2012. They were the favorites from the outset and they still remain the side to beat—the side most likely to lift high the trophy at the conclusion of the tournament.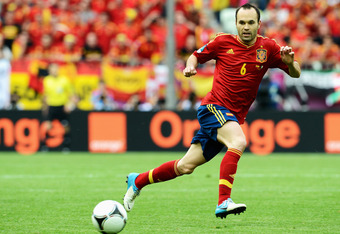 Claudio Villa/Getty Images
Throughout their opening three matches, La Furia Roja have been by far the most dominant team. They are averaging over 70 percent possession at 90 percent completion rate—numbers higher than any other team in the competition. 
That possession and completion has transpired in to the most shots per game, the most shots on target per game and the most goals in the back of the net. What's more is that they're doing it without a striker in the true sense of the word, with their current formation leaving them without a dominant presence in the box at times.
So if it's not their attack and midfield that looks vulnerable, perhaps it's their defense. Perhaps it's the men at the back and the man with the gloves that are exposing Spain in Euro 2012. 
Any follower of the tournament so far would know that to be far from true. 
As mentioned, Spain have conceded just the one goal in the tournament so far. They have conceded fewer shots per game than any other team and have etched out three of the most solid defensive performances seen so far. Add to that mix the fact that they have arguably the greatest goalkeeper in the world in Iker Casillas in their team, and the evidence becomes irrefutable.
Spain are not vulnerable in defense any more than they are in attack, which leaves us with the question as to how Spain are carrying around the stigma of being exposed and vulnerable—an easy-beat heading into the quarterfinals of Euro 2012.
Simply put, they're not.
Spain are no more exposed and vulnerable than any other team, but their previous achievements have created a standard so high that if not matched constantly, questions begin to be asked.
Their dominance on the international stage over such a long period has given many fans and commentators false expectations of the Spanish national team—to the point that anything other than a complete rout looks like failure.
They have become victims of their own success.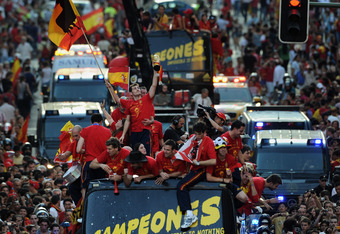 Jasper Juinen/Getty Images
Their 2008 Euro and 2010 World Cup trophies have created a legacy for Spain that demands success. We—the general football community—expect Spain to perform and expect them to win comfortably, and these expectations are what leave us so disappointed when they don't live up to the hype.
When really, at the end of the day, Spain are living up to the hype and expectation that was placed upon them at the commencement of Euro 2012. They are living up to the stigma of being favorites and they are living up to their international reputation.
They're undefeated, have scored more goals than anyone else and conceded fewer goals than anyone else—what further proof do we need to be convinced that Spain are the real deal at 2012?
The answer is none. We need no further proof, yet we demand it constantly—asking Spain time and time again to top perfection and repeat their impeccable performances when they are already flawless. They have become victims of the unattainable expectations hurled upon them by the general public, and Spain know it, as Andres Iniesta recently highlighted, via the Mirror:
When you are world champions, it is difficult to get better amid that euphoria and expectation. It makes it harder [but] we hope to rise to the challenge.

Are we a victim of our own success? Yes. The team has earned this perception and it is higher than in previous years. In previous years, a bad match would mean that we would all be packing our suitcases and going home.

It is hard to repeat the [Euros] win of 2008. All the opponents have superb teams and everyone wants to beat the world champions. By 2014 it will, God willing, be even harder.

The challenge is to go out there and win the titles again and again.

There were moments of quality against Croatia, when we dominated the ball, but we also had moments of doubt. We would have preferred a 3-0 result, but it wasn't possible - it is not always possible...
It is not always possible.
Regardless of the depth of talent right across the pitch and previous achievements and the weight of expectation, succeeding to the extent of which we demand is not always possible, and fans right around the world must heed this point.
Spain will not always dominate with their beautiful tika-taka football, and they may not always win by four or five goals, but it in no way reduces their potency and ability nor the likelihood of them claiming the championship.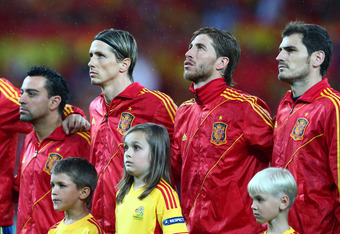 Michael Steele/Getty Images
That's not to say that Spain are unbeatable. No team is unbeatable, and Spain is no exception to the rule. But at the moment, Spain are the furthest thing from unbeatable—they get beat every single time they step out on to a football pitch.
They get beat by their own achievements and their own success.
They can no longer "win."
Vicente Del Bosque's men have reached a point where they are unable to surprise the world with victory and their achievements, as the manager emphasized recently.
People expect too much. A few years ago, Spain was not well-rated. Now everyone expects everything. People can lose faith in us, but the most important thing is that we have faith in ourselves...
Which perhaps then sheds light on why Spain did not celebrate their progression through to the quarterfinals of Euro 2012—the only team not to do so.
For making it past the group stage had no longer become an achievement, but an expectation. Winning Group C is not an achievement—winning Euro 2012 would be an achievement.
Spain must win the tournament if they are to live up to the expectations attached to them.
They must beat France, and then their semifinal opponent, and they must do so in dynamic fashion that leaves no essence of doubt remaining. But more so, they must be the team standing on the podium on the 1st of July lifting high that trophy if they are to satisfy our expectations.
Spain must be the champions of Euro 2012 for all their previous achievements and group stage dominance to be properly recognized. Second place does not satisfy expectations; a semifinal does not qualify as an achievement.
Welcome to Spanish football, where a miss really is as good as a mile.
Are Spain simply victims of their own success?
Comment below or hit me up on Twitter—Follow @dantalintyre