Kevin Sumlin Ushering in Texas A&M's Modern Era
June 21, 2012

Texas A&M has been experiencing an inclement shift in how its football program operates over the past few months. Under the guise of new leadership, the Aggie faithful have begun to feel a static in the air that hasn't been there since Slocum took his leave ten years ago.
Following the firing of current Miami Dolphins offensive coordinator Mike Sherman, the Aggies acquired former Houston head coach Kevin Sumlin. The young coach has essentially revamped the entire program into a more modern and attractive brand, pushing ideals and tactics previously untapped by the "old-fashioned" university.
Both on and off the field, Sumlin and his staff have stolen the national spotlight in the college football world as A&M's conference realignment into the SEC soon becomes finalized later this summer.
The storylines are endless. The "drama" unyielding. 
However, one can't avoid the cold tingle on the back of their spine when walking through Texas A&M's campus. Sumlin has literally revolutionized the way Aggies compete in a matter of months, molding the entire program to fit his modern agenda.
There are four huge aspects of Sumlin's gameplan that have allowed him to create this new "static" in College Station. The following discusses each in detail.
Staff
For decades now, Texas A&M has been known as one of the most conservative universities in the country. Mostly, this is due to A&M's deep military roots and location in one of the most conservative states in the union.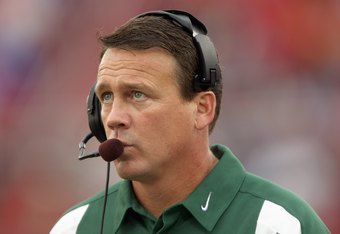 Stephen Dunn/Getty Images
Aggie football has unsurprisingly reflected that model.
Texas A&M was known on the gridiron for its staunch defenses and powerful running backs during the 1980's and 1990's. This coaching style was the norm and A&M succeeded because they did it just as good, or better, than everyone else on a consistent basis.
However, college football has evolved. The modern era of the sport has overlooked Aggieland, leaving the "old-fashioned" coaching staffs in the dust following the turn of the century. The Aggies haven't hired a head coach under the age of 50 since R.C. Slocum left back in 2002. 
Now, though, a young 47 year-old man is running the show in College Station. Sumlin enjoys moving with the times of this era, perfecting his craft to help evolve the players he coaches. To assist him, he has put together a staff that still has a little spring in their step.
More importantly, however, Sumlin has grouped together coaches that know how to recruit, and recruit well.
Five of the nine coaches on Sumlin's new staff were recruiting coordinators at former universities. Loads of youth and football brains have combined to form assistants who know how to snare top prospects while also fit them into Sumlin's overall scheme on the field.
Sumlin was also able to use his staff to establish a wider recruiting ground for the A&M brand. In the modern era, staying within one's specific geographic space will kill recruitment down the road. By snaring coaches such as Marcel Yates and Terry Price, he opened up fertile recruiting grounds in California, Florida and Georgia, giving A&M a stronger national presence.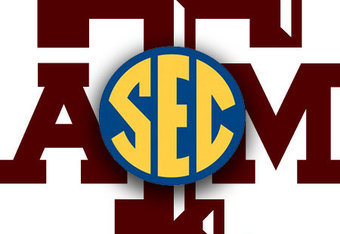 The youthful energy this staff brings to College Station has attracted prospects from around the state. Hotbed recruiting cities such as Houston and Dallas-Forth Worth have combined for 15 of A&M's 20 total commits, giving the inclination that A&M has established a new kind of brand perception in these major metropolises. 
Recruiting
Despite the fact that Sumlin and his new staff haven't even coached a single game in A&M's new conference, the Aggies have acquired 20 recruits en route to a current overall class ranking of fourth by Rivals and sixth by ESPN.
If that's not enough proof, as of right now the Aggies have eight prospects in the highly-touted Rivals250 and five committed from the esteemed ESPN 150. For a coach in his first offseason with a BCS program, racking up high-quality athletes as such is beyond impressive.
Many attribute Texas A&M's success on the recruiting trail to a combination of factors. The largest reason many fans and analysts have noted is the excitement over A&M's transfer into the SEC, allowing the Aggies to use the unique recruiting pitch of playing SEC universities on a consistent basis while still holding a home base in Texas. 
While the SEC move is a strong factor, I'm personally drawn more to Sumlin and his policies on picking up prospects. A&M's new head coach has changed the program's perspective on recruiting, injecting a new outlook on the formerly conservative process.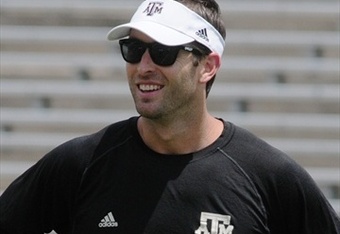 For example, Sumlin has established "satellite" camps around Texas to help outreach to under-the-radar recruits. Texas is the largest state in the contiguous United States, meaning that although it is A&M's main recruiting ground, not all of the top talent can make the drive to College Station for specific camps bent on finding unknown talent.
Sumlin's innovative satellite camps outside of the "golden triangle" (Houston-Dallas/Fort Worth-San Antonio) have allowed the A&M coaches to gain access to untapped talent in places that otherwise wouldn't usually receive attention.
The Aggies' new football staff has also been extremely aggressive in their exploits on the trail. Put simply, this group of men doesn't back down from any challenge, especially one that includes negative recruiting. In college football, taking the "low road" to gain a prospect's favor is a sacrifice many "old-fashioned" coaches look down upon. Sumlin and his staff, however, understand the necessity of defending one's program.
Finally, the young coach has established a brilliant policy for committed recruits who wish to continue looking elsewhere. According to the Dallas Morning News, Sumlin is quoted saying "If [recruits] want to look around, they're not committed to Texas A&M."
This is a very firm stance for high school athletes, yet essentially forces them to stick to their choice once they commit.
Correspondingly, A&M experienced heavy disappointment during the 2012 National Signing Day when a committed Braylon Addison decided to take his talents to Oregon instead of College Station after traveling to Eugene just weeks earlier. This new policy eliminates that situation from happening. 
Coaching Schemes
As I mentioned before, Texas A&M has almost always been a conservative university. On the football field, the Aggies exemplified that with defenses such as the Wrecking Crew and running offenses under the guise of power backs like Ja'Mar Toombs.
As the modern era of college football has taken over the nation, however, A&M has experienced some unsuccessful seasons due to their lack of ability to adjust to the surrounding competition. A&M defenses, no matter how staunch, could not consistently hold offenses that produced upwards of 400 passing yards per game.
Under former head coach Mike Sherman, A&M began to see some transition to a strong passing offense backed up by a potent rushing attack. Unfortunately for the NFL-style coach, however, he was unable to produce on the gridiron consistently enough for the program to keep him around, especially with the brutality that is the SEC approaching soon.
While the Aggies' new home is mainly defensive-centric, Sumlin will be looking to convert A&M into a pure "air raid" style offense. Simply put, he wants to spread the ball around to playmakers on the edges, allowing his athletes to convert short passes into large gains. 
Sumlin and offensive coordinator Kliff Kingsbury have shown they understand the concept of a big-time passing game. Last season at Houston, the Cougars led the NCAA with 441.5 passing yards per game. Sumlin and UH threw the ball 63 percent of the time, a considerably large amount even in this era.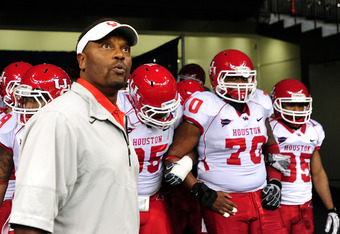 Stacy Revere/Getty Images
Basically, Sumlin and Texas A&M are now in the business of throwing the ball many more times than they run it. As compared to the Aggies' football past, this will present a giant change in perception. However, it will quickly usher in the modern era into College Station, abruptly taking hold over an area it missed the first time around.
Whether or not Sumlin's offensive schemes work is still pending, yet one thing we do know is that it is modern. The West Coast style of attack has, more or less, just recently been born into college football. Overall, it will create more opportunities for the A&M athletes to make plays against overworked and stretched out defenses.  
Attitude

"Energy and enthusiasm is contagious" according to Kevin Sumlin. The young coach knows how to rile up a crowd and instill confidence in his players. It's a trait every leader desires, but few have.
Sumlin has brought a certain kind of swagger to A&M that the Aggies have never seen before. The man exudes confidence, bordering on arrogance, to a point that his players can rally around him. At Houston, Sumlin inspired a program that had been down ever since its exclusion from the Big 12 in the mid-1990's. Now the Cougars a nationally-known brand.
This change in attitude that the new head coach has brought around to A&M is enough to engage even the most desolate of fans. "You want a winner out there. A guy who thinks no matter what he does, that he's going to succeed," said former A&M player Seth McKinney.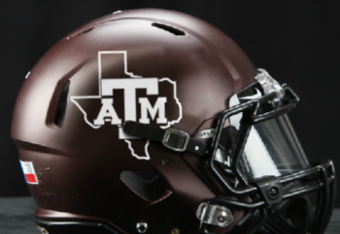 They say that confidence is half the battle.
Conclusion
Texas A&M is under a new regime. New head coach Kevin Sumlin has already evolved this program into a modernized version of its former self, adding a strong recruiting base, a dedicated staff and an unbeatable attitude.
Overall, he has revolutionized the way the Aggies compete, on and off the field, unlike what anyone imagined when he was first hired in early December. With A&M entering into the meat grinder that is the SEC next season, the confidence and swagger Sumlin oozes will be a necessity for any kind of success on the gridiron.
Keep an eye out for this A&M program because a new kind of static is in the air.  
Uniforms(?)
Even though a wardrobe change isn't exactly one of the "big four" new ideas Sumlin brings to College Station, it certainly qualifies as a major adjustment worth mentioning.
According to the Dallas Morning News, "we're not going to abandon that foundation of our brand with our football uniforms. We're not an Oregon. We're not an Oklahoma State. But that doesn't mean we can't freshen up some aspects of our uniforms," A&M's vice president of marketing and communications Jason Cook said.
While the Aggies certainly don't want to lose their identity (see Maryland) or go overboard, Sumlin and his staff understand the advantages of adding some flash to the current maroon and white standard.
"We don't want to lose our tradition, and we don't want to lose who we are. But we also are in an extremely competitive business. And kids pay attention to little things. And recruits do. And it's a competitive world," Sumlin added about uniform changes.
Basically, big-time prospects dig some tight-looking threads. If mixing up your gridiron apparel allows A&M any kind of advantage on the recruiting trail, expect Sumlin to be changing up the wardrobe in a hurry. 
The winds of change are blowing through College Station, that is for certain.