Nebraska Football Recruiting: Why Cornhuskers Must Have a Top-20 Class for 2013
June 20, 2012

Jamie Squire/Getty Images
Nebraska fans, in general, hate recruiting.
When Tom Osborne was in charge, Nebraska's recruiting classes were never highly ranked, largely because Nebraska's offensive system was so unique. Then, when Bill Callahan arrived, he told Nebraska fans that his recruiting prowess would return NU to the glory days.
Well, we all know how that panned out.
So, in response to Callahan, many Nebraska fans have discounted the need for strong recruiting classes as a whole. It didn't work for Callahan, they say, and Osborne never needed it in the first place.
That's not the Nebraska way, those fans will tell you.
Unfortunately, those fans are engaging in more than a little magical thinking (or at least wishful thinking). The fact is that Nebraska fans expect NU to be competing for conference and national titles. Coaching is very important, but Nebraska needs to put the raw athletic talent on the field to compete with the upper echelon of college football.
Pelini Is Still Unproven as a Recruiter
When you think of the Pelini era at Nebraska, who are the standout players you think of?
Ndamukong Suh? Prince Amukamara? Roy Helu? Joe Ganz?
Pelini didn't bring those guys to Lincoln—Callahan did.
Now, in fairness, Pelini's coaching was a big reason why those players were as successful as they were for Nebraska. But a coach needs players, and players with the kind of athletic talent who can compete on a national basis.
Great coaching is important, but it can only take you so far.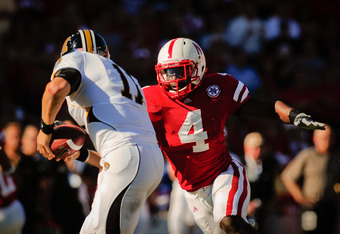 Eric Francis/Getty Images
Who are Pelini's best recruits? No. 1 in the clubhouse is probably Lavonte David, a JUCO transfer. Alfonzo Dennard looked to be the guy before a disappointing senior season, and Rex Burkhead may be the fan favorite of Pelini's recruits.
But Pelini's recruiting has yet to produce a star. He's in Year 5 now, meaning that the team is pretty much entirely comprised of the talent he brought to Lincoln. If Nebraska is going to reach the heights expected by the Children of the Corn, the talent on the field needs to match the coaching talent on the sidelines.
The Conference Bar Has Been Raised
Say what you will about Brady Hoke at Michigan, but there's no question that he is a successful recruiter. In one season at the helm in Ann Arbor, Hoke brought Michigan's recruiting ranking from unranked (according to ESPN) in 2010 and 2011 to seventh nationally in 2012.
And guess who is currently rated No. 1 for 2013? (Spoiler alert! It's Michigan.)
Then there's Urban Meyer. After a year of reconnecting with his family, Meyer has taken the helm in Columbus, bringing with him the recruiting prowess that led him to success at Bowling Green, Utah and Florida. The Buckeyes under Meyer will be a formidable foe on the recruiting trail for the rest of the nation.
So gone are the days for the rest of the B1G—Nebraska included—where the two big dogs in the conference were underachievers on the field or in recruiting. If Nebraska wants to keep up with Michigan and Ohio State, it has to field enough top-level athletes to match its opponents.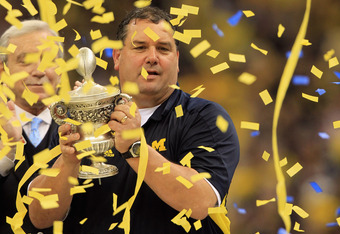 Matthew Stockman/Getty Images
Perception Is Reality
Nebraska fans are fond of soothing themselves with the conviction that their program has never thrived on getting the best recruits in the country. A great work ethic, great coaching and a great system have always been viewed as Nebraska's means to counter the talent gap between NU and the competition.
Some of that is true, but as college football becomes more and more sophisticated, the teams that recruit the best are going to have such a daunting advantage over teams that don't recruit as well that competing for conference and national titles will be more challenging.
More importantly, recruiting itself has far more attention than it ever did. Ten years ago the thought of wall-to-wall coverage on signing day would have been preposterous. Now, college football fans around the country can follow the ins and outs of recruiting on a daily basis.
And, even more importantly, recruits can follow those ins and outs. The kids with the difference-making talent know where the other kids with difference-making talent are going. More often than not, those kids all want to play at the same places so they can have a better chance to win.
So, recruiting has become a self-fulfilling prophecy in some ways.
Teams that are successful in recruiting have a better chance at next year's blue-chip talent because they have been so successful in the past. If they carry that success forward, they can build a momentum that keeps players coming to those schools, irrespective of the results on the field. Texas, Georgia and Miami are all good examples of that self-generated recruiting momentum.
Nebraska didn't crack ESPN's Top 25 in 2011. Given the small class size NU was stuck with, that's not a huge surprise. In 2010, with a normal-sized class, Nebraska ranked 17th in recruiting; that's the only time Nebraska has cracked the Top 20 in Pelini's tenure.
So, now is the time. With a full-sized class and now settled into the B1G, Pelini has an opportunity to make a mark in recruiting for 2013. If he's not able to do so and he's not able to improve Nebraska's success on the field, NU is in danger of being relegated to a second-tier team in the B1G.
If you would like to contact Patrick directly to schedule an interview, ask a question or to get his recipe for a killer peach cobbler, send an email to patrickrunge@gmail.com. (DISCLAIMER: Peach cobbler recipe might not be all that killer.)
Or, you could always follow Patrick Runge on Twitter.

http://bleacherreport.com/recruiting