Toronto Blue Jays Have the Pieces to Be AL East's Next Powerhouse Team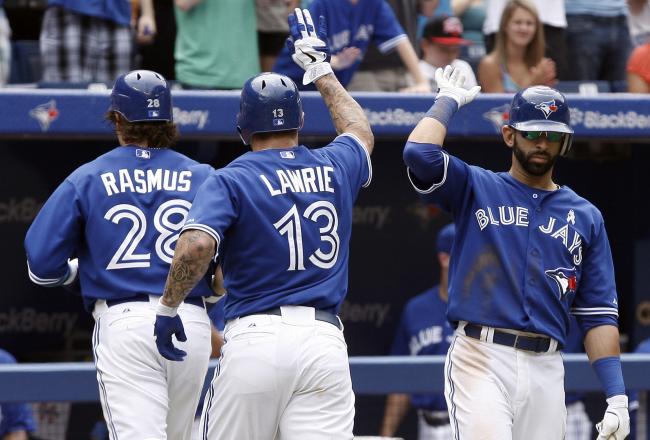 Abelimages/Getty Images
For a long time, the American League East was under the control of the New York Yankees and Boston Red Sox. Between 1998 and 2007, the only year the two of them didn't occupy the top two spots in the AL East was 2006.
The Tampa Bay Rays changed everything in 2008. They won the AL East and went to the playoffs for the first time in their history that season, and they did it because they built a winning team by drafting and developing star players. They are the exact opposite of the Yankees and Red Sox, and they've been going toe to toe with them ever since.
For the last couple years, the Toronto Blue Jays have been giving the Rays approach a shot. General manager Alex Anthopoulos has put together one of baseball's strongest farm systems, and the Jays' current big league roster is a solid foundation for Anthopoulos to build on. It's a project that is going quite well.
Make no mistake about it, Toronto's time is coming, and it's going to be here very soon. Much like the Rays in 2008, the Jays will soon rise to the top of the AL East and stay there.
Here's a rundown of the reasons why the future is bright for the Jays.
Young Pitching Galore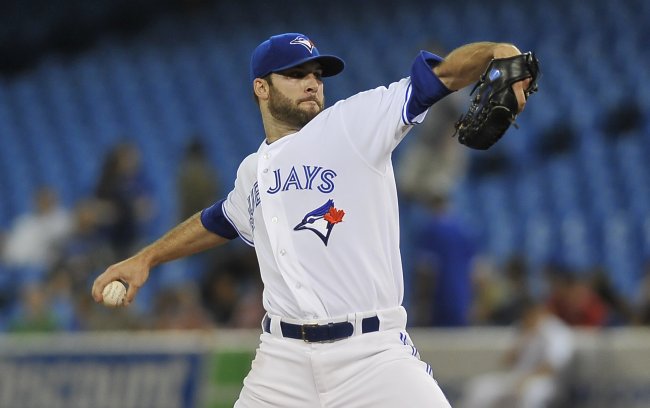 Brad White/Getty Images
The saying goes that you can never have enough pitching. And the only thing better than an excess of pitching, of course, is an excess of young pitching.
That's something the Blue Jays have, though it will take some time for their young pitching to come together to form a solid whole.
The Jays currently have three key members of their starting rotation on the disabled list. Brandon Morrow is out with a left oblique strain, Drew Hutchison is out with a sprained ulnar collateral ligament, and Kyle Drabek is going to miss the rest of the season due to Tommy John surgery.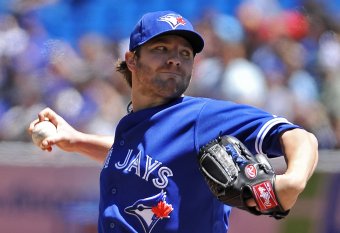 Brad White/Getty Images
These injuries are going to make life tough for the Jays in the immediate future, but they can look on the bright side: The plan isn't necessarily to win in 2012. The plan is to win later, and Morrow, Hutchison, and Drabek all fit into that plan.
The three of them have been part of a starting rotation that also includes Ricky Romero and Henderson Alvarez. None of the five are older than 27, and all five of them boast above-average stuff. With the exception of Romero and, to a certain extent, Morrow, all they need is experience.
A couple years down the road, the Jays are going to have a starting rotation stocked with five young studs who a) have great stuff and b) know how to use it.
Morrow is already the ace of the staff, and he'll be the ace of the staff later too. He can be inconsistent, but he has an electric fastball and an electric slider that are nearly impossible to hit when he has them working. This is just his third full year as a starter, and he's gotten better every year.
Romero, meanwhile, has already proven that he's an effective major league starter. He's pitched over 200 innings twice already, and he finished last season with an ERA under 3.00. Ideally, he'll be the Jays' No. 2 starter behind Morrow in the future, but he certainly won't be any worse than the team's No. 3 starter.
The 2008 Rays were able to win the division with a starting rotation consisting of James Shields, Andy Sonnanstine, Matt Garza, Edwin Jackson, and Scott Kazmir, all five of whom were solid all season long. Once all the pieces come together, the Blue Jays' rotation will look strangely similar to the to the Rays' 2008 rotation, but it will have a higher upside due its youth and sheer collective talent.
In fact, the Blue Jays future rotation could more closely resemble the Rays' starting rotation this season, which is among the strongest in Major League Baseball.
That's a scary thought for the rest of the AL East. Just as scary is what Toronto's offense could look like in the not-too-distant future.
Potential Stars in the Field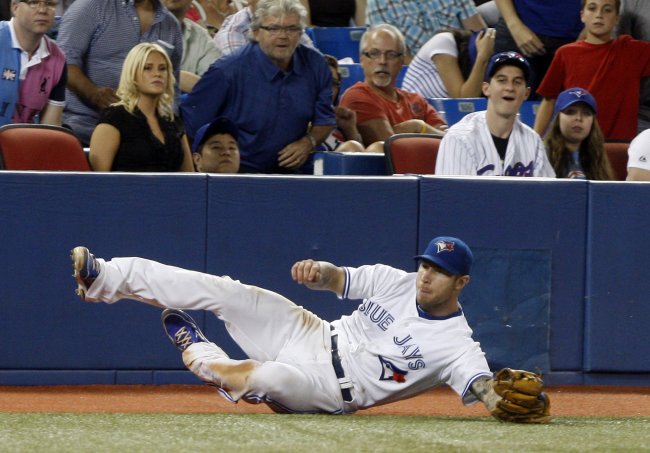 Abelimages/Getty Images
The Blue Jays have a true star in right fielder Jose Bautista, and he's going to be around for a few more seasons after signing a five-year contract extension in early 2011.
He'll provide the power in the middle of Toronto's lineup, but he won't be alone. The Jays have some talented young hitters who aren't going anywhere anytime soon.
Chief among them is third baseman Brett Lawrie. He hasn't been able to match the numbers he put up after he was called up in 2011, but he's not having as bad a season as a lot of people think. The Jays could ask for worse than a .288 batting average, and Lawrie has been piling up the extra-base hits recently. It was just a matter of time before he did.
The sky's the limit for Lawrie. He's only 22 years old, and he has the talent to be a force both offensively and defensively. If all goes well, he'll be the Jays' very own version of Evan Longoria.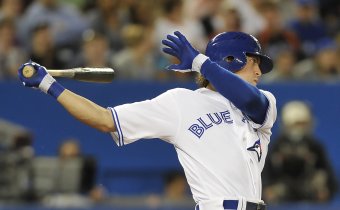 Brad White/Getty Images
It also looks like the Jays may be on to something with center fielder Colby Rasmus, who Anthopoulos acquired from the St. Louis Cardinals at the trade deadline in 2011. He got off to a bad start, but a slight mechanical adjustment has yielded excellent results. Per Baseball-Reference.com, Rasmus is hitting .321 with a .985 OPS over his last 25 games. He's looked every bit like the player who looked so promising back in 2010.
The big question for Anthopoulos is whether he wants to spend the money it will take to re-sign second baseman Kelly Johnson and DH Edwin Encarnacion, who are both due to become free agents at the end of the season. Both of them are still relatively young, and both of them have given the Jays good production this season (especially Encarnacion).
If the two of them are re-signed, the Jays are going to have five very good players in their everyday lineup. Combined with the team's young pitching, the Jays would therefore be set up for continued success for a period of several years.
If Johnson and/or Encarnacion walk as free agents or are traded at the deadline this season, there would be no reason for Jays fans to panic. Anthopoulos would still have a solid core consisting of Bautista, Lawrie and Rasmus, and he's done enough to show that he has an eye for finding under-the-radar talent.
Lots of Talent Down on the Farm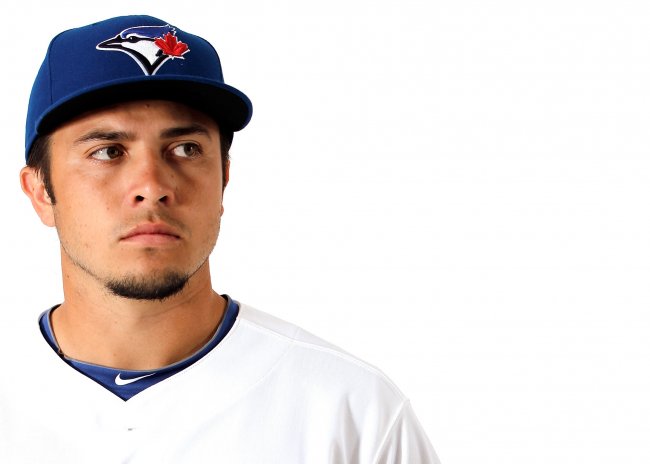 Jonathan Ferrey/Getty Images
As active as Anthopoulos has been with the Jays' big league roster since taking over as the team's GM in 2009, he's been even more active developing the team's farm system.
It is universally agreed that he has done a fine job.
Before the start of the season, Baseball America had Toronto's farm system ranked No. 5 in all of Major League Baseball. ESPN.com's Keith Law had it ranked No. 3 overall. Kevin Goldstein of Baseball Prospectus had it ranked No. 2 overall.
Law praised the organization for spending its money on prospects in recent seasons as opposed to free agents. Both he and Goldstein appreciate the fact that Anthopoulos made it a priority to acquire pitching, but the Jays' farm system is stocked with plenty of talented position players too.
Travis d'Arnaud, a catcher, is by far the best of the bunch. The Jays acquired him in the Roy Halladay trade, and there's really not a whole lot left for him to prove down in the minors at this point. At last check, he was hitting .335 with a .987 OPS for Triple-A Las Vegas, according to MiLB.com. His road to Toronto is blocked by J.P. Arencibia, but D'Arnaud is going to be the better player down the road.
Most of Toronto's other top prospects won't be ready until sometime in the 2014 season, by which time the Jays will probably be sitting on baseball's strongest farm system. In fact, they might already be sitting on baseball's strongest farm system after what they did in the draft earlier this month.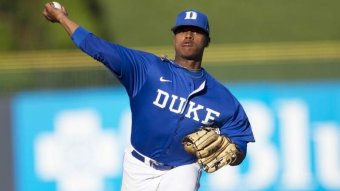 The Jays walked away from the 2012 draft with one of this year's top pitching prospect in Duke right-handed Marcus Stroman, and they also scored a potential steal in high school lefty Matt Smoral. In general, Baseball America loved Toronto's draft haul, pointing out that six of the team's first seven picks were among BA's top 50 draft prospects.
So the Jays' farm system is deep and it's only getting deeper over time. By the time this team is ready to contend for the AL East crown, it's going to have a lot of young reinforcements that it can call on.
Of course, having a deep farm system has other advantages too.
The Jays Have What Other Teams Want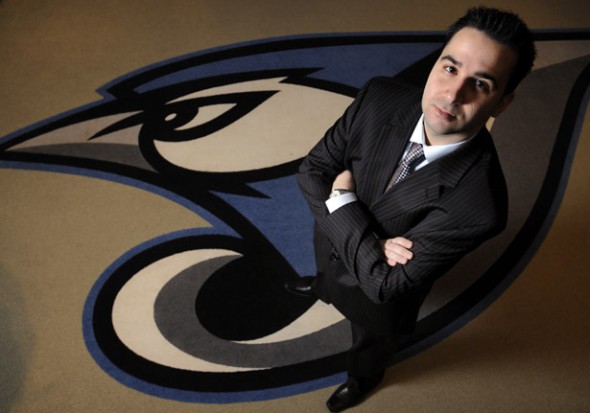 What's unique about the Tampa Bay Rays is that GM Andrew Friedman has never been too quick to trade away talent. He prefers calling his young players up over trading them away for established stars.
Anthopoulos could choose to be more like Philadelphia Phillies general manager Ruben Amaro, who used his team's deep farm system as a means to make high-profile trades, one of which was the Halladay trade.
Amaro is paying for those high-profile trades now, as Philly's farm system is currently one of the weakest in baseball. But because his wheeling and dealing led to five straight NL East titles and a World Series championship in 2008, neither Amaro nor the team's fanbase is in a position to complain. Those trades were worth it.
There's already talk of Anthopoulos using Toronto's deep farm system to make big-impact deals. Danny Knobler of CBSSports.com reported recently that Anthopoulos has checked in on Justin Morneau. Jon Heyman, also of CBSSports.com, has linked the Jays to Matt Garza. Back in May, Ken Rosenthal of FoxSports.com reported that Anthopoulos had called the Phillies about Cole Hamels and Shane Victorino.
The Jays routinely get linked to big-name players primarily because Anthopoulos has a habit of calling other GMs about their big-name players just to test the waters. He leaves no stone unturned.
When the Jays are actually major players in the AL East, you have to figure Anthopoulos won't be in exploratory mode when he calls GMs about their star players. He'll be looking to do business.
And whoever he calls will have incentive to talk to him. With the amount of young talent he'll have down on the farm, the Anthopoulos will be able to make very competitive offers.
The Grand Conclusion and Summary
The American League East is changing. The Yankees and Red Sox no longer dominate the division, and both of them are only getting older and weaker while the rest of the division is getting stronger.
Which team in the AL East has the brightest future?
The Rays have refused to go away after their rise to power in 2008, and their young pitching will help them stay relevant for years to come. The Baltimore Orioles have emerged as a legitimate contender this season, and the fact that they have some elite talent down on the farm bodes well for them down the road.
The Jays are in the same boat as the Rays and Orioles, but their upside is considerably higher. They're set up to have an excellent young pitching staff in the very near future, and they have a solid core of position players that they can build around. The amount of young talent they have in their farm system opens up a chance to make a good team even better via call-ups, and it will serve as a means for Anthopoulos to make big trades if he feels the need to acquire as established star or two.
There's still a chance that the Jays will get hot and contend for a postseason berth this year. If they do, they'll be ahead of schedule.
But if they contend in 2013, 2014, 2015 and beyond, nobody should be surprised. That's where this organization is headed.
If you want to talk baseball, hit me up on Twitter.
This article is
What is the duplicate article?
Why is this article offensive?
Where is this article plagiarized from?
Why is this article poorly edited?

Toronto Blue Jays: Like this team?