Hodgson's England Dare to Dream They Can Toil All the Way to Euro 2012 Glory
June 20, 2012

Take that purists. England have won their group and are through to the quarterfinals of Euro 2012.
It wasn't pretty.
Theirs was not the way of the tiki-taka. England's possession and passing numbers will not be drooled over like those of the beloved Barcelona and their impressionists, Spain. And you won't see England's first three games being eulogized for their elegant beauty.
Alright, you won't see their first three games being eulogized at all.
But two wins and a draw put Roy Hodgson's men into the last eight. And, when you consider the soiled mess Hodgson inherited from Fabio Capello when he took over on May 1 and the problems he's faced since, that's no small achievement.
England have, at the very least, been devastatingly dogged. Scott Parker and Steven Gerrard have waged workmanlike war in midfield, and James Milner has covered more yards than some of the fans in Poland and Ukraine this summer.
Tackles upon tackles. Blocks upon blocks. There were times during England's 1-0 win over Ukraine you half-expected Parker or Gerrard to drop to their knees and throw up—such was their epic commitment to the cause.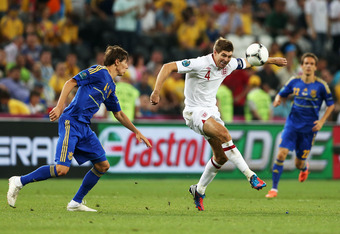 Scott Heavey/Getty Images
Hard work goes a long way, so they say. And in England's case, their reward is steady Euro 2012 progress that will have even the most cynical fans in football contemplating an unlikely triumph.
Suddenly Hodgson has an England team three games away from cleansing a nation's tortured soul.
The first, against Cesare Prandelli's Italy, is tough but definitely winnable. The second, should they advance, will likely be against Germany—a familiar foe who so emphatically dispatched Capello's team at the last World Cup.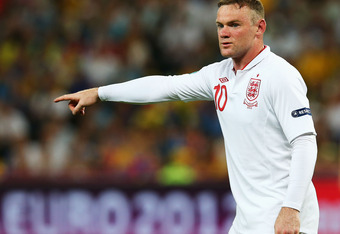 Martin Rose/Getty Images
But this England team seems unlikely to roll over so easily. Who knows, this England team might even have a game plan to frustrate Germany and go all the way to the final—especially if Wayne Rooney comes to life as we know he can, buoyed by his goal against Ukraine.
We're getting carried away here, of course. Most sensible England fans will tell you a penalty shootout loss to Italy looms large, and with it another liberal serving of football heartbreak to an island who knows it better than most.
For those who need reminding, being post-1966 England in a major tournament is a bit like being a drummer in This is Spinal Tap.
At World Cup '86, England were cheated by Diego Maradona's "Hand of God." At the 1990 World Cup, it was a penalty shootout defeat to West Germany in the semis. The Germans repeated the feat at Euro '96. World Cup '98 ended with a penalty shootout defeat to Argentina. Euro 2004 ended on penalties to Portugal. World Cup 2006 went the same way.
England fans would have swapped any of those campaigns for their wholly depressing showing at World Cup 2010, however.
And it was that failure, combined—amongst other things—with a new manager, a slew of injuries and a looming trial date for their former captain, John Terry, that saw expectations for Euro 2012 at an all-time low.
That and the fact that England's squad is simply not as strong as the likes of Spain, Italy, Germany and the Netherlands. But the Netherlands, who seemingly fell victim to infighting and disruptive egos, have gone home. England have stayed humble and are very much still here.
They might not be playing a flowing, attacking game, and they might not be thrilling the neutrals, but Hodgson's team has got England fans starting to believe the improbable is possible.
"For us to get seven points with two victories and a draw probably exceeds everyone's expectations," Hodgson told reporters, per BBC Sport.
But perhaps his most telling line came in addressing the fact that England—by virtue of winning their group—have avoided the defending champions Spain in the quarterfinals.
"I think this team of ours would have given Spain a pretty good run for their money," Hodgson said.
Now that's fighting talk.