Detroit Tigers' Early-Season Struggles Will End Up Paying off in the Long Run
June 20, 2012

John Grieshop/Getty Images
It's official—the Detroit Tigers have a winning streak. Having won three in a row and seven of their last 10 the Tigers seem to have turned the corner out of the dark alley their season's path was headed.
Not a good sign for the rest of the AL Central whose teams were looking for Detroit to have a major collapse and fail to meet preseason expectations—what they hoped is the Tigers would just pack it in.
A Jim Leyland managed team that just lays down and packs it in? Doubtful.
No, the Tigers are going to stick around and make things very uncomfortable for the rest of the division. Every team has a bad stretch and unfortunately for the Chicago White Sox and the Cleveland Indians—and the rest of the American League if that matters—the Tigers have managed to survive what might be their bad stretch.
And, they're only two games back after all that turmoil.
So, what do struggles do?
They teach players resilience and reliance—resilience against naysayers who have called for many a head due to Detroit's backslide and reliance on the value of team to push them back forward.
That's a nice way of saying they've learned how to suck it up as a team and get through a rough patch that no one would have anticipated three months ago when the team headed north from their winter haven in Lakeland.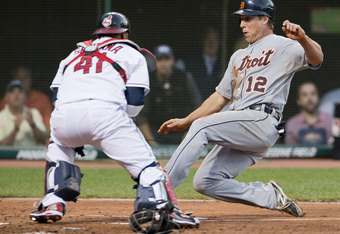 Jason Miller/Getty Images
Now, as manager Jim Leyland stated, they just need a couple "dirtballs" to bring it all together.
"We've got a bunch of great guys," Leyland said. "I wish they had a little meaner streak in them from 7-10 [p.m.] and kept their other personalities the rest of the time. A couple of dirtballs is always good," he said. "We're going to play a team tonight that's got those, I think ... It takes more than stars. That's just the way it is."
A dirtball?
What exactly is a dirtball?
"That's a guy that does whatever it takes to win and wins at all costs under the rules," Leyland said. "They know how to win games. What people don't understand is that type of guy can hit .240 and be just as important as a guy that hits .310, because he got a squeeze down, he broke up a double play, he tagged up from first on a long fly to left-center field. Those are the dirtballs I'm talking about."
And there you have it. Leyland is looking for that spark-plug guy, the gritty tenacious player that refuses to lay down.
My argument would be that he has plenty of those guys on his roster, he just needs to light a fire under them to ignite the fire.
Peeling back the layers a little further and I'd argue that once he comes off the D.L. one of those key "dirtball" kind of players is Andy Dirks. Dirks is a scrappy player with an undeniable desire for competition. Why else would a guy keep heading to the Dominican each winter to get better? Because he wants it more. That's the kind of "dirtball" Leyland is talking about.
This, after all, has probably been Detroit's biggest Achilles' heel, no Dirks pun intended.
While the Tigers have done plenty themselves to lose games this season, the revolving D.L. door hasn't helped their cause much. Outside of Miguel Cabrera and Prince Fielder, nearly every fledgling Detroit star has spent time off the field due to injury.
But, teams can build tenacity without their best on the field. The Tigers have done just that. In the wake of an injury-riddled clubhouse and some of the roughest individual performance patches of their careers, Detroit's bewildered lineup has found a way to stay nearly .500 (33-34) and remain in the hunt for a divisional pennant.
It bears repeating—not good for the rest of the AL.
What the rest of the league needs to be prepared for is the awakening of a sleeping giant post Midsummer Classic when the Tigers should be at full-throttle and trotting their everyday lineup out onto the field. Five players in that "best of" lineup are hitting above .310, including Cabrera, Dirks, and Fielder as well as Austin Jackson and Quintin Berry.
It also appears the back-end pitching staff woes have been contained with the resurgence of Bryan Villarreal (3-1, 1.31 ERA) who has been brilliant as of late, as has Joaquin Benoit (0-1, 1.99 ERA) and Phil Coke (1-3, 3.60 ERA) piecing back together a bullpen that was in much need of better pitching.
Fox Sports Detroit broadcaster Rod Allen noted during Tuesday's tilt against St. Louis that Detroit relievers were carrying a 1.71 ERA over the last 10 games. Those are numbers that will stack up against the best of the best if the Tigers can keep it rolling.
All of this points in a positive direction for a team that has been, for the most part, treading water. And while the Tigers have certainly struggled mightily in what is now nearly the first half of the 2012 season, they've still got a long haul and plenty of time for good natured streaks.
Swagger is seductive.
Did I mention—not good for the rest of the AL?
Bleacher Report Featured Columnist J. Cook is a member of B/R's MLB Coverage Team and contributes to B/R's MLB content and Detroit Tigers page. He also covers key sport interest stories for all of Detroit's major sports teams.