Joe Carter and the 10 Most Meaningful HRs in Toronto Blue Jays History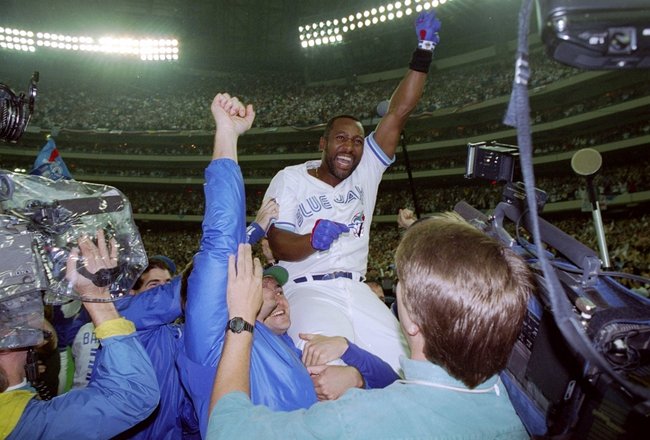 Rick Stewart/Getty Images
With over 35 years of Blue Jays baseball in the books, it goes without saying that there have been some historic home runs in team history.
Having players like Joe Carter, Carlos Delgado and Jose Bautista don the Blue Jays uniform all but assures that there have been some big-time blasts in team history.
So, without further ado, here are the 10 most meaningful home runs in Toronto Blue Jays history.
10. J.P. Arencibia Jacks His Second HR in His First Ever Game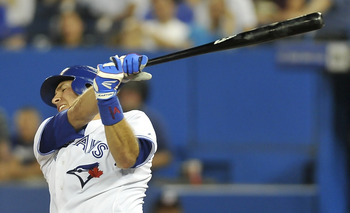 Brad White/Getty Images
J.P. Arencibia wasted no time making an impact at the major league level.
After being called up to replace the injured John Buck in August of 2010, Arencibia made the most of his opportunity, going yard on the very first pitch he'd ever seen (off of James Shields no less).
Arencibia would later go on to hit a double and single, before coming up and belting his second home run of the game.
Arencibia became just the fifth ever player to hit multiple home runs in his first career game, and one of the only players to pick up four hits in that same contest.
Definitely a memorable night for J.P. Arencibia, the Toronto Blue Jays organization and baseball fans everywhere.
9. Frank Thomas' 500th Career Home Run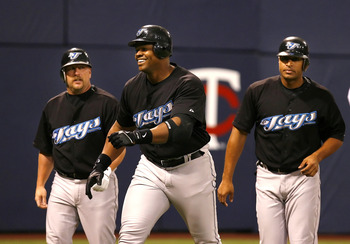 Scott Schneider/Getty Images
If Frank Thomas spent more of his career in Toronto and hit more home runs with the Jays, this home run would be much higher on the list.
That being said, anytime a player hits his 500th home run as a member of your ballclub, it is a historic event.
Such was the case on June 28, 2007, when Frank Thomas clobbered an offering from Carlos Silva into the seats in left-center field in Minnesota.
Thomas is the only player to ever hit his 500th home run in a Blue Jays uniform, and that makes it one of the most memorable home runs in Blue Jays.
8. Fred McGriff Helps Set a Record with Blue Jays 10th Home Run in One Game
Rick Stewart/Getty Images
The date was September 14, 1987.
The season may have been winding down at Exhibition Stadium, but the Blue Jays bats were red hot.
It was a day that saw the Blue Jays belt a record 10 home runs in one ballgame in an 18-3 rout of the Baltimore Orioles.
With Ernie Whitt and Rance Mulliniks combining for five home runs on the day, McGriff came to the plate to leadoff the eighth inning with the Blue Jays already up big against the O's and yanked the team's 10th home run of the ballgame to right field.
Those 10 home runs still stand as the most ever hit in one game by the Blue Jays.
7. Carlos Delgado Crushes His Fourth Home Run in a Single Game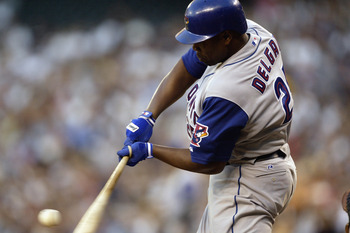 Otto Greule Jr/Getty Images
Hitting four home runs in one baseball game is no easy feat.
In fact, it has only happened 16 times to date in the history of major league baseball.
On September 25th of 2003, Carlos Delgado cemented his place in history, when he jacked four long balls in one game against the Tampa Bay Devil Rays.
Furthermore, Delgado became the only player to hit four home runs in a game in just four at-bats.
Since that day, only one player has managed to ding four home runs in game (that was Josh Hamilton just over a month ago against the Baltimore Orioles).
6. Jesse Barfield Becomes the First Blue Jay to Hit 40 Home Runs in a Season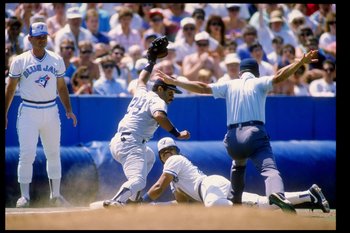 Rick Stewart/Getty Images
The 1986 season is one that Jesse Barfield won't ever forget.
It was his second season as Toronto's everyday right fielder, and boy was it a memorable one.
Not only did he lead the league in outfield assists and collect his first ever Gold Glove award, but he also ended the season atop the American League with 40 home runs.
That number wasn't just a big deal because Barfield ended up as the league leader, however, it was also the first time a Blue Jays' player managed to reach the 40 home run plateau.
5. Jose Bautista Becomes the First Blue Jay to Reach the 50 Home Run Mark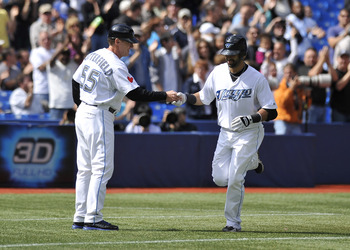 Brad White/Getty Images
While we're on the topic of record-setting home runs in Blue Jays history, Jose Bautista becoming the only player in Jays history to hit 50 home runs must receive some consideration.
With Bautista having an absolutely blistering hot season in 2010, it was only fitting that, on September 23, he capped it off by hitting home run No. 50.
It was the first time that any player had hit 50 in a season since 2007 when both Alex Rodriguez and Prince Fielder both reached that historic total.
Bautista would go on to hit 54 homers on the season and emerge as one of baseball's elite power hitters.
4. Delgado Belts His 300th Home Run as a Blue Jay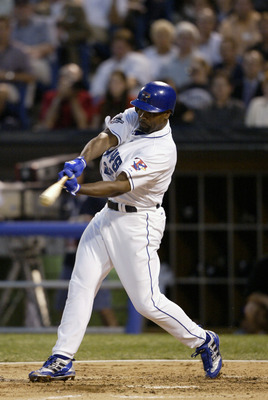 Matthew Stockman/Getty Images
Remember that four home run game from an earlier slide?
Well, it's back.
This time, we take a look at Delgado's first home run of that ballgame against Tampa Bay instead of his fourth.
While his eighth inning blast would make him one of the very few to hit four home runs in one game, his home run in the first inning was also one of significance, seeing as it was home run No. 300 for his career.
What made that home run even more special, was that Delgado hit every one of those 300 major league home runs as a Toronto Blue Jay.
Since winning the 1993 World Series, there hasn't been too much to cheer about for fans of the Toronto Blue Jays, but Carlos Delgado has been a big part of what success they have had.
3. First Home Run in Blue Jays History
The first home run in franchise history is a monumental occurrence for any organization.
The Toronto Blue Jays are no different.
On a freezing cold April 7, 1977, the Blue Jays were born and it didn't take long for excitement to strike.
In the bottom of the first inning, after the first two hitters struck out, Doug Ault marched to the plate, feeling the pressure from tens of thousands of anxious Blue Jays fans.
After taking a first-pitch strike, Ault belted the franchise's first ever home run.
He'd add on with another one later in the game, but it would be that first ever home run that the late Doug Ault will be remembered for.
2. Roberto Alomar Takes Dennis Eckersley Deep
Photo courtesy of www.bluejayhunter.com
If it weren't for another heart-stopping playoff home run, it goes without saying that Roberto Alomar's ninth inning home run in Game 4 of the 1992 ALCS would be the most famous in Toronto Blue Jays history.
It was Alomar's ninth inning blast off of Dennis Eckersley (arguably the top closer in baseball at the time) that would tie the game at four, extending the game into extra innings, where the Blue Jays would eventually win 7-6.
To this day, Blue Jays fans everywhere will remember the iconic Alomar gesture pictured above.
1. Joe Carter Walks off with the World Series
"Touch 'em all Joe! You'll never hit a bigger home run in your life!"
What Blue Jays fans, or baseball fan in general, doesn't know those words, immortalized by Blue Jays radio announcer Tom Cheek, when Joe Carter became just the second player in the history of major league baseball to end the World Series with a walk-off home run.
Forget being the greatest, and most important home run in Blue Jays history, Joe Carter's blast to left field in the 1993 World Series is one of the biggest home runs in the history of the sport.
Keep Reading

Toronto Blue Jays: Like this team?