College Baseball World Series Bracket 2012: Ranking Potential Finals Matchups
June 19, 2012

Let's face it, with just six teams remaining in the College World Series, there are certain matchups we would much rather see than others in the finals. 
There's no question that whoever makes it to the championship will provide both excitement and drama. It's college kids and a championship that we are talking about, after all. That's the perfect combination for must-see sports. 
Still, some matchups will rank just a tiny bit higher on the drama scale. Let's take a look at which ones. 
Note: For a complete look at the College World Series Bracket, click here
3. Arizona vs. Arkansas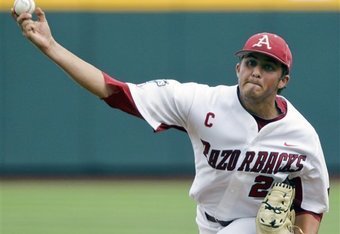 While these may not be the best teams in college baseball, they certainly may be the hottest. In fact, dating back to regionals, Arizona hasn't lost a game and Arkansas only lost once to Baylor.
These squads are on fire. 
Let them battle each other since no one else can beat them. 
2. UCLA vs. South Carolina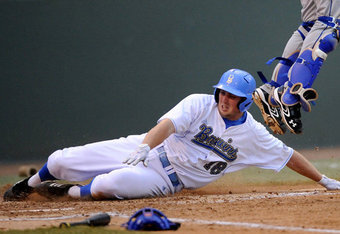 While Arizona vs. Arkansas gives us the two hottest teams around, this matchup would give us the two best teams from each bracket. 
The Bruins went an impressive 42-14 during the season to garner a No. 2 ranking from Baseball America, while South Carolina racked up 40 wins and are ranked a solid No. 7.
Brackets in baseball, even though they are double elimination, can be brutal for the top teams. When it takes so little to be knocked out, all the hard work from the regular season almost doesn't matter. Just ask No. 1 Florida.
With this matchup, we get pretty darn close to seeing the two best teams in the country, and that's not common.
1. Arizona vs. Kent State
Okay, yeah, seeing the two best teams is good and all, but we want the underdogs.
Arizona, who was last ranked No. 13 by Baseball America, is the closest thing to an underdog in Bracket 1, so we'll just roll with that.
Kent State, however, is the true underdog. They aren't even ranked by Baseball America, and as a No. 3 seed, no one expected them to be here. The Golden Flashes just knocked off No. 1 Florida, and to see them make the finals would be truly amazing. 
It feels wrong to not include Florida State in any of these matchups, especially considering their propensity to put up lots and lots (and lots) of runs, but this is my list. I can do what I want.
Besides, if anything, this is probably just what the Seminoles need to make it to the finals.