Why Cubs GM Theo Epstein Should Help the Red Sox at the Trade Deadline
June 19, 2012

Jonathan Daniel/Getty Images
Going into Tuesday night's play, the Boston Red Sox hold last place in the AL East, eight games behind the New York Yankees. With a record of 33-33, the Red Sox don't appear to be out of the playoff picture, though they do have four teams to climb over for the division lead.
The AL Wild Card picture looks a bit more encouraging, with the Red Sox only four games behind and two bids available this season. But in terms of the scrum, Boston has a bigger crowd to fight through with five teams above them in the standings. Plus, two teams—Detroit and Oakland—are at their heels.
The Red Sox have allowed the third-most runs in the AL this season, so getting some starting pitching help would be the place to begin for an upgrade. And in a development that has plenty of baseball writers rubbing their hands together and smiling, the team that has the most available help for the Red Sox is run by their former general manager.
Chicago Cubs team president Theo Epstein has two extremely appealing trade pieces in Ryan Dempster and Matt Garza. Dempster just went on the disabled list with a lat injury, which obviously hurts his current trade value. But for the Red Sox, that might be irrelevant anyway. Garza is the guy to pursue.
Jonathan Daniel/Getty Images
Not only is Garza the more dynamic pitcher, posing more of a strikeout threat than Dempster, but, most importantly, he has experience pitching in the AL East in three years with the Tampa Bay Rays. Garza sees himself as a good fit, too, telling WEEI that the AL East doesn't scare him a bit. 
Some might think that Epstein would be hesitant to deal with his former team, given how his tenure as Red Sox GM ended last year. But Epstein's exit certainly wasn't as contentious as Terry Francona's. There weren't any searing Boston Globe pieces that stabbed Epstein in the back once he was gone. Of course, Epstein probably has dirt on the inner workings of the Red Sox's front office, so it's best not to upset him. 
However, we did see some latent tension between Epstein and Red Sox ownership last week.
Epstein said he regretted some of his decisions in Boston—such as signing John Lackey to an $83 million contract—saying they were made to feed "the monster" that the Red Sox created. The implication was that ownership pressured him to make a move for the sake of doing something. Red Sox chairman Tom Werner disputed that, saying that Epstein was never pressured to sign a particular player. 
But that's not highly charged language that indicates deep dislike between the two sides. And even if it was, Epstein wouldn't refuse to deal with the Cubs because of any grudge toward his former team. Likewise, the Red Sox wouldn't hold a grudge against their former GM. Business is business, and both sides want to improve their respective teams. 
Besides, how much can Epstein really help the Red Sox? Yes, trading them a top starting pitcher would help their chances at playoff contention. If the AL East race stays close, getting Garza could make the difference for Boston.
But the Red Sox have needed to broom out their clubhouse since last season. Buster Olney's report that the Boston clubhouse is swimming in dissension confirmed that. (Should it be a surprise that the players disagreed with Olney's article?)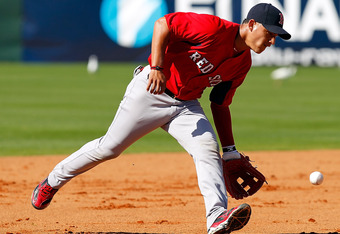 J. Meric/Getty Images
Epstein isn't going to help with that. He's not taking the surly Kevin Youkilis off their hands. He doesn't want any part of Josh Beckett. And if Epstein regrets signing Carl Crawford the first time, why would he take that contract in Chicago? 
But the Red Sox could help Epstein and the Cubs. Epstein is extremely familiar with Boston's minor league system, having played a prominent role in drafting and developing most of those prospects.
Writing for ESPN.com, Eric Seidman proposes several deals that the Red Sox and Cubs could make, such as one packaged around Boston's top pitching prospect, Matt Barnes. Shortstop prospects Xander Bogaerts or Jose Iglesias could be part of a potential deal, too. Throw in another good arm like Brandon Workman and that's a nice return for Garza. 
Would Epstein be a fool to help the Red Sox at the trade deadline? Absolutely not. He can help himself and the Cubs too much. If anything, Epstein would be a fool not to deal with the Red Sox. He knows the kind of deal GM Ben Cherington and team ownership would want to make. It's just a matter of putting the right pieces together. 
Follow @iancass on Twitter.