We're all aware that while Rashard Mendenhall continues to rehab from his torn ACL, Isaac Redman will be the Pittsburgh Steelers' primary running back. And we also know, to some degree, that if Redman handles the job well, he has a chance to keep hold of it even when Mendenhall returns to the field.
We also know that Redman and Mendenhall are two very different running backs, with very different styles.
They've been used as complements to each other and they do have some similarities, but ultimately, Redman is the more powerful back, while Mendenhall is better on the outside and possesses greater speed.
Take a look at these two touchdown runs, one Mendenhall's and one Redman's.
On the surface, they're very similar (aside from length). They both attack the hole, capitalize on the defense falling down around them and both get into the end zone for a score.
However, Redman, in his run, relied more heavily on his strength to break tackles; Mendenhall relied more heavily on his speed to make the score.
The big knock against Mendenhall, especially last season, was that he wasn't decisive in his running, dancing around and not finding the hole. While Mendenhall can certainly be blamed for part of this indecisiveness, the Steelers' offensive line troubles didn't give him reason to feel confident that a hole he saw one second would still be there the next.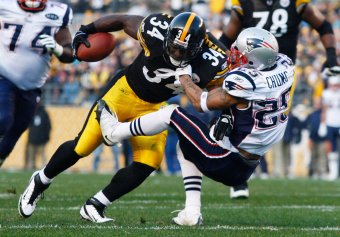 Jared Wickerham/Getty Images
One stat that clearly shows the difference between Mendenhall's speed and Redman's is the yardage of their longest carry. Though both had three runs of 20 or more yards last season, Mendenhall's longest was 68 yards to Redman's 27. This wasn't a 2011 fluke, either: In 2010, Mendenhall's longest run was 50 yards; Mendenhall's was 23. Mendenhall also had 11 carries worth 20 or more yards to Redman's one.
Surely, Redman will have more opportunities to rip off big-yardage runs this year considering he'll be getting more carries, but there's no denying that he's not as fast as Mendenhall and that he won't have runs worth multiple dozens of yards.
Mendenhall has also been more valuable in the passing game, both as a receiver and a blocker. Ultimately, this should balance out for Redman this year, as he will be far more involved in the offense as a whole and because new offensive coordinator Todd Haley likes to use running backs as receiving targets.
How different do you think the Steelers' run game will look while Redman replaces Mendenhall?
Because Redman isn't as fast as Mendenhall, he'll likely have to abdicate some of his carries (and receiving targets) to the other backs on the roster, namely rookie Chris Rainey, who is potentially the speediest player on the Steelers' roster. Where it wasn't uncommon for Mendenhall to have 20 or 25 carries per game, Redman will have around 15 as the other backs on the roster make up for what Redman lacks.
As a straight-ahead runner and goal-line back, Redman is talented and extremely useful. But when the Steelers need someone fast and elusive, they'll need to hand the ball off to someone else this year.
This is the most marked difference between Redman and Mendenhall and the biggest area the Steelers will need to compensate for as they plan for at least six weeks without Mendenhall on the field this year.