England vs. Ukraine: Tactical Analysis of Group D Showdown at Euro 2012
June 20, 2012

Laurence Griffiths/Getty Images
England beat co-hosts Ukraine to qualify first from their group, setting up a quarterfinal meeting with Italy.
The game was entertaining, controversial and excruciatingly painful as an Englishman watching.
Roy Hodgson's men lined up exactly as expected, whilst injuries forced changes in the Ukraine lineup. Here's how the nations set out.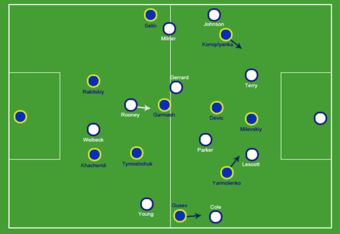 Wayne Rooney was asked to play as a deep-lying forward—the role Ashley Young has been fulfilling—as expected in the buildup to the game.
Without Andriy Voronin, Marko Devic came in for Ukraine just behind Artem Milevskiy.
Ukraine's right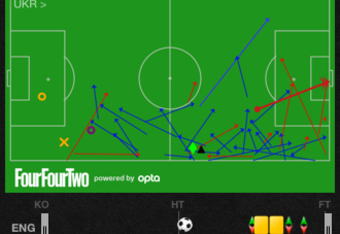 As we saw against both Sweden and France, Oleg Gusev's marauding knows no limits. The Ukrainian right-back was given free license to stretch the pitch as far as he wanted, forcing Andriy Yarmolenko inside.
England's formation was not built to deal with this, as suddenly Ukraine have another body between the defensive and midfield lines, while Ashley Cole is marking two players.
John Terry and Joleon Lescott's solidarity in central defence saved England on a number of occasions, but at times, it was down to Joe Hart to keep his team in the game.
England's left
As a result of Gusev's forward-thinking play, Ashley Young was often left in acres of space on the left wing. He produced several questionable deliveries from that side whilst unchallenged, however Rooney should have scored in the first half from an ideal cross.
It was clearly the most effective avenue to attack, and Hodgson's men should have made more of it. Instead, their goal came as a result of a dodgy, deflected cross from the other side.
Young only managed one successful cross in five attempts—a statistic which only furthers credence to the whispers he needs to be dropped.
Result?
The game was decided down one flank. Almost everything of note happened down that side and had either player been been more deadly, we could have witnessed a cricket score.
Young's crossing inaccuracies let England down, but Rooney missed a gilt-edged chance with that single successful one.
Ukraine's wing-back play was expansive and devastating, splitting Hodgson's dedicated banks of four to the point where they seemed disorganised for once.
Yevhen Selin and Gusev's runs allowed Yevhen Konoplyanka and Yarmolenko to come inside, outnumber the midfield and find the gaps. They both played as inverted wingers, meaning that coming inside is exactly what they wanted.
Yarmolenko showed his dribbling talents on more than one occasion, whilst Konoplyanka went close too.
Conclusion
Oleg Blokhin's use of wide players is excellent, but his system may well have fallen apart if the opposition had in-form wingers themselves.
An in-form Young and sharper Rooney would have combined to create two or three goals. Covering the holes is a job left exclusively to the anchoring midfielder, but Anatoliy Tymoshchuk would have struggled against these two.
Congratulations to Hodgson's England who have defied the odds to qualify first from the group. Zlatan Ibrahimovic, your "thank you" card is in the post!